It has been about a month since I've done my last Delta 8 review. Not sure about the legalities of this stuff, I decided to take a little trip around town to see if any of my favorite local smoke shops were carrying any of these products. I stopped at two small stores in my neighborhood that I thought would carry this type of product and was happy to discover both carrying Delta 8 products.
The first place I stopped at was your classic "head shop" that carries a wide array of smoking accessories and other fun "party" products. I was also shopping around for an old skool acrylic bong. They didn't have the bong I was looking for, but they did have a nice selection of Delta 8 products consisting of THC vape carts, hash, moonrocks and some hemp flower. I decided on trying some of the hemp flower to compare it to what I ordered over the internet.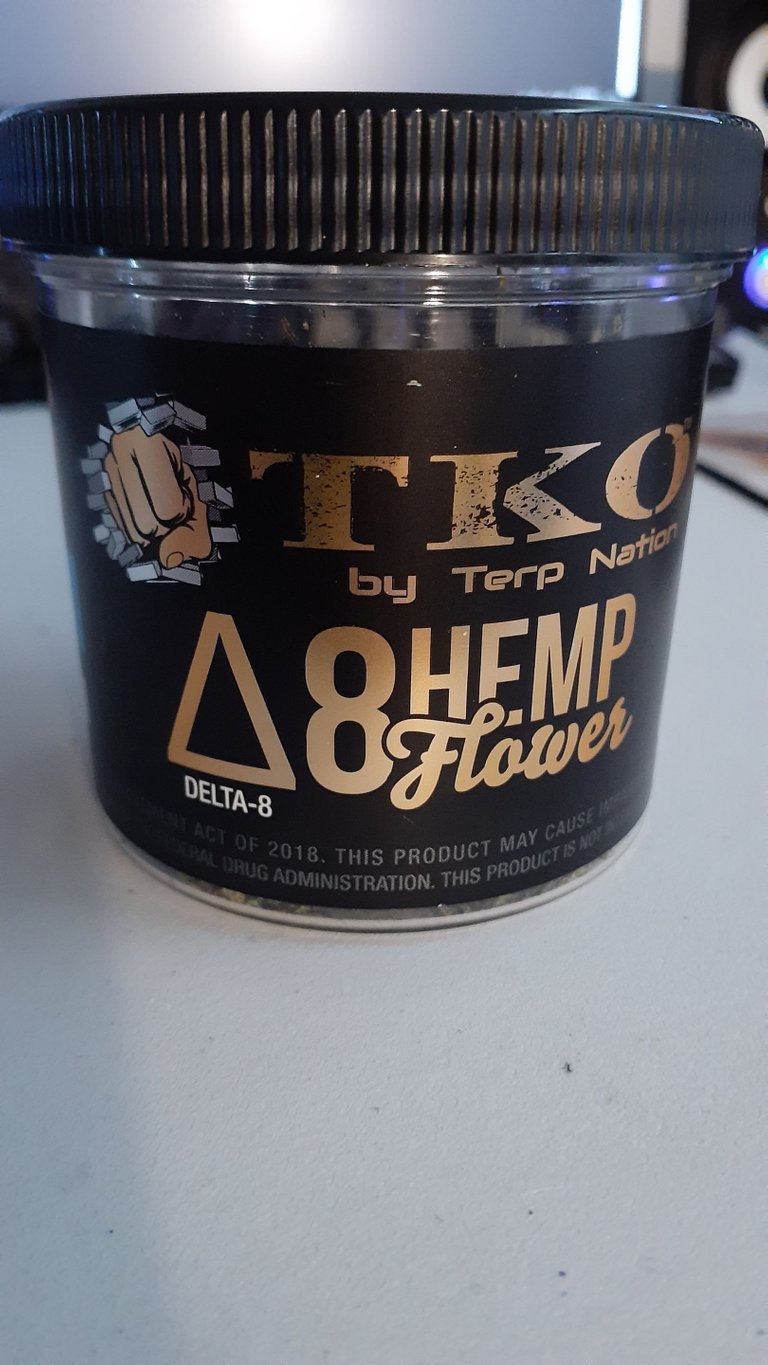 I bought 7 grams or a 1/4 ounce. It came in a plastic screw top bottle. Almost all buds and very little shake at the bottom.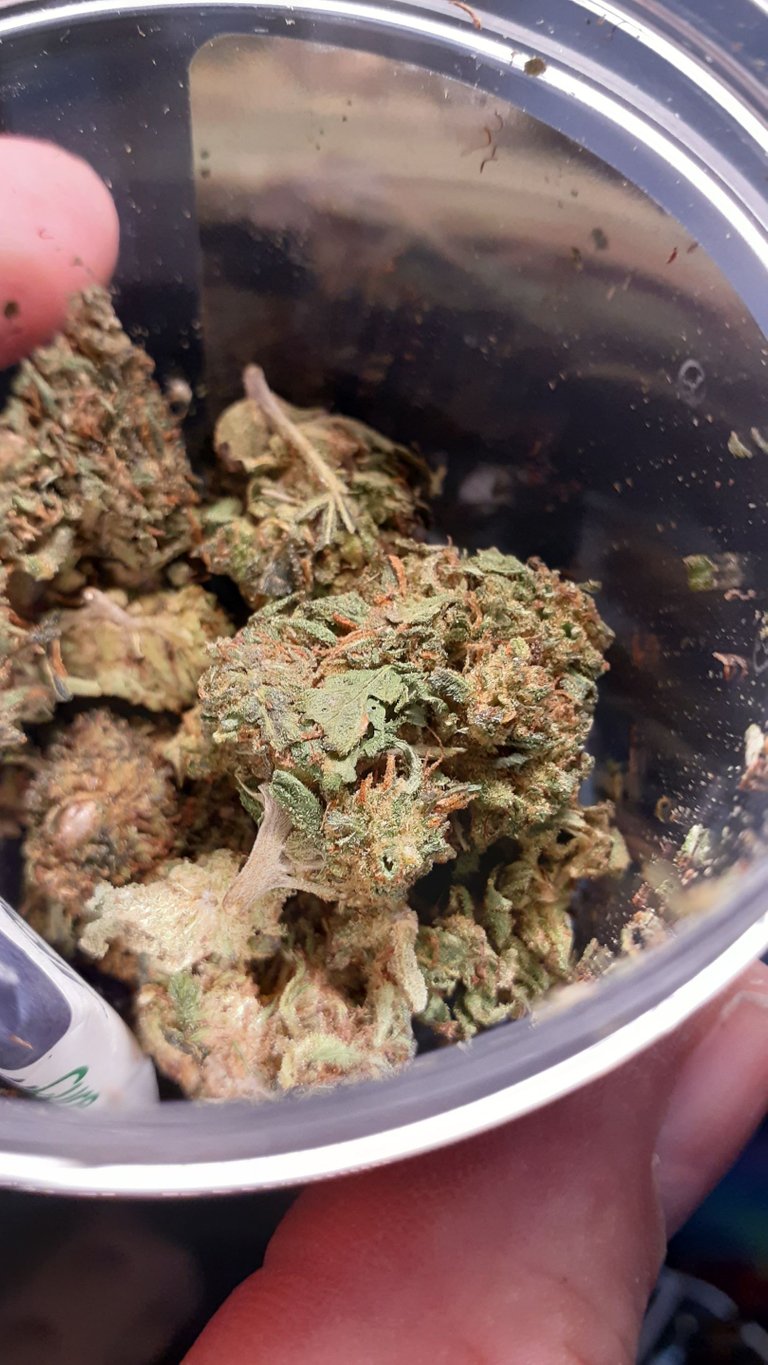 The white thing on the side of the bottle is some kind of moisture packet that is supposed to keep the bottle at the right humidity.
I found the White Whale that I ordered over the internet a little harsh in taste. The White Whale reminded me of a low grade commercial weed a little harsh in taste but effective in getting the job done with a nice buzz. This TKO indica was much smoother and reminded me of a really decent homegrown in both taste and texture. The buds were soft and sticky and broke apart nicely. The high was very pleasant and probably about the same potency as the White Whale that I ordered online.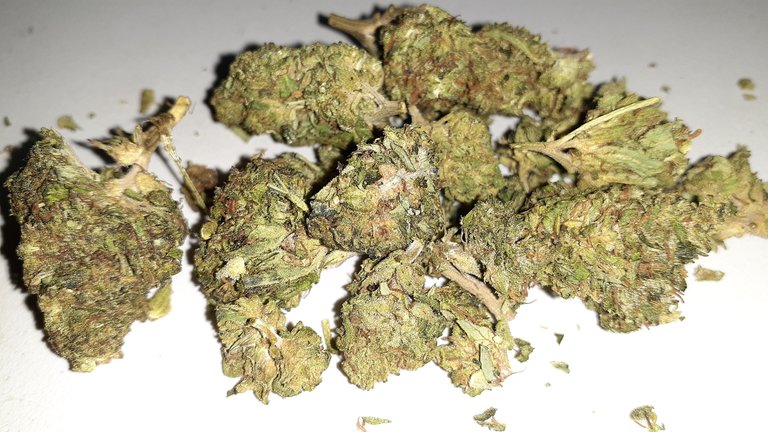 I love the way this stuff looks. Tastes about as good as it looks. The one thing I've found about the Delta 8 hemp flower is that it smokes really nice in a bong, but seems a little harsh when smoking in joints. So far both strains were similar in effect. A few hits and you know you've smoked some weed.
I was watching a video on Delta 8 on YouTube and the guy said for the most part it's the same as a cannabis high you just have to smoke a little more. I think that's fairly accurate. If it normally takes 2 to 3 hits of a decent cannabis to get you high, Delta 8 will probably take about 4 to 6 hits for a very similar buzz.
I use the term similar buzz because it's a similar high, but much different. Surprisingly, most people report that Delta 8 hemp doesn't give them the paranoia or anxiety a lot of cannabis users might experience. I have to agree with this. As a matter of fact, I did a little experiment one night and smoked a lot of this stuff. Any cannabis related anxiety is close to non-existent with this stuff. I've had other people confirm this as well. I've also read several reports online of people who have experienced anxiety when smoking this in really large quantities. That wasn't my experience, but probably something to take note of.
Generally, I don't get a lot of anxiety when smoking cannabis. I've always said, that pot has a way of bringing any problems you need to confront to light. When I do experience anxiety smoking cannabis, I make a mental note of what's stressing me, then try to address it when the high wears off. At least, that's what works for me.
With Delta 8, it doesn't seem to have that effect. The high is certainly there, but it's a really spacey, energetic high with very little if no anxiety or paranoia at all. At least, that's been my experience.
In the greater scheme of things, besides price, I think for the experience alone, I enjoy Delta 8 products more than Cannabis.
Now this stuff costed a little over $40 USD for 7 grams at the local store. Which compared to the internet seems a little pricey to me. Shopping around online, I've been finding some decent products for around $100 an ounce. Still, it's nice to be able to go to the corner smoke shop from time to time when the need arises.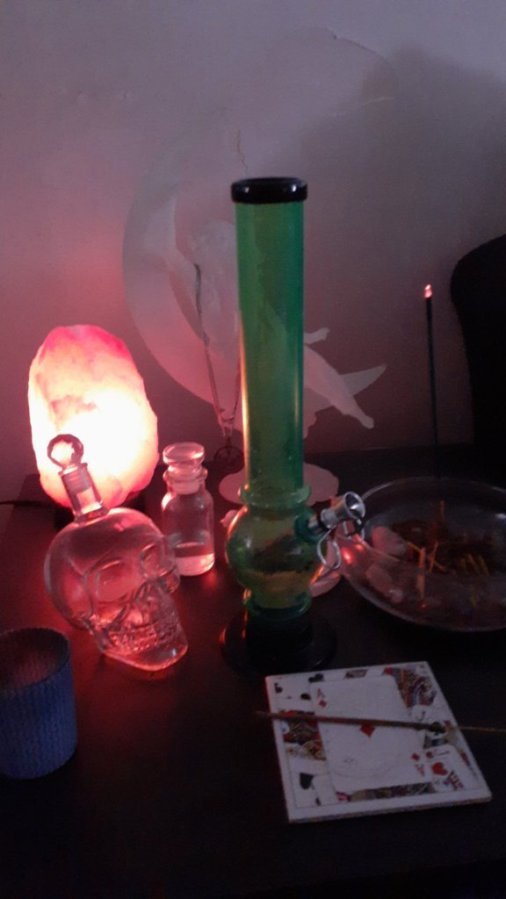 Here's the acrylic bong I purchased. Everything is glass now and it's getting really hard to find these old skool acrylic bongs, at least where I'm at. I'm clumsy and a glass bong or pipe never lasts more than a couple months. Acrylic is just a better solution for me. I ordered this online and this is the pipe I used to test the effects of smoking a lot of Delta 8. I didn't weigh it, but I had to smoke close to a couple grams of Delta 8 throughout the night while I relaxed watching TV. Happy to report, I got extremely high with close to no anxious feeling what so ever. With that said, if you've abstained from cannabis because you suffer from anxiety when you smoke it, you might want to research some of the Delta 8 products that are now available online. (My understanding is that this is strictly US and most companies won't export outside the country for legal reasons.) It's also available in MOST states but there are several states where it can't be purchased. You might want to look into your local laws before you order online if you decide to try this.
For some reason, both stores I shopped at locally carried the same TKO products. Prices were within a couple dollars of each other. In the next couple weeks, I'm going to go downtown. We have a couple streets that are all head shops in the trendy part of town. I want to see what types of products these places carry.
I've already got another review coming for Blueberry Moonrocks. I'm also planning a post on the benefits and affects I've received from Delta 8. I'll probably post that next week sometime.
Have you tried any of the Delta 8 products? If so, I'd love to read your thoughts and experiences in the comments.