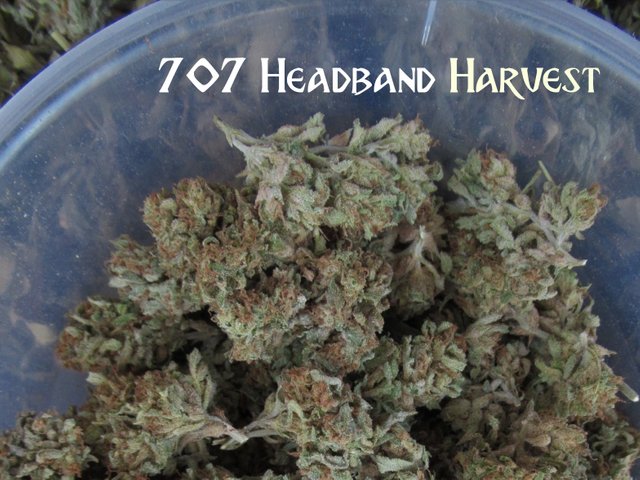 707 Headband indica hybrid
The 707 Headband strain is a 60/40 indica hybrid that was created with the crossing of the Master Kush, Sour Diesel, and OG Kush strains. A friend of mine had an extra clone that he started indoors in February that he gave me for the summer. While growing indoor, after the plant was a foot tall he gently bent the top of the plant to the ground and tied it there. Each new branch node grew upwards, like a plant of it's own. The pictures below are from the start of the summer.
My friend continued to pull down the top of the plants he was growing and took excellent care of them, I got busy and neglected to train the one I was growing. Luckily for me, the friend didn't have time or need to trim one of them that he had grown and ended up gifting it to me - you can see the one 707 Headband plant he grew hanging in the two pictures below.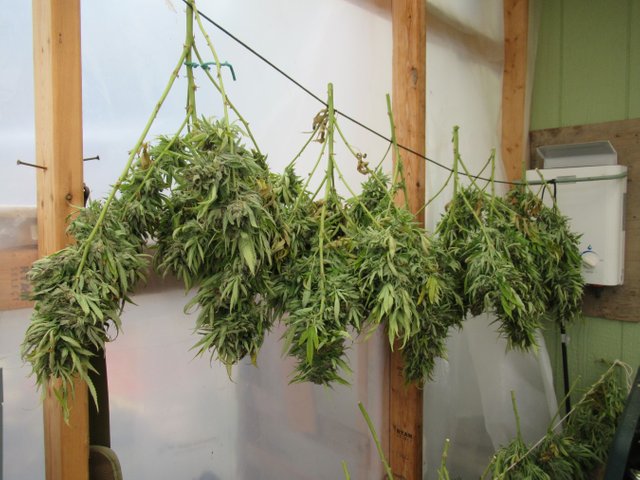 I've trimmed the buds in the picture below. The buds in the picture above I haven't found time or need yet to trim - they're dry, shaded, and have good air flow, so they'll be fine until I get to them before spring.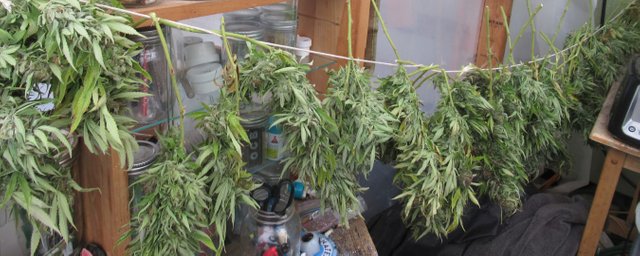 Drying, Trimming, Curing
The buds will dry faster if the larger fan leaves are cut off before hanging - I'll usually hang the buds like above for a few weeks before trimming, then let the trimmed buds dry for a couple more weeks before putting into a container or bag for curing. After drying, the inside of the buds might not be as dry as the outside - so by curing/storing in a container for a couple weeks the dryness of the inside and outside of the buds will balance after a few weeks for smooth toking. Others may use different time amounts for the above, and it would vary depending on the temperature, humidity, and airflow of the drying space.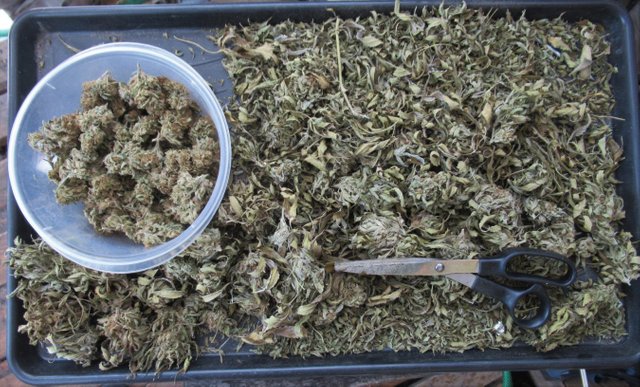 Not the best scissors for trimming lol.
707 Headband Grindage
I'm sure to pick off the extra leaves as I pull the buds off the stems before grinding - they have a sweet, fruity, citrus, earthy, and skunky scent. A few pre-rolls for easy blazing.
Flavor and Effects
Sweet citrus lime pine skunky spice flavor - mouth tingling terpenes, smooth smoke. Smooth head cushion with decently balanced energy with a slight indica lean. Euphoric day and evening buzz with good mind focus.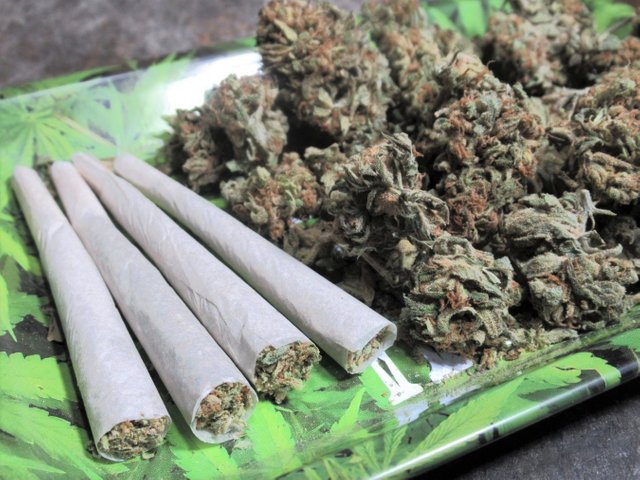 An excellent harvest for the pot pantry, I'll be toking these 707 Headband buds often.
Have a great day!