This is a post about testing steem-engine tokens. I am using the weedcash.network site, which is so similar to steemit.com, that it actually seems like steemit.com.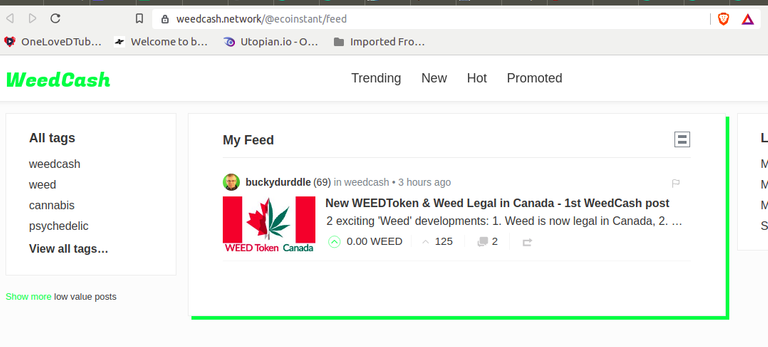 Some things, like the wallet, link back to steemit.com (so I'm not sure how to claim my pending rewards, which I probably don't have yet).
Some things don't seem to work yet, like image upload.

Some things are not yet clear to me, like how can I distinguish between voting with my steem power and voting with my staked weedcash (of which I have 143).

This seems like a very interesting start - but for now, I would just use my front-end of choice to make my posts and use the #weedcash tag as appropriate. It is my understanding that only #weedcash tagged posts can get weedcash distributed to them. This post then, is the next step in my testing, to see if I can get some juicy weedcash votes and see if I can figure out how to get them distributed to me :)
With a lot of weedcash being printed within the next 24 hours, I wonder if the exciting new price hike will stick....
Either way, WeedCash now has a first mover advantage over all these other steemit clones (like silly weku), that is, weedcash token is directly tradeable for steem on the steem-engine marketplace!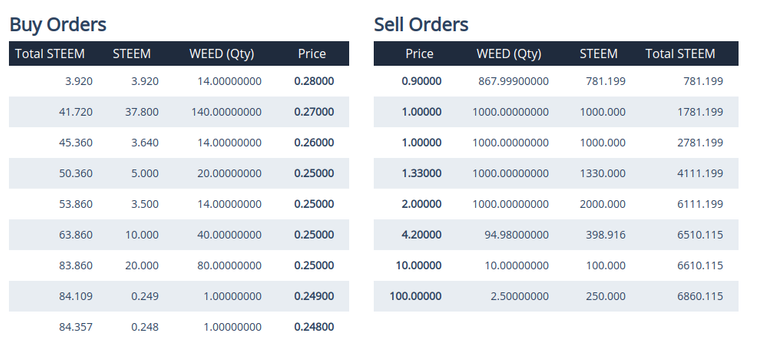 I expect we will see the spread tighten and a market being made very quickly as the WeedCash ecosystem develops over the next couple of days. People will want to power up their weedcash, but also take out some gains in steem.
Let's follow along!