This is all a very big, exciting experiment for me. I'm talking about life - and also the new SCOT-project. Steem-Engine tokens that we can use for stake based distribution, this is going to accelerate the understanding of what steemit inc. is calling the 'Economic Improvement Proposals'. Basically, test and check, see what the results are, report back, make modifications and keep testing. That's the scientific method.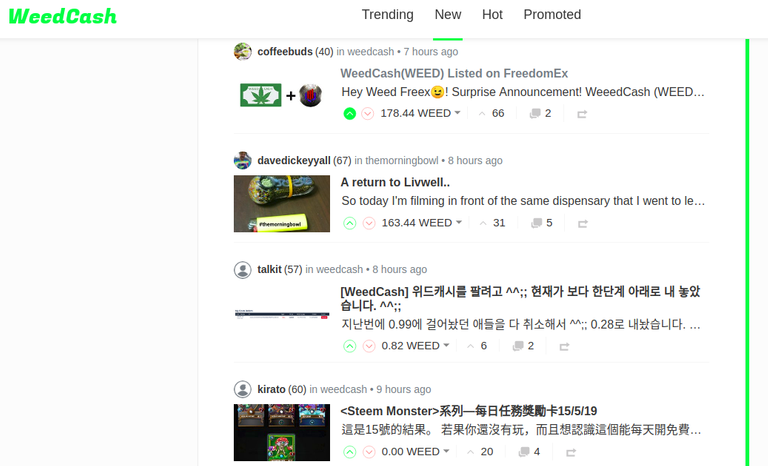 Since reporting on my initial reactions and How to Claim your pending Balances, I have continued to test different things and will report back now. The first thing to note is the curation distribution - instead of 75%/25% to authors/curators on steemit.com, we are seeing 60%/40% on WEEDCASH. This is an excellent opportunity to for those who are interested in this type of content, whether or not they are going to post, to spend some time reading and selecting the best types of posts, or those that they perceive to be the highest 'quality', however they define that.
I had noticed that the distribution seemed skewed, thanks to @jonyoudyer for confirming the distribution rate.
Now I can tell you - there is a whole range of quality already, including what I consider to be a type of tag abuse. Which is why I tested flagging.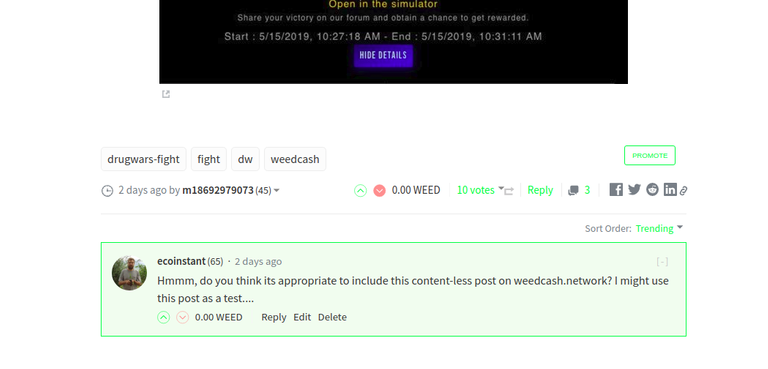 At first I thought it was a failure, as flagging did not yield any change in the rewards balances right away. But coming back after payout, I can confirm that flagging does work, and will reduce the WEED balance that is calculated at payout, as shown above. Below I have some before and after pictures from the actual experience from both WEEDCASH and STEEMIT. (RIGHT click to open in new tab for closer inspection)

Before - Weed Cash

After - Weed Cash
---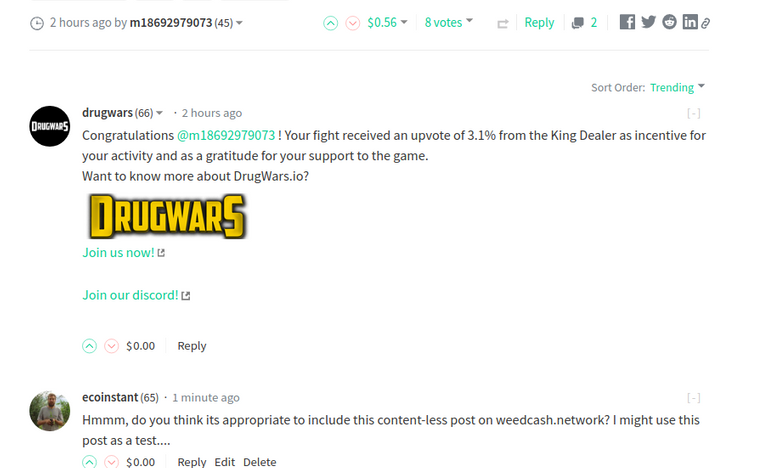 Before - Steemit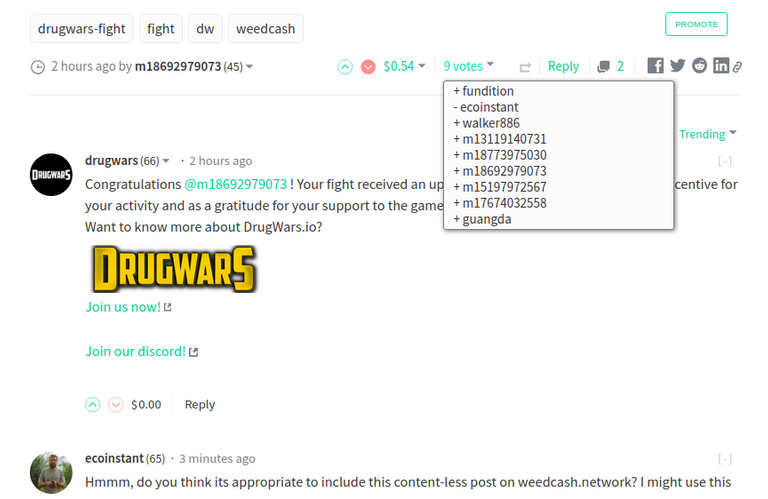 After - Steemit
---
There is one other detail that was frustrating me - every once in a while I would replace steemit.com with weedcash.network and it would go to a blank screen, and for the longest time I couldn't figure out why. Sometimes it would work, and sometimes it wouldn't. Until finally, I figured it out.
The URL structure is basically the same between all condensers, making it really easy to switch between them (and for browsers and condensers theoretically to keep our experience consistant). But as of my last test, the comment depth URL structuring is not working on weedcash, so when I follow a link from discord to a reply, then change steemit.com to weedcash.network so my vote awards WEED, I am getting the blank screen. By deleting the URL tail after # (the comment identifier), this can be fixed.
And: don't forget the www - as in www.weedcash.network

And: don't forget the www - as in www.weedcash.network
What other observations have you all noticed? Are you enjoying your WEED-centric front-end and token? Are you ready for more communities to come online?
Let me know in the comments!