Finally, it is time for an important transplant for our cannabis plant.
We need to mention again, that we are growing it as an experiment, since we do not have much direct sunlight more than a couple of hours a day, we were given the seeds and decided to start with the most natural conditions that we can provide to see how it goes.
We are still using the BioBizz Light Mix substrate which is supposed to be very good for the plant but because of its composition it does not have many nutrients. So we are using a tri-pack 100% otganic also BioBizz brand.
We also use our futuristic watering can with the highest technology we could get in order to provide the best nutrition for our plants.

Finalmente, es hora de un trasplante importante para nuestra planta de cannabis.
Recordamos que la estamos cultivando cómo experimento, ya que no tenemos mucha luz solar directa más que un par de horas al día, nos regalaron las semillas y decidimos iniciar con las condiciones más naturales que podemos brindarle a ver cómo anda todo.
Seguimos usando el sustrato BioBizz Light Mix que se supone es muy bueno para la planta pero por su composición no tiene muchos nutrientes. Así que estamos utilizando un tri-pack 100% otgánico también de marca BioBizz.
También usamos nuestra regadera futurista con la más alta tecnología que pudimos conseguir para poder proporcionarle la mejor nutrición de nuestras plantas.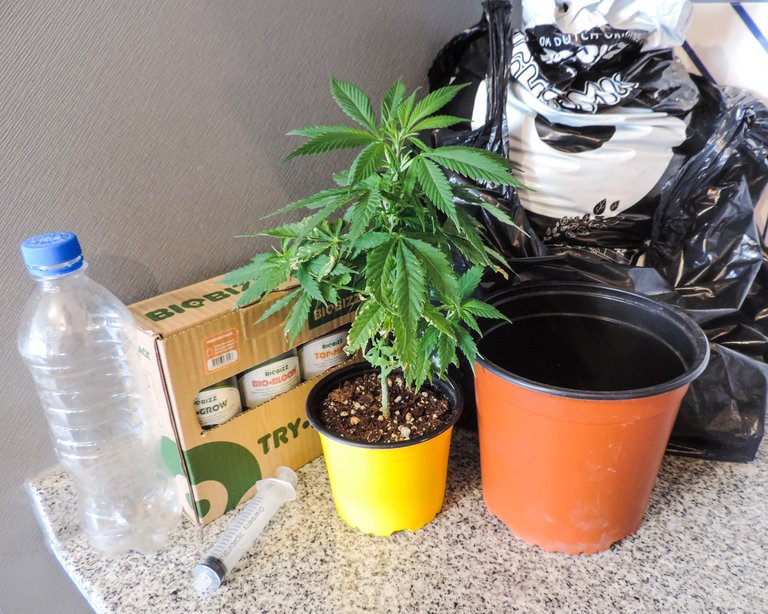 After all, we have to repurpose that single-use plastic, don't we?
We moved our plant from a half liter pot to a 3 liter pot.
Despues de todo, hay darle nuevo propósito a ese plástico de un solo uso, ¿no?
Movimos nuestra planta de una maceta de medio litro a una de 3 litros aproximadamente.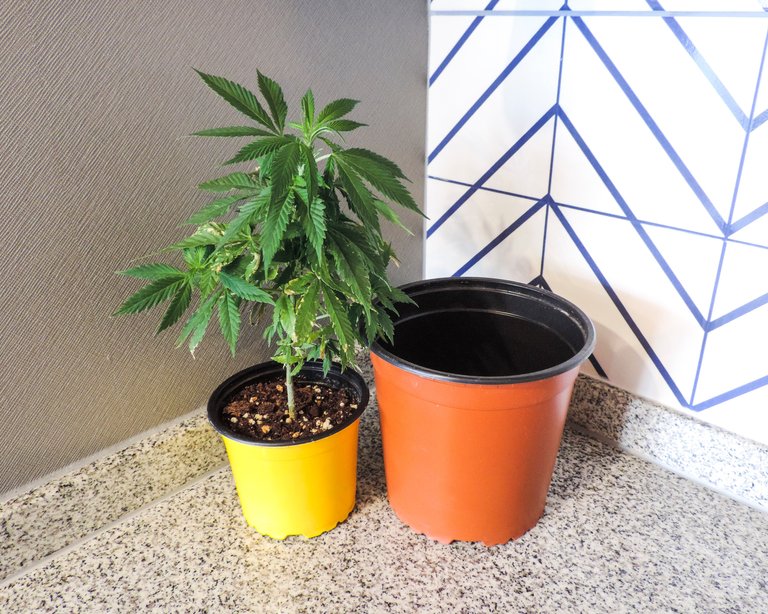 Seguimos las instrucciones del post de trasplante de nuestro menotor cannabico @elbuencultivador.
Primero colocamos algo de sustrato en la base, aproximadamente 5 cms (2 pulgadas).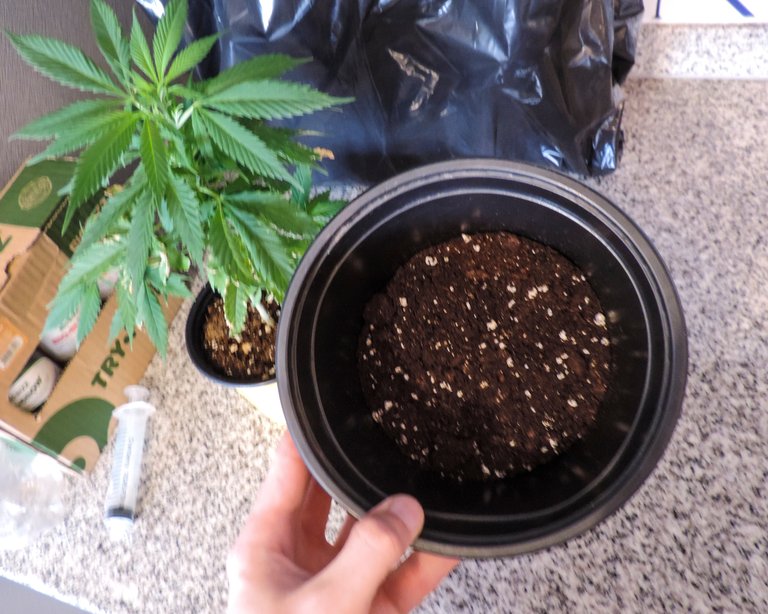 Then we place the plant inside with everything and its pot to be able to measure up to where to place the new substrate.
Luego colocamos la planta dentro con todo y su maceta para poder medir hasta donde colocar el nuevo sustrato.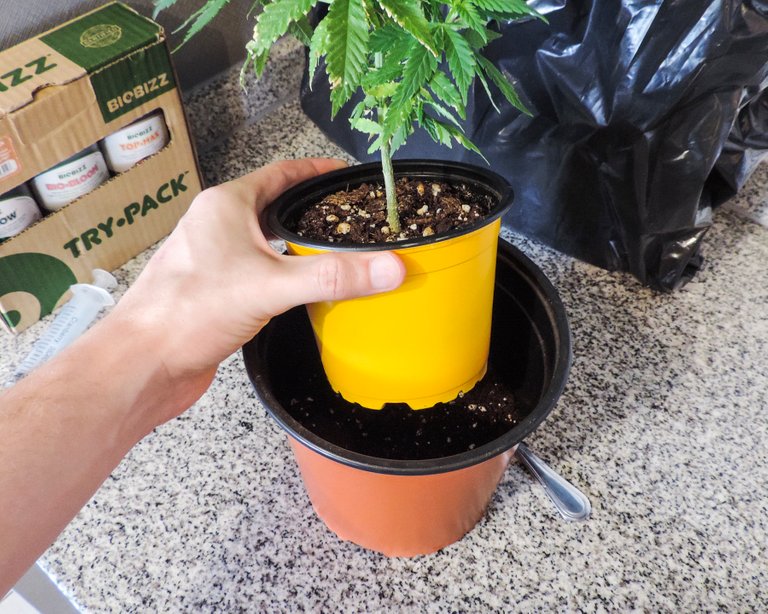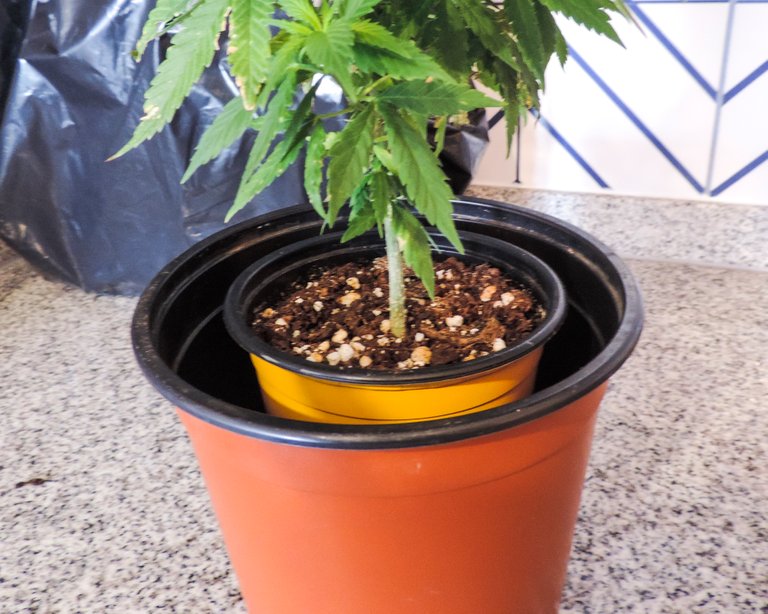 We begin to place substrate around the pot until it is at the same level of the current substrate of the plant.
Empezamos a colocar sustrato al rededor de la maceta hasta que esté al mismo nivel del sustrato actual de la planta.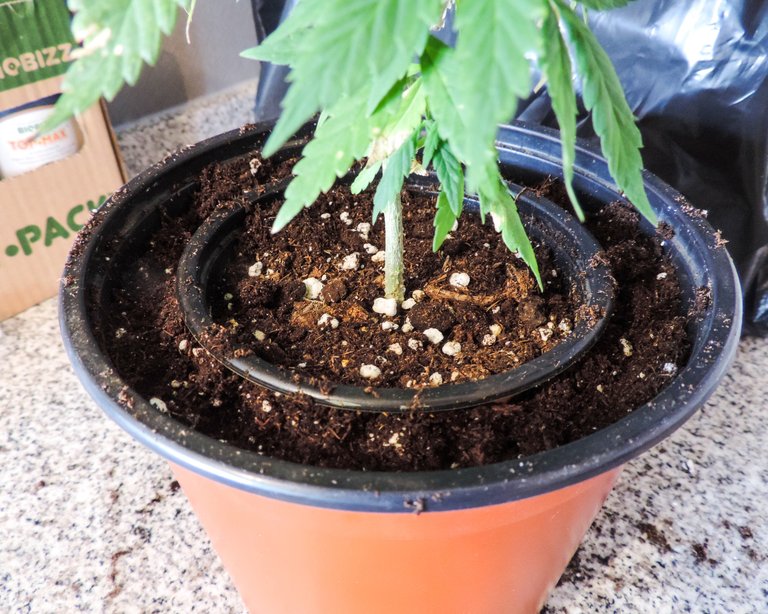 Then, we take out the plant and magically the substrate should perfectly fit the shape of the pot.
Luego, sacamos la planta y mágicamente el sustrato debería quedar perfectamente con la forma de la maceta.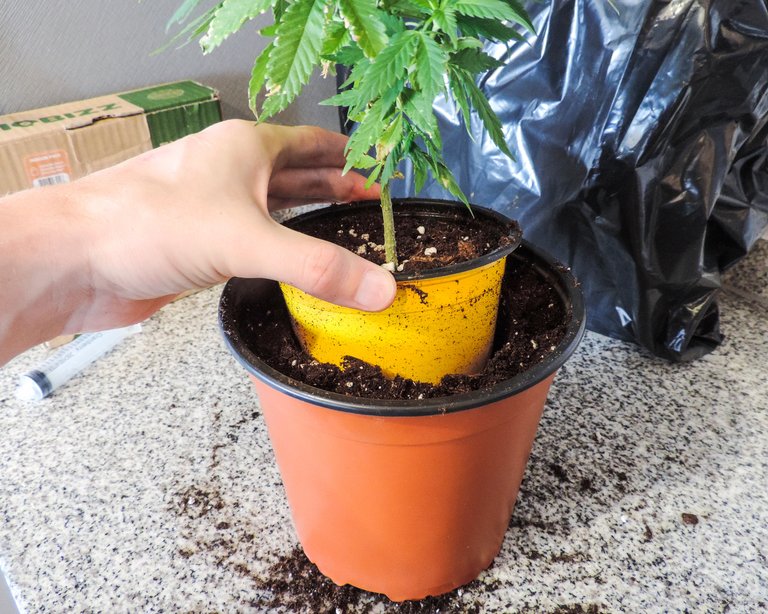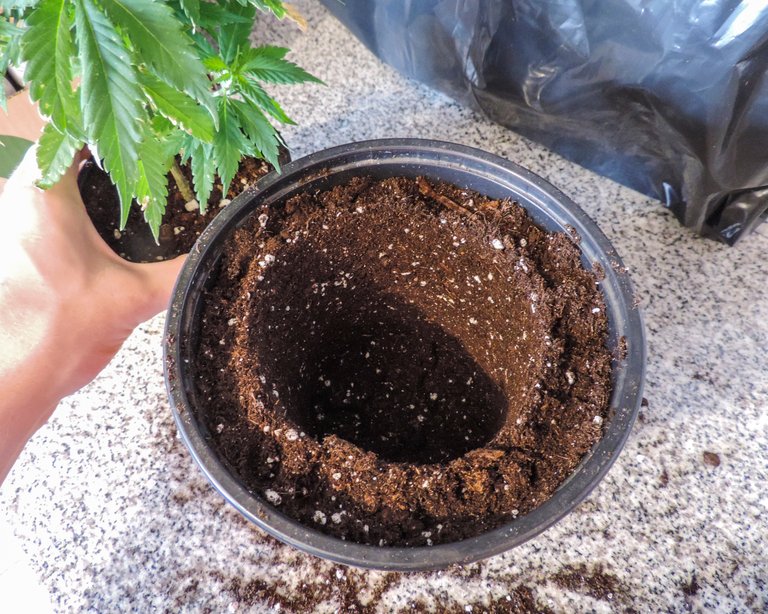 Then very gently crush the pot with your hands to separate and compress the substrate a little.
This will allow us to be able to take the plant by its stem and very delicately take it out of the previous pot to make the move to its new home.
Luego de manera muy suave vamos aplastando la maceta con las manos para separar y comprimir un poco el sustrato.
Esto nos permitira poder tomar la planta por su tallo y muy delicadamente sacarla de la maceta previa para hacer la mudanza a su nuevo hogar.
This technique helped us to provide the minimum stress to our plant so that it continues to grow at almost the same rate or better.
Once there, we place a little more substrate on top, without compressing or stirring too much, just to cover the new and the old.
Esta técnica nos ayudó a proporcionarle el mínimo estrés a nuestra planta para que continue su crecimiento prácticamente con el mismo ritmo o mejor.
Una vez allí, colocamos un poco más de sustrato por encima, sin comprimir ni remover demasiado, solo para cubrir lo nuevo y lo viejo.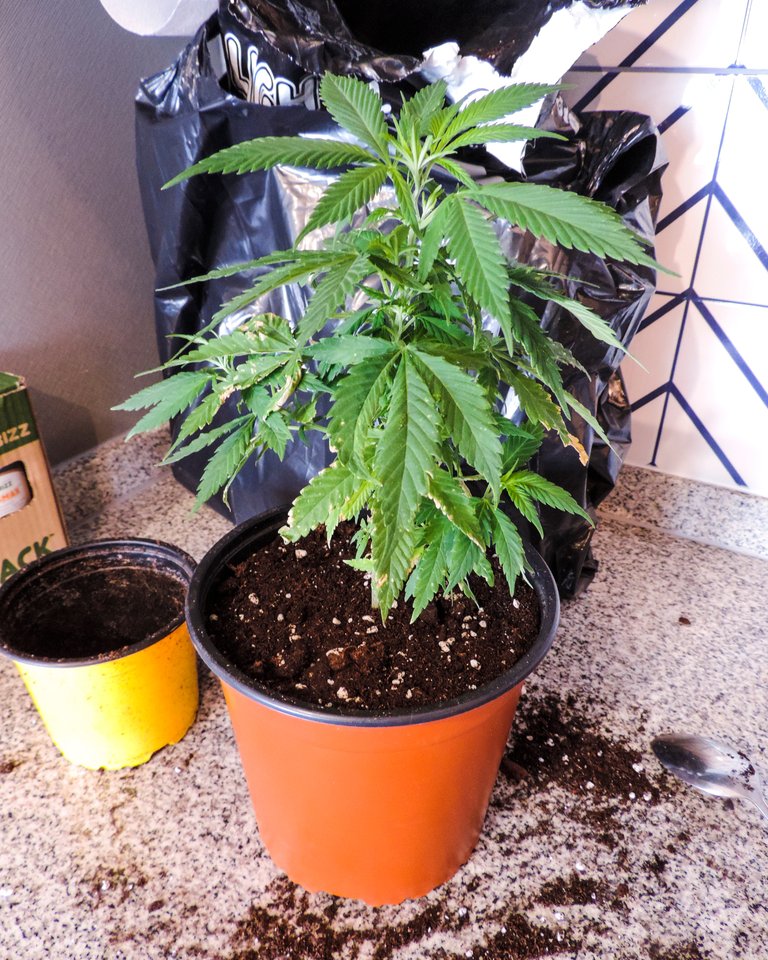 Finally a little nutrients, but only the kind that helps root development, this for a couple of days to make sure that the roots can expand strong, if they suffered a little in the transplant, that should help them recover quickly.
Por último un poco de nutrientes, pero sólo del que ayuda a desarrollar las raices, esto por un par de días para asegurarnos que las raices puedan expandirse fuertes, si es que sufrieron un poco en el trasplante, eso debería ayudarlas a recuperarse repidamente.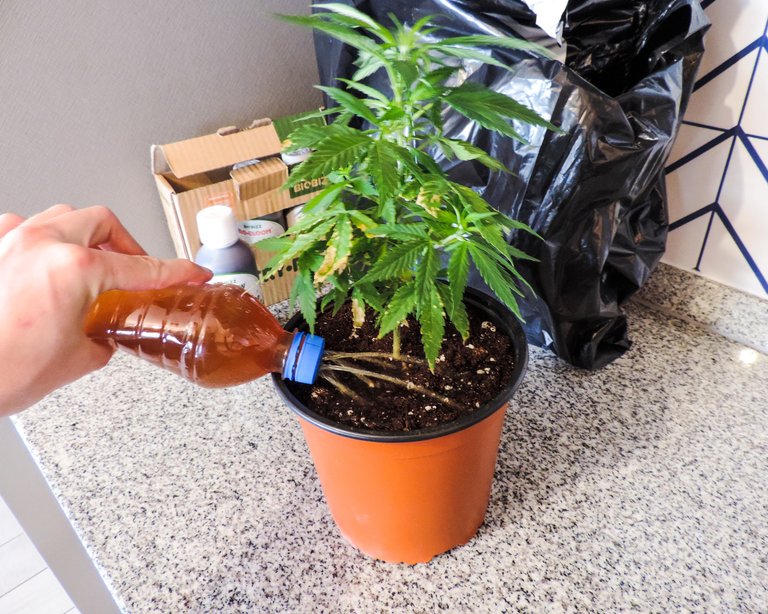 How about our irrigation device from the future?
We really recommend it to you! 😅
We will upload an update in the next couple of weeks to see if our experiment survives.
¿Qué tal nuestro dispositivo de riego del futuro?
¡De verdad te lo recomendamos! 😅
Seguiremos actualizando en el próximo pár de semanas para ver si nuestro experimento sobrevive.
---
-V&W
---
If you want to develop a design project with us just contact us through Discord @themonkeyzuelans#9087 where we are always online and ready to work.
Check out our Creative Agency Instagram feed and Portfolio
Si deseas desarrollar algun proyecto de diseño con nosotros sólo contactanos a través de Discord @themonkeyzuelans#9087 donde siempre estamos en línea y listos para trabajar.
Ve el feed de Instagram y Portafolio de nuestra Agencia Creativa.
---
---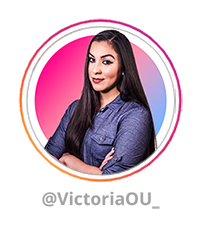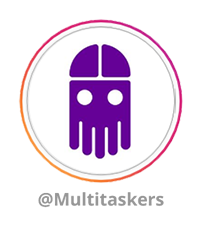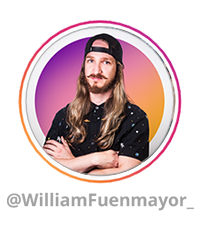 ---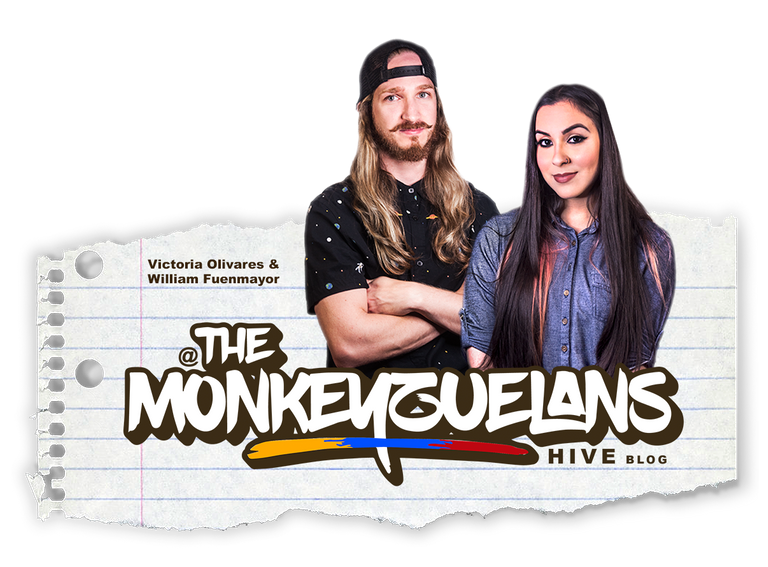 All information, texts, stories, images and photos, where not otherwise specified, are our authorship and property. Redmi Note 7, LG Stylo 4, Nikon Coolpix P520, GoPro Hero 3+, Sony Alpha300. Logo and Banner design by @themonkeyzuelans as Multitakers
Toda la información, los textos, el relato, las imagenes y fotos, donde no se especifique lo contrario, son de nuestra autoría y propiedad. Redmi Note 7, LG Stylo 4, Nikon Coolpix P520, GoPro Hero 3+, Sony Alpha300. Diseño de Logo y Firma por @themonkeyzuelans como Multitakers