So lets talk a little about Blueberry Moonrocks! I found these online, on sale for just under $60 an ounce, I thought they'd be worthy of a try. This is a Delta 8 / Delta 10 product.
As usual, this post is for adults only. If you are not considered an adult in your legal jurisdiction please leave now. By continuing you are stating that you are over the age of 21 or a consenting adult in your country of origin and able to think for yourself.
Now that the legal horseshit is out of the way lets talk about Moonrocks. I bought these online from a company called Boston Hempire. They were on sale at under $60 an ounce. At that price, I had to give them a try. Honestly, I'm enjoying these but I'm a little conflicted.
---
Strain info taken from website
---
Strain: Delta 8/Delta 10 Hybrid Coated Moon Rock Blueberry CBD Flower
Strain Genetics: Berry & Lifter
Quality: Very High
Grow Method: Organic Grow
Habitat: Greenhouse/Outdoor
Seeds: Minimal to None
Batch: 0093
Origin: Vermont
Aroma: Berry & Sweet
Total Cannabinoids: 18.02%
Total CBD: 17.33%
CBD: 0.33%
CBDa: 19.38%
CBDV: 0.00%
CBG: 0.68%
CBN: 0.00%
CBC: 0.07%
Delta 9 THC*: 0.00%
*Federal Legal Limit: 0.3%
---
Surprisingly, they don't list the percentage of Delta 8 and Delta 10 in these. They are labeled on the package though. Besides a nice buzz they offer a nice percentage of CBD too.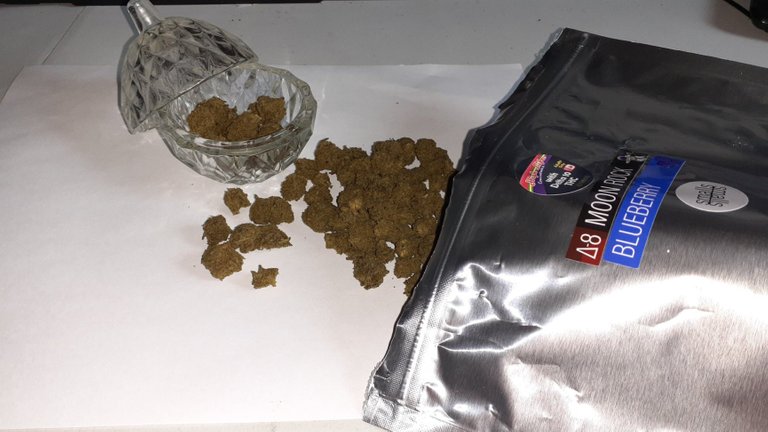 I had mentioned these a couple times in earlier posts. This is the first chance I've actually had to review them though. So here's what I found.
This is the first time trying anything in the "moonrocks" category. As a crypto trader, the name called out to me! I guess there's more than one way to reach the moon! For the most part, these will do the trick. I guess moonrocks are defined as buds that are rolled around in kief.
What is Kief you ask? Kief appears naturally when marijuana begins to flower and mature. As the plant is harvested and dried the kief falls off like pollen. You can collect this in boxes and it resembles hash in taste and potency.
So basically this a bag of tiny buds "Blueberry Smalls" rolled around in kief.
Sticking my nose in the bag it definitely has a blueberry essence as far as aroma. When smoking it, it has a slight hint of blueberry flavor. I generally smoke it in a a water pipe, the blueberry essence is more pronounced when smoking it rolled in a joint.
The buds themselves are soft and spongy. Much different from the very dry White Widow I reviewed a few weeks back.
This is the third Delta 8 Hemp Flower product I've tried and I've yet to find one that's sticky and dank like really dank cannabis nugs. Still, the texture of these is very nice. Just the right amount of moisture.
The White Widow and TKO was a little too dry to roll in a joint. The moonrocks break up nicely in a grinder and roll very nicely!
I'm not super impressed with the potency of this one though. Don't get me wrong it gets you buzzed. These are supposed to be infused with Delta 8 and Delta 10 THC. Again, I need to research more on Delta 10, this is a new one to me and another reason I wanted to try these.
The buzz or high is very spacey and VERY energetic. There isn't a severe burnout as compared to other Delta 8 and cannabis products I've smoked. For that reason, I really love this for day time use.
For the most part, I've been smoking two or three hits of this each day after my morning coffee to deal with back pain. For me, it's working out great. A few hits in the morning and sometimes a few mid afternoon. My back hasn't felt this great in a really long time!
At night, I tend to switch strains and go for the more potent White Whale. (The people naming these strains have to be crypto traders, White Whale, Moonrocks, LOL)
I did roll a nice joint of this the other night before watching a movie and it just doesn't seem to pack the same punch the other strains I'm smoking have. That could be the Delta 10.
A milder high isn't always that bad though. Sometimes you want to maintain your faculties and this strain allows for that. Basically, smoking this I get a nice mild buzz along with the many health benefits and improved quality of life.
I will say that the "kief" or blueberry is a bit overpowering at times. Smoking the joint it was very oily with a heavy resin. More so than the White Whale and TKO product I reviewed. That's probably the kief affect. The taste seems heavy as well though. I'm not really sure how to describe it.
Between the standard hemp flower products and the moonrock style products, I'm leaning more towards traditional hemp flower. The added kief just seemed to heavy in my humble opinion, for someone else however, this might be a defining trait they're looking for. It wasn't necessarily a bad thing, just not my thing if you know what I'm saying :)
Summary
In summary, I'm good with this product. It's perfect for day time use. Hits with just the right kind of buzz and really helps with my pain issues. The buzz is light and energetic with very little burnout. I like it.
I'm not sure about the re-order on this one though. I definitely wouldn't have a hard time re-ordering the White Whale or TKO product. With this one though, I might look around for something else. So far this would be my last choice out of everything I've reviewed so far!
Coming Soon
Not knowing a lot about all the processes involved in Delta 8 production, my next Delta 8 post is going to be about researching the production itself. Plus I think it will be nice to have a "faq" to point to for people that don't know about Delta 8 and how it compares to cannabis products.