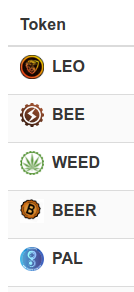 Hlásí se Vám lev z úlu co je pěkně zhulenej a dal by si jedno studený - tak to už odPAL
Tak tohle mě napadlo když jsem se koukl na svoji sbírku tokenů na Hive. Mě to vlastně přestalo bavit při tom přestupu takže jsem se o tokeny skoro přestal zajímat a jen tak občas na něco kouknu. Dokonce jsem byl upozorněn, Dík @shebe, abych si leo zastakoval. Ale na to, že se o to nezajímám tak to má k dnešku hodnotu $70 a to, že jsem ten tag jen párkrát použil je vtipné, a vůbec vlastně ani nevím kde jsem vzal tolik těch tokenů :) No a zas ty blbý daně.
jenže pak tu máte lvíčky
A vůbec celé je to prapodivné, takže datum z éteru 29.2 je pík hustoty konce února a pak až se zase pohnou kameny 4tého. Vypuštění dokumentů o UFO uprostřed roku, co jsou do teď "TOP SECRET", bude švanda.
A pak mam moře věcí co nestíhám napsat. Nevím s tou pandemií jako by bylo méně času, vše je takové komplikované. A přitom vlastně jakože nemůžete nic dělat.
Třeba takový Dick Dikinson jednoho dne se objevil. A říkal si, co pak se to děje jééééé, kdo jsem, kde jsme a co to jéééé. Bylo to po jedné velké opici kdy zažil svůj první knockout a projel depem ještě se svým brachem Viky Vikinsonem. Zíral do prázdna protože poslední si pamatoval větu "Další vystupuju a ty hned tu další..." A pak bylo o několik zastávek zpět v protisměru... Strašlivé to ráno, bylo to vůbec ráno? Nebo už bylo jedno kolik na ciferníku krouží ručičky, existovalo jen místo a čas byl jeho další souřadnicí. Dick Dikinson se usmál a mátravě probudil Vikynsona a vytáhl ho z dostavníku. Kolem bzučely včely. Pylné jako všelyčky, pyl nééééé... a brouzdání bylo ta tam.
Ale vraťme se na zpět. Kosmír je uzavřen a má nožičky.
Bezva látka tyhle tokeny. Zhulená pylná všelička sedí v hospodě a tváří se jako Kyng!
Tak tohle je taková jiná látka na počest #leo tokenu páč $70 doláčků :)