Hello fellow Steemians, I'm here to introduce you to an in development Cannabis breeding game on the Ethereum blockchain called Flowerpatch. You can plant, and breed your strains right now, there's more planned to come as this year progresses.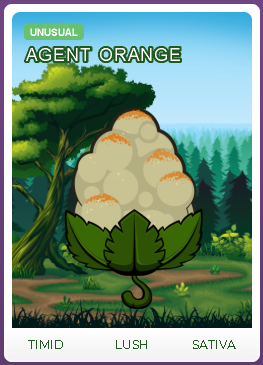 Above is an image of the bud I own in game, you can view anyone's list of plants through the on site explorer. It's an unusual strain, The name, colors, and soil preference of each strain can vary, multiple combinations can lead to the same name, but, different coloration, soil preference, smell, and look.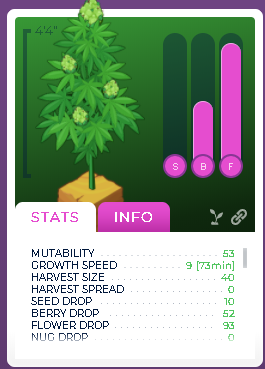 Above is the stats of my plant, I'm still new to the game, myself.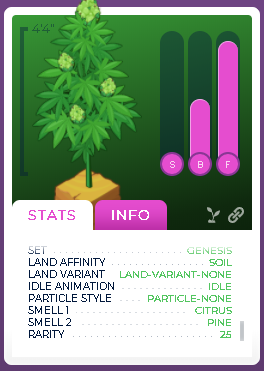 Land affinity is where the plant prefers to be planted, my Agent Orange likes to be planted in soil, instead of snow, lava, water,etc. They have some epics, and legendary strains for sale on the site, some of them I'd love to grab, but, I'm not in a position to spend money on them.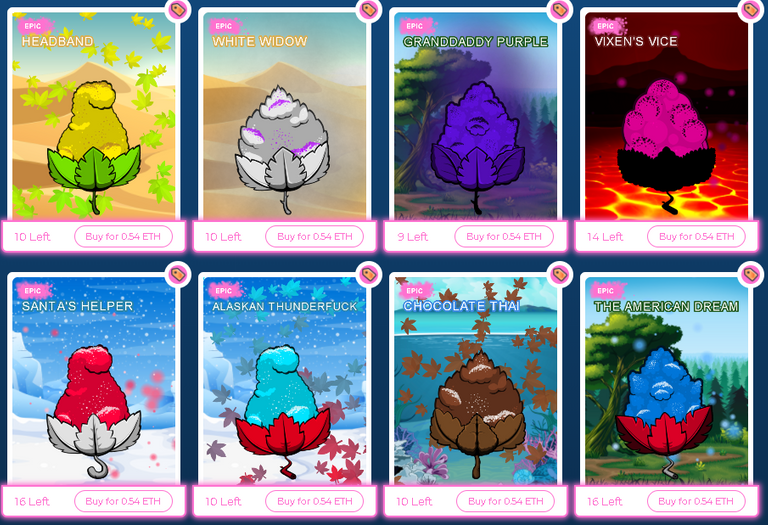 If you want to get started, right now, while they're still in the early phases pop on over to their discord server here https://discord.gg/BhCTXkZ Read the quick start guide for a way to get a free flower. You can look at my collection here my strains
------------------------------signature------------------------------
If you feel like donating to help the cause:
Erc-20 compatible eth wallet address: 0xAa09c6ad610C0fB4C52B67aE1b84b94975249e1D
Bitcoin wallet address: 3EhHNPH12kzuCgvYw77XGHg53ZrVBcgNHK
Mannabase wallet: GVcZ8xabPYgvL2ADCnKwroWmeVo9yYcXkB
gridcoin wallet: S8JyHccSEpNSTFBkzXKfeuQXCYk76MnUuY
paypal for noncrypto: paypal.me/TNida
Amazon: https://www.amazon.com/hz/wishlist/ls/35EWUUHZ8A3K6?ref_=wl_share
ref links:
SteemMonsters: https://steemmonsters.com?ref=taintedblood
Gods Unchained: https://godsunchained.com/?refcode=0xAa09c6ad610C0fB4C52B67aE1b84b94975249e1D
mannabase: https://www.mannabase.com/?ref=vNFsukLPAQ
Publish0x: https://www.publish0x.com?a=w9aAM4PavM
Coinbase:
earn free eos for watching videos: https://coinbase.com/earn/eos/invite/hjp9n307
earn free stellar for watching videos: https://coinbase.com/earn/xlm/invite/qks6gh0m