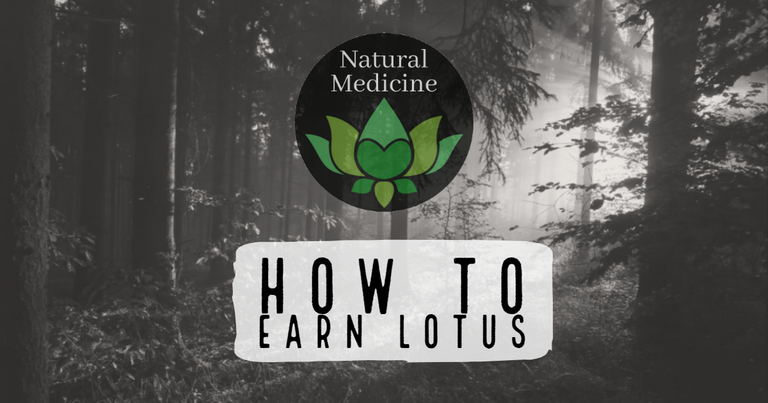 We get little messages all the time about how to 'get more Lotus' or 'become a LOTUS whale'. We'd love to sprinkle you ALL with more lotus love, but to do that is impossible - the first two airdrops have gone out, and we won't be doing another one for a while. Sure, you can wait for that airdrop - but remember that will only be for people who are consistantly engaged with the community and posting excellent content on our front end.
This post is to remind you of some of the best ways to earn LOTUS so that you have a healthy supply ready to use to earn more curation rewards and buy products and services that accept LOTUS as trade.
There are two ways to see #naturalmedicine content easily. We recommend www.naturalmedicine.io. Log on with your posting key, and upvote and comment on others posting about earth medicines, herbalism, permaculture, yoga and so on. You can also power up your LOTUS so that you have more lotus power to earn even more!
You can also find us on Steempeak - see all content curated by @uplotus here.
2. Proof of Stake
Stakeholders earn a portion of the daily reward pool simply by staking their LOTUS.
3. Enter our Challenges
We put these out fortnightly - each entry wins a small amount of LOTUS, plus the Week 1 and final week winners win LOTUS too. And you win double, because we BURN the same amount as we reward, helping the LOTUS economy.
4. Engage in our Discord
Curators who post good links in our Nurtery earn LOTUS for doing so. If you're a keen #naturalmedicine person you can become a Lotus Curator to have access to this channel. This both helps reward undervalued natural health posts AND helps the lotus token economy. LOTUS is often given away in Discord for people who chime in with interesting topics, advice and knowledge.
5. Join Our Delegator Program
This is for whitelisted users only. If you are consistently posting good content under the #naturalmedicine tag, by sending LOTUS to burn you can receive LOTUS upvotes on every post. We are raising the price of this to 1000 LOTUS burned - you will soon make your money back, and then some!
6. Delegate SP and post on our front end
All Natural Medicine delegators who post on our front end are rewarded with LOTUS - just for posting!
7. Write great content
Fabulous content will be upvoted and resteemed by @naturalmedicine and @uplotus, and we also are able to share it in 'special' channels that may get you further rewards.
As you can see, there are a lot of ways to earn LOTUS, so choose the way that best suits your habits and interests. For more information on any of the above, please find all posts in the #learn-lotus section of our Discord Channel, and ask in our Discord.

Oh, and if you're wondering what tags to curate? Our curators look at most of these tags and much more! Check out www.naturalmedicine.io for a full list of supported tags.
| naturalmedicine | health | healing | yoga |
| --- | --- | --- | --- |
| spirituality | herbalism | homesteading | innerblocks |
| vegan | meditation | wellness | cbd |
| qi gong | keto | tai chi | herbs |
Thinking about writing a #naturalmedicine post this week? We have upvotes to burn and will resteem the best of you to nearly 1,000 followers! Go you! We're also resteeming on our @uplotus account, so go give that a follow too! That's the one where you'll see the LOTUS rewards.
All the curation and author rewards in LOTUS for this post will be burnt to help the ecosystem.

We need YOU! Please consider delegating to help keep this collective going. The minimum entry for membership is 20SP (free for members under 150SP), and helps give YOU upvotes, contests, meditation sessions, an awesome discord support group, and so much more!
50SPII100SPII200II300SPII500SPII1000SP