Are you into herbal medicine, and love research? Are you stuck for a writing topic, or perhaps want to roll your sleeves up and get into some hardcore study? We'd love to encourage you to start drafting a killer awesome #naturalmedicine post!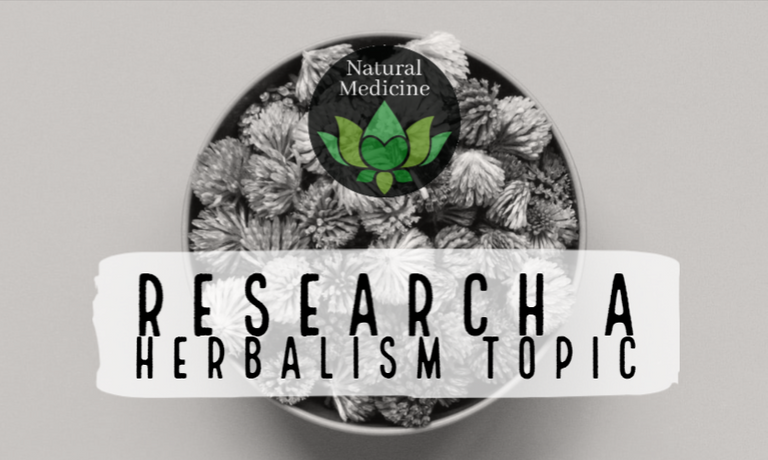 We've been spending a lot of time on Twitter lately, sharing good Natural Medicine posts on Steem and connecting with other wellness bloggers. Doing so, we came across this wonderful list by Eclectic Witchcraft, listing topics that every budding herbalist should research. We were compelled to share it with you, knowing it will give you some topic inspiration! Not everyone can afford or has the time to go and pay for a herbalist course, but deep dives into any of the following topics would expand your knowledge immensely!
We encourage you to choose one of the following topics and submit it to the Natural Medicine Team for review. Each eligible entry will win 5 Steem** - and we will do what we can to send your post to trending, upvote and resteem it, and bow down at your herbal green goddess (and god) feet! We are submitting good posts to @trendthis, an iniative that attempts to send excellent posts to trending, headed by @joshman and supported by @minismallholding, @riverflows and @livinguktaiwan. Let's get some great #naturalmedicine content visible!
Excellent, trend worthy posts...
Are well sourced
Have original photos or good stock photos that are credited
Are well formatted
Have a word count of around 1500 - 2000 words
Include personal anecdotes as well as science - #steemstem posts do well!
We will give 5 Steem per post up to 10 posts totalling 50 Steem. You can submit as many entries as you like. Excellent posts will also be curated and featured on our blog and we'll set you as part post beneficiary.
If you'd like to see more examples of good trend worthy content, check out the #trendthis channel in our Discord, where we feature posts that have been sent to trending through through the @trendthis curation experiment. If you'd like to help out the Trending Pages feature more than just crypto news, every little vote on these posts helps Steem look amazing to outsiders, giving it wider appeal!

Things That Every Beginner Herbalist Should Research
From Eclectic Witchcraft
What are adaptogens?
What are alteratives?
What are aromatics?
What are astringents?
What are bitters?
What are nervines?
What are carminatives?
What are diaphoretics?
What are diuretics?
What are emollients?
What are expectorants?
What are tonics?
What are common delivery methods for herbal remedies?
How do you use a compress?
How do you use an essential oil?
How do you use a decoction?
How do you use an extract?
How do you use an infusion?
How do you use an infused oil?
How do you use a liniment?
How do you use a poultice?
How do you use a salve?
How do you use a syrup?
Necessary and helpful tools for herbalists
The history of herbalism
Local, state, and federal laws of herbalism
Common local plants that can be harvested for remedies
What plants are common in your area?
What are the home remedies in your local area for certain ailments?
The theories of Traditional Chinese Medicine
The theories of Ayurvedic medicine
The theories of plant spirit medicine
The theories of Indigenous or Tribal Medicine
The theories of Western herbalism
The theories of the Eclectics
Plant identification skills
How to wildcraft ethically
How to grow and harvest your own herbal remedies
Dosages of specific plants for specific ailments
Herbal nutrition
How to use kitchen herbs as medicine
Herbalism for preventative health
How specific cultures use herbs
How to understand scientific names of plants
The use of fermentation in herbalism
How to make a materia medica
Herbal remedies as beauty products
Herbal remedies for female issues
Herbal remedies for male issues
Herbal remedies for children
Herbal remedies for the elderly
What extraction medium is best for specific plants
Where to find herbs locally, either in the wild or in stores
Common herbalist vocabulary
Language to avoid using as an herbalist
Of course you don't have to limit yourself to these topics, or perhaps your post will dive deep into only a small aspect of these topics! If you aren't sure, please get in touch.




Earn Instantly For Writing Good Natural Health Content
If you would like to earn LOTUS and STEEM rewards for sharing your natural health content on www.naturalmedicine.io, you can sign up for an free FREE account by emailing welcome@naturalmedicine.io. Read more about us on our Welcome Page. We support writers sharing about herbalism, TCM, yoga, meditation, vegan and other healthy diets, as well as earth centred practices such as foraging, permaculture and biodynamics.

We need YOU! Please consider delegating STEEM to help keep this collective going. The minimum entry for membership is 20SP (free for members under 150SP), and helps give YOU upvotes, contests, meditation sessions, an awesome discord support group, and so much more!
---
If you'd like to learn more about www.naturalmedicine.io, LOTUS and other particulars, please read our WELCOME page.
---