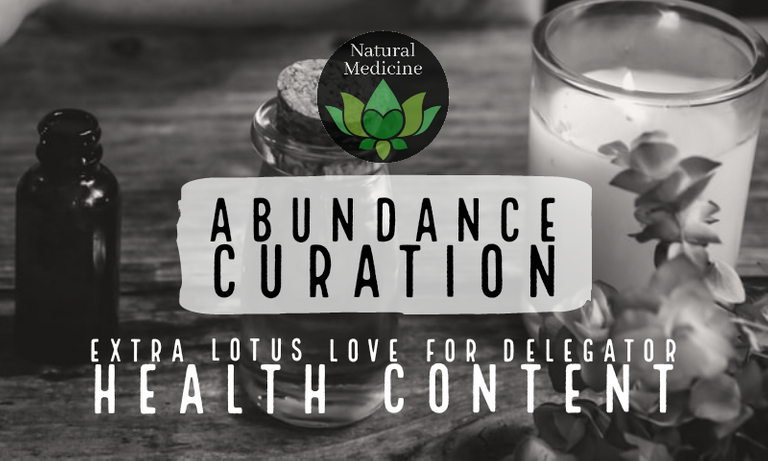 For over a year now our great curators have been putting out A post on Mondays, celebrating natural health content on Steem. We have upped the abundance stakes as every week the person curating is given part post beneficiary, plus, one celebrated author gets 5 percent of the post rewards. I have decided that I will do an extra curation of ONLY delegator content once every few weeks or so, or as the mood takes me! I plan to set the selected authors to recieve part post beneficiary, giving them a little ROI but also a nod to the effort they put in for the #naturalmedicine tag.
This week has been a fairly busy one, whether or not it's because of the little steem pump we had or may be we have settled into a routine again post Christmas. Maybe there's just a little LOTUS love in the air. Whatever it is, I'd like to acknowledge the following delegators for their great posts this week. Each of you have been set at 15 percent beneficiary - we hope it brings a little smile to your gorgeous faces. The rest, of course, is powered up - giving YOU bigger upvotes and contributing to prize pools for our challenges.

@minismallholding's post got me kinda mad this week. She philosophises how we're not really living how we're meant to be living - overworked in systems that don't nurture our mental health. In the end, whilst going back to nature can be bloody tough, it's ultimately a better place to be.
When I think about all this, the appeal of nature starts to become apparent. You see nature is transparent in how she works. She doesn't ask for money or for proof of who you are and if you're allowed to be there. Nature has a cycle which means everything has its function and use and everything feeds everything else. As long as you have water, there will be life. If you're growing a garden you can spend money on things to help it grow, but if you don't have any money, you don't have to buy things. Nutrients come from other organic matter that is cast off by plants and animals. Water comes from the planet itself, although governments and corporations are even trying to control that. Plants and animals don't know borders, they live where the climate allows for their survival and that is their proof of whether they're "allowed" to be there.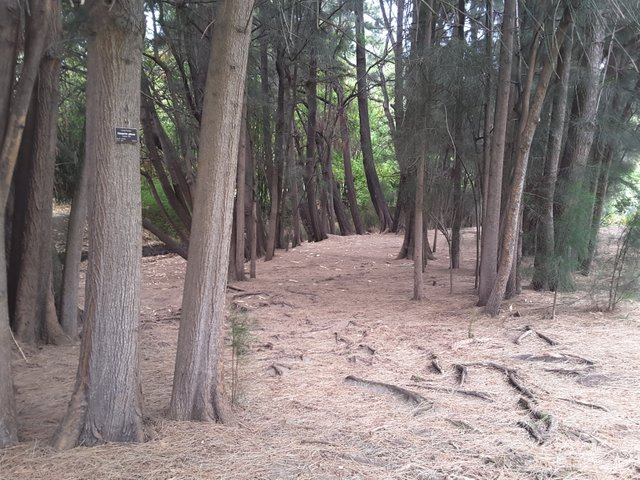 I also loved @fennglen's post about purslane. I know @ligayagardener's a fan as well. I love any post on wildfoods - it really speaks to me of being independent, resourceful and resilient. Exactly what you need to be in an apocalypse, as he writes below!
If the apocalypse is to hit us eventually you'll want to be acquainted with this poorly understood "weed" as it will be for sure one of the few plants hardy enough to resist everything and stay to witness the recovery of Earth.
We shared this one on Twitter - you may have noticed some of you have been shared there so we can spread the Natural Medicine word. If you share a #naturalmedicine post on Twitter, do feel free to add this little footer to your posts or the #naturalmedicine posts you share. I'll include to the code so you can just copy and paste if you like!
![www.naturalmedicine.io on Twitter - @lotus_medicine](https://files.steempeak.com/file/steempeak/naturalmedicine/dFez3h3b-image.png)

The third post I've enjoyed this week is actually more part of a series. @edouard is new to the Natural Medicine tribe and he's going to be doing a curation for Mindful Life soon. He's been joining in the Abundance Meditation challenge and I've loved reading his journey. He's meditating with his Mum too which is super cool. I love this photo of him dancing flamenco as he reflects on prana or the life force of breath as it moves through the body in dance.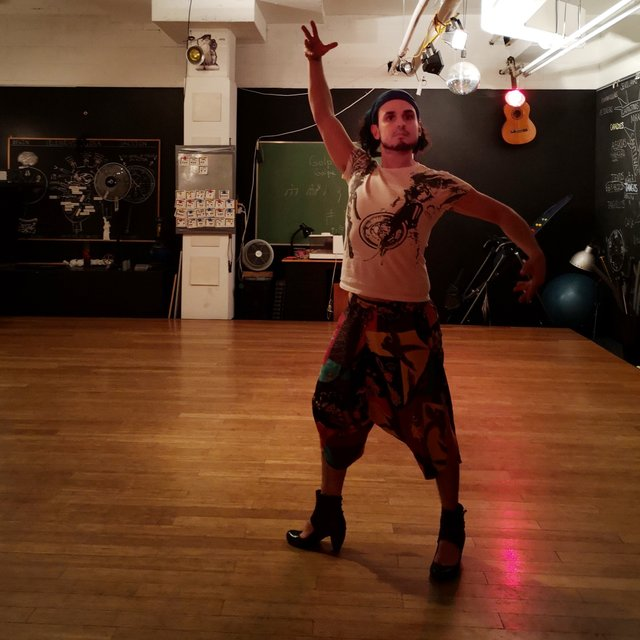 A Thank You to Our Delegators - Here's to Abundance to Us All in 2020!!
There has been some extra lovin' donations in the last week. We thank @theycallmedan for his 1000K delegation for the year, which we used wisely. As it needed to be returned, we put a shout out for support and it returned a million fold - thanks @artemislives, @quochuy, @nateonsteemit, @trucklife-family, @agiftoflove, @whatamidoing and @bia-birch for either upping your delegations or adding a little of what you can to the kitty. @tribesteemup has delegated a whopping 5000 too and I personally added another 500 - we're now at over 42,000 SP which is great - hence, these abundance posts where we can share a little with you guys! Thanks to @canadiancoconut too for her ongoing support - we couldn't do this without her generosity, and the generosity of you all!
If you notice I haven't moved you up a delegator level, do let me know - sometimes it's hard to keep track of these things as there is so much going on in the Steemiverse!

1000+ SP: Fungi Delegators
@immarojas @riverflows @tribesteemup @walkerland @stortebeker @vincentnijman @yangyanje @bewithbreath @alchemage @whatamidoing
500 - 699 SP: Lavender Delegators
@missdeli @porters @trucklife-family
300 - 499 SP: Clover Delegators
@artemislives @enjoyinglife @hopehuggs @metametheus @nainaztengra @nateonsteemit @phillyc @richardcrill @blessedgirl @quochuy
200 - 299 SP: Yarrow Delegators
@amico @anttn @bearone @cmplxty @digitaldan @holisticmom @mountainjewel @solominer @zen-art @wildhomesteading @goldenoakfarm @minismallholding
100 - 199 SP: Dandelion Delegators
@anggreklestari @barge @dazedconfused11 @eftnow @sagescrub @senorcoconut @thelaundrylady @tibfox @viking-ventures @yangyanje @crescendoofpeace @mrnightmare89 @consciousangel7 @sallybeth23 @justinparke @alexvanaken @agiftoflove
0 - 99 SP: Mint Delegators
@allyinspirit @amymya @bala41288 @belleamie @bengiles @bifilarcoil @binkyprod @brutledge @cambridgeport90 @canna-curate @careassaktart @claudiaz @crosheille @desertrat @frejafri @hafizullah @inuke @julianhorack @kimmysomelove42 @ligayagardener @lizelle @mayb
@ofsedgeandsalt @organicgardener @owasco @plantstoplanks @raj808 @rebeccabe @rem-steem @samstonehill @senattor @simplymike @skramatters @sn0n @squishysquid @thereikiforest @thetreeoflife @thistle-rock @torico @tryskele @vibesforlife @wildlocusthoney @xwalkran @yestermorrow @your-poet @a1-shroom-spores @mrnightmare89 @troyvandeventer @fenngen @evernoticethat @bia.birch




Earn Instantly For Writing Good Natural Health Content
If you would like to earn LOTUS and STEEM rewards for sharing your natural health content on www.naturalmedicine.io, you can sign up for an free FREE account by emailing welcome@naturalmedicine.io. Read more about us on our Welcome Page. We support writers sharing about herbalism, TCM, yoga, meditation, vegan and other healthy diets, as well as earth centred practices such as foraging, permaculture and biodynamics.

We need YOU! Please consider delegating STEEM to help keep this collective going. The minimum entry for membership is 20SP (free for members under 150SP), and helps give YOU upvotes, contests, meditation sessions, an awesome discord support group, and so much more!
---
If you'd like to learn more about www.naturalmedicine.io, LOTUS and other particulars, please read our WELCOME page.
---