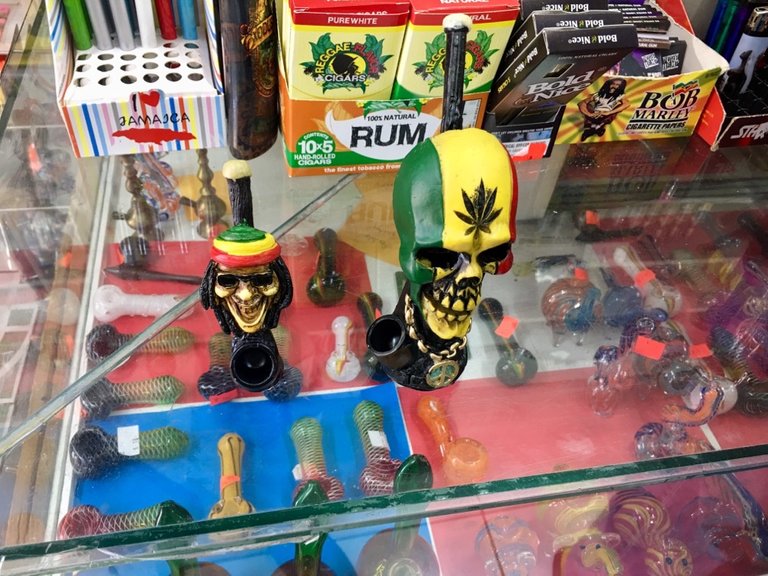 *Epic ganja pipes and bowls at Irie Gift Shop in Negril, Jamaica
Stopped by a friends business yesterday, @shaunstorm who runs a duty free shop in Negril's town centre. They accept Bitcoin $BTC, $ETH, $LTC and $XRP 🤮... and are ready to accept $JAHM— so long we can provide them with crypto QR sheets and a streamlined process to accept/send JAHM Tokens: a JAHM Wallet.
Although the JAHM Wallet concept is in it's infancy, we need to ramp up our efforts at launching beta before or during the coming tourist season. Merchants foster adoption, for JAHM to become the crypto of choice in Jamaica and later the Caribbean— this must become a reality early on.
Team @ReggaeSteem is working on it in the background, more info soon, when available. If you are a Steem developer who can assist in return for staked JAHM, please join us in the ReggaeSteem Discord.
Regarding Irie Gift Shop Negril, I've scheduled a time to take photos and some item details for an official post and to add them to our list of tourism offerings/available JAHM merchants on ReggaeSteem.com. The gift shop further rounds out our full packaged experiences and Tokenized Vacation rewards on ReggaeSteem.
Simply put, there's hundreds of items available from toiletries to souvenirs— all (potentially) redeemable with JAHM Token.
We JAHM'in!
#JAHMaccepted #JAHMHERE #PayWithJAHM
---
Posted via ReggaeSteem | Reggae Culture Rewarded