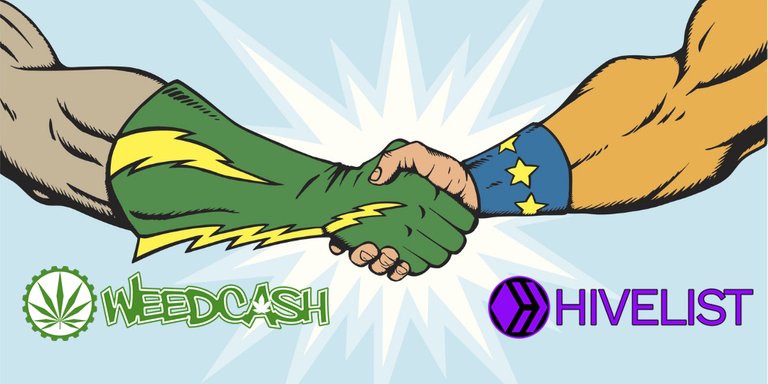 Weedcash and Hivelist are joining forces to better serve both communites with marketing and advertising! We all know it is an issue, we need to market our communites outside of the Hive ecosystem, which can get very expensive to do, if you want to really do it right.
With @thelogicaldude creating the Weedcash.store, the idea was created to use a portion of the profits from the store and use it to help build a marketing fund for the Weedcash community! Well, after talks with the Weedcash boss, @richardcrill and getting his blessing, what has been decided is that the @hivelist account will be the holding account for the Weedcash marketing fund. The portion of any sales from the Weedcash store, which payments go to @thelogicaldude's account, will be sent to the @hivelist account to be held until such time that a use for the funds has been agreed upon by the community, again, primarily for marketing purposes.
This account will also be set to follow the @canna-curate and @thelogicaldude' s curation trails so that any curation rewards on #Weedcash posts will go into the marketing fund as well!
With this, @thelogicaldude has sent over 2000 WEED tokens to the @hivelist wallet where they have been staked for curation. He is also going to delegate 10k WEED tokens to the account to help it grow as well.
This is one way that anyone can help make the Weedcash marketing fund grow! If you didn't know, you can delegate your staked WEED tokens just like you would Hive! So that way you never lose control over the tokens, you just help the community grow! So if you would like to get involved, you can go to Hive-Engine and go delegate some staked WEED to the @hivelist account for bigger curation rewards and more money to help market the community!
The other way to help out is to actually go shopping on the store... You know, that's kind of how commerce works, lol. But yes, a percentage of the sales, up to 10% will be sent to that holding address.
Why Use The Hivelist Account?
Well that's a good question, it is not being used for any personal reasons like @thelogicaldude account is, and it can be easily used for this purpose. WEED is not one of the accepted tokens in the Hivelist.store so we won't be getting any other funds mixed up with this wallet. Another reason is The Logical Dude, LLC is currently registering with the SEC in the US to be a legal registered funding company, which would also allow us to be able to escrow funds of this type. Getting this registration is also going to pave the way for the release of Hivefunding.io and also possibly an Ethereum based crowdfunding site as well. We also want to keep the Hivefunding account clean for now while the registration process is going. We may move it to the @hivefunding account in the future, but for now, we are going to keep it with @hivelist for curation purposes. We didn't set up a separate account for this purpose because in the future we want to be able to extend this service and partnership to other tribes and communities, and the funding is easier managed with one main account.
One of the first planned campaigns that will hit Hivefunding will be a marketing campaign for Weedcash. This will also show the other tribes and communities what they can do and how we can all end up working together! So hopefully this is just the first partnership of this type that we make! Once we get a feel for how this is going to go, Hivelist plans to extend this same partnership invitation to the other tribes!
Linking The Two Stores
We have added links in the menus and on the side bars of both stores to tie in the two them together. This will enable site visitors on either site to be able to explore both platforms!
Another way we are linking the stores is that we are going to be adding the LIST Staking Club coupon codes to the Weedcash.store! So this means that if you stake at least 1,000 LIST tokens, you will be able to get a discount on not only the Hivelist.store, but also now on the Weedcash.store! This is currently, as this post was written, not complete, but will be happening in the next couple of days.
So as you see, there has been allot of work going on in the background for both @hivelist, @weedcash, and the @weedcashnetwork! We hope that together we can make all communities thrive together as we are all really one HIVE!