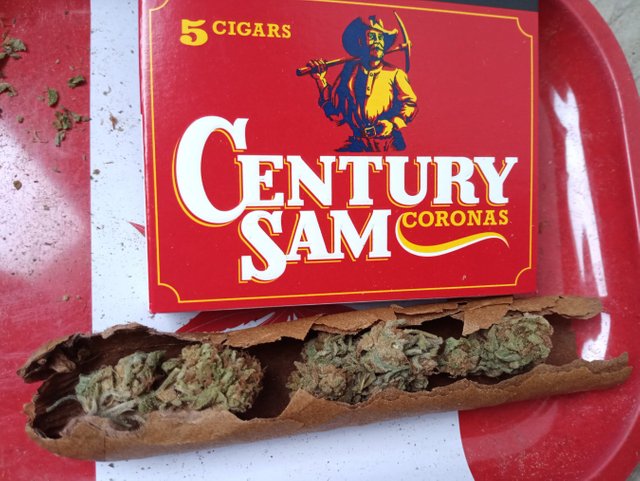 I split a Century Sam Coronas Cigar yesterday for an afternoon blunt with 707 Headband buds. Sweet skunky fruity citrus spice flavor, full bodied buzz with that extra hype from the tobacco leaf. I recently watched a news story about the Illinois state farmers preparing for the 2nd year of growing legal industrial hemp fiber and CBD flower.
707 Headband
The 707 Headband cannabis strain is a 60/40 indica hybrid, created with the crossing of the Sour Diesel, OG Kush, and Master Kush strains. It's named after the 707 Humboldt California area code, and for the hazy cushion effect around the head that's like a Headband. My buddy was telling me about a headband game they had out west where the headband would be worn upside down - 707 is LOL upside down, I like that story too.
Illinois Farmers Prepare for 2nd Year of Growing Legal Hemp
After the USA Federal legalization of hemp last year, this is the second hemp growing season for farmers in Illinois. The USA Federal government legalized hemp and defined it as cannabis containing less than 0.3% THC. THC is the psychoactive component in cannabis that gets you high, CBD is the component in cannabis that does not get you high, and has many health benefits and healing properties. Hemp is grown for the CBD in the flower, the fiber for textiles, hardwood floors, and cement, and the seeds are highly nutritious. The farmers are working out the issues from the previous season and some are being less hands on this season. The CBD flower market was saturated last year, the 12% CBD flower price started at $50/lbs, now it's being sold for $5/lbs. The Illinois hemp farming license last for two years, second year growers will have to decide whether or not it's profitable enough to renew for next year (Source)
Century Sam Split Cigar
Century Sam cigars are Canada's equivalent to Phillies Blunts, as far as usefulness to split, empty out the tobacco, fill with cannabis, and re-roll as a blunt. Blunts burn slow, for a long time, hit effortlessly, and the tobacco wrap packs that extra little punch - for me it's largely nostalgic. Funny now how they call these Century Sams Coronas (Crowns).
Blunt Rolled, Blunt Blazed.
The 707 headband bright fruity skunky citrus flavors are a great match for the century Sam cigar wrap. It was rolled fat enough to get the full flavor from the bud, with a touch of the tobacco fire from the wrap. A thick skunky and hazy buzz with a cushioned rush of euphoria and decent motivation - a solid jump start to the weekend.
Know Your Local Laws, Contact a Doctor for Medical Advice.
---
Posted via weedcash.network