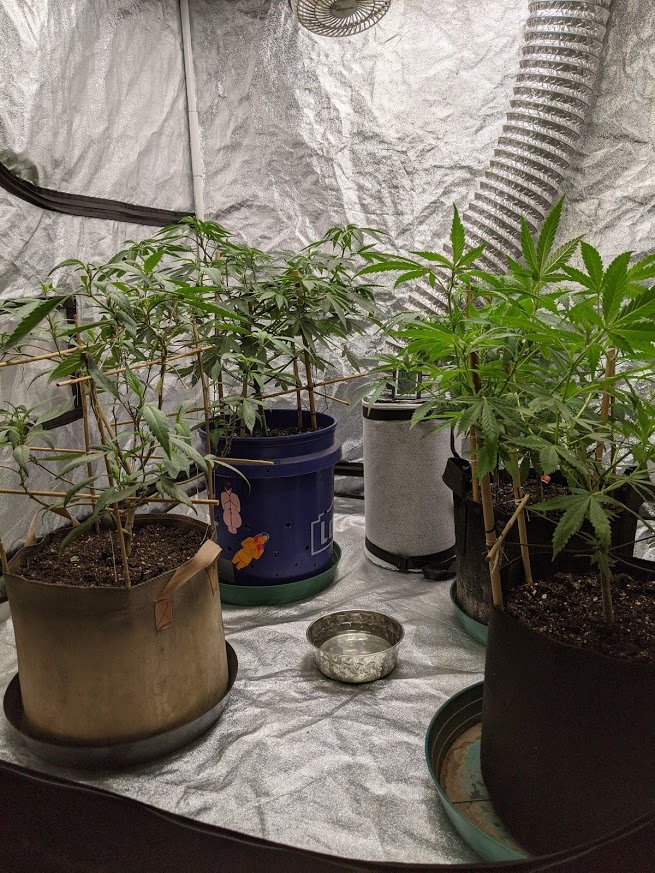 We'll Monday again.
No Bitchin', we all know it comes after Sunday, it's Tuesday that's the real ENEMY. Don't agree?
Well consider the last time Tuesday was "Friday" or "Sunday"? any in your recent memory?
Nope didn't think so. Only a life time full of Tuesdays turned into no better than another Monday.🐒 🥜
See.
Don't get sad just be aware of the situation. pHuckin' Tuesdays.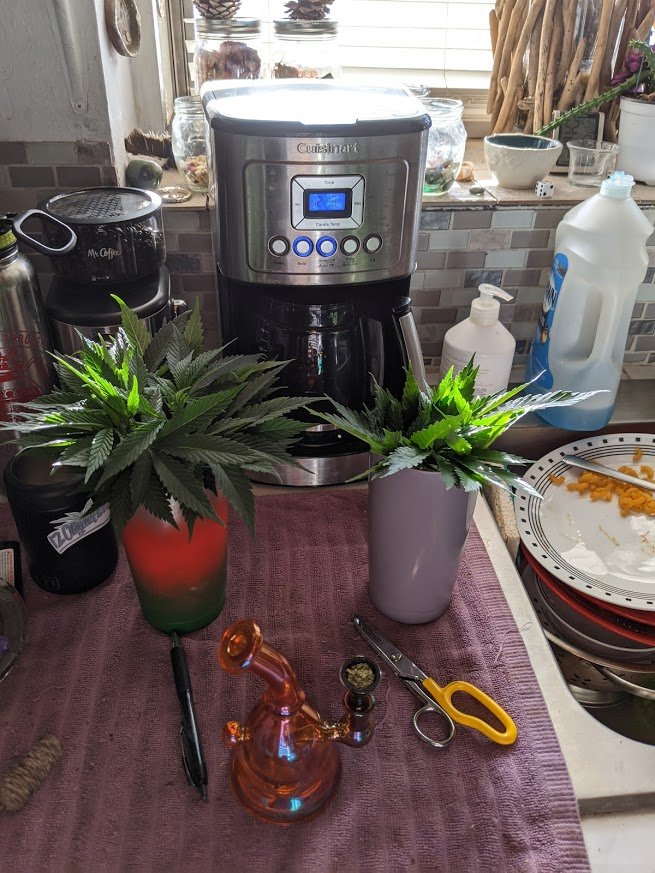 Cannabis tops I moved for you, probably didn't pay lot's of attention to the all the tops in that first picture. I'll wait.
See now you know why I moved them to the cups here.
pHuckin' pHunny. No?
oH wElL you already read what you read.
Anywho, the left side is a slue of Slymer x 5G, right side Wedding Cake 1 x 5G. Some are for me some are for you and some are for some of the other folks.
Wait, FOR YOU? Yeah, well wouldn't have wait to if it wasn't for that bucket, can't take the chance of pollenating that. That can still be done just not this round, so please move closer to the middle of your seat. If you follow along you'll know what stage my next cross is in, and when to get the edge of the seat ready again. 😉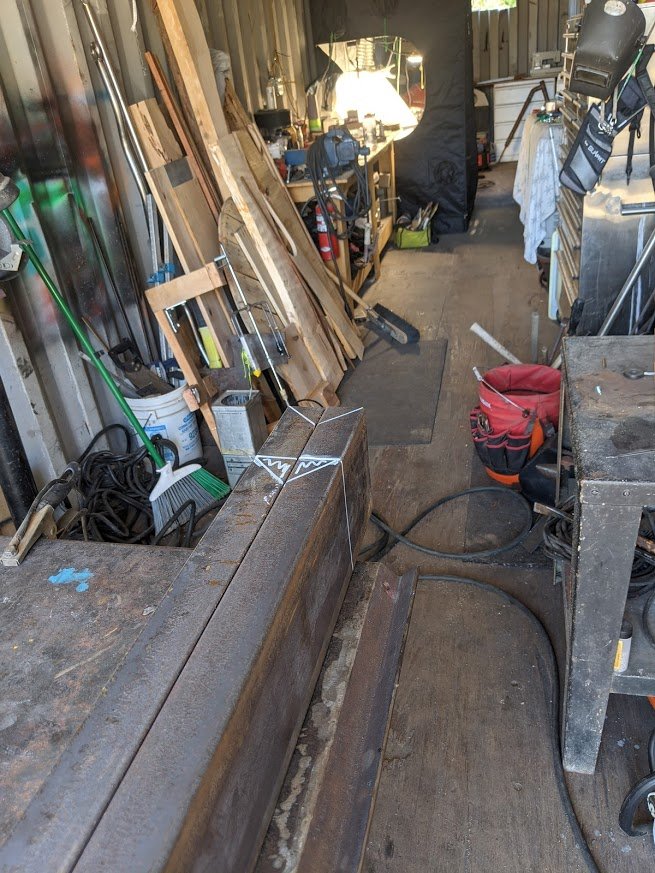 Well this is all very much related to #mancave but it belongs here as well. This here scribble and metal work is for a in the works upgrade. Only one flowering area now and only so much time is allowed in one area if I'm going to get anything done. Get to working on a larger one soon.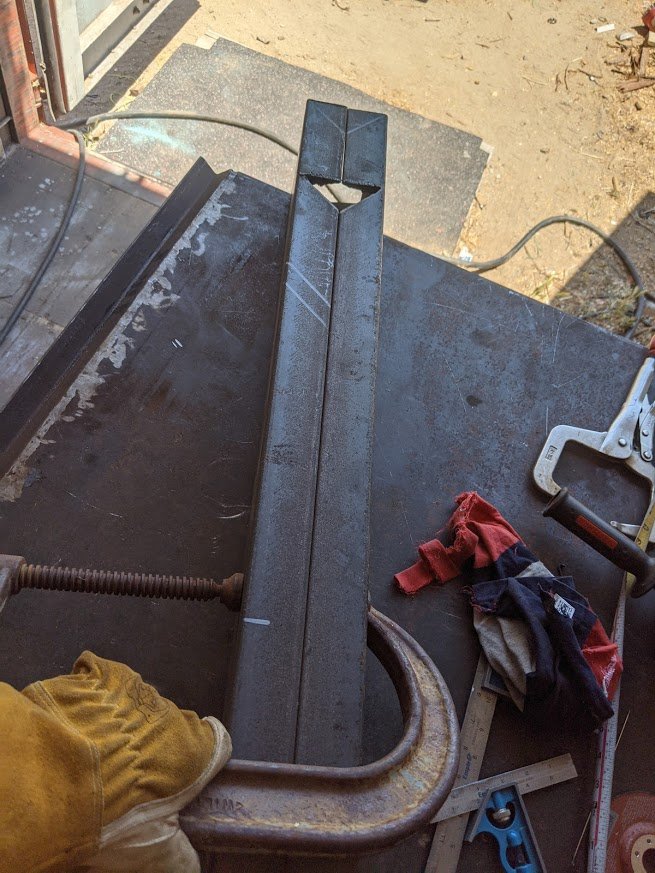 What da ya think? Not bad freehand plasma torch. I hit it with the grinder and GOOD TO GO.
Why are we looking at this shit?
Cause it's update and it's what I was working on. Didn't show any of the horse coral that I had to repair an I was smoking the whole time I was working that, not to mention the monthly Shroom dose. Hang tough all will make cents, or dollars.
Hoping for dollars.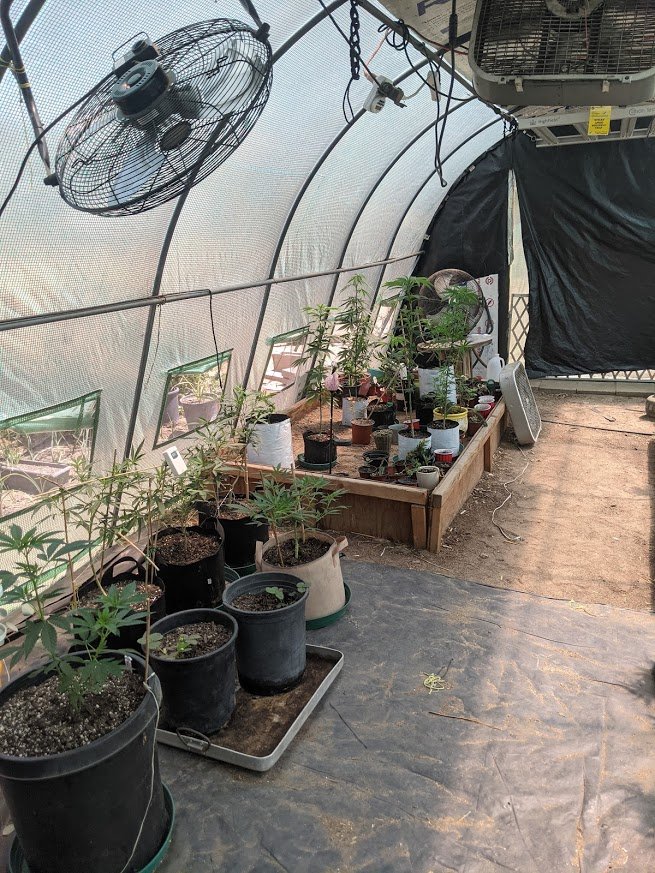 Box 1 Start of the week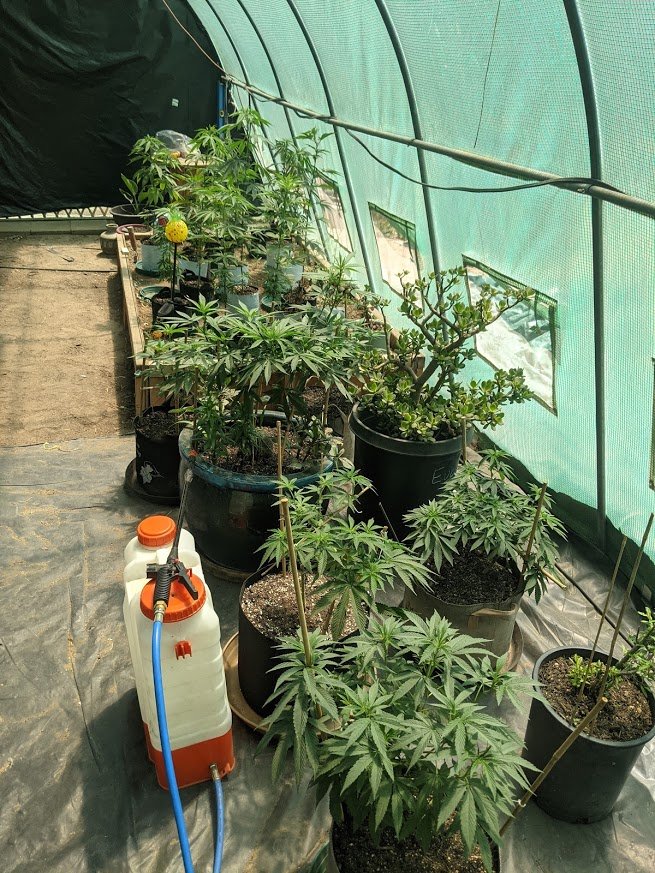 Box 2 Start of the week


These 7 + 2 off camera there are getting a new bags.
Had an awesome come up the Friday before last, a commercial grow near Beauties job, also cannabis related, had thrown 15-5 gallon, 15-3 gallon, and 15-1 gallon smart pots on the side of the road in the ditch. FUCKERS, 👈see that shit. I HATE litter bugs, A LOT. Bright side, just got to get them washed an squared away, an we can put them in our rotation.
These however just went to 3 gallon plastic ones like these.
Like those big fan leaves on that Thin Mintz, me to. She get's to keep them for a bit but a trim is coming up soon. Can't be wasting all that energy just right there.
Nah Mean?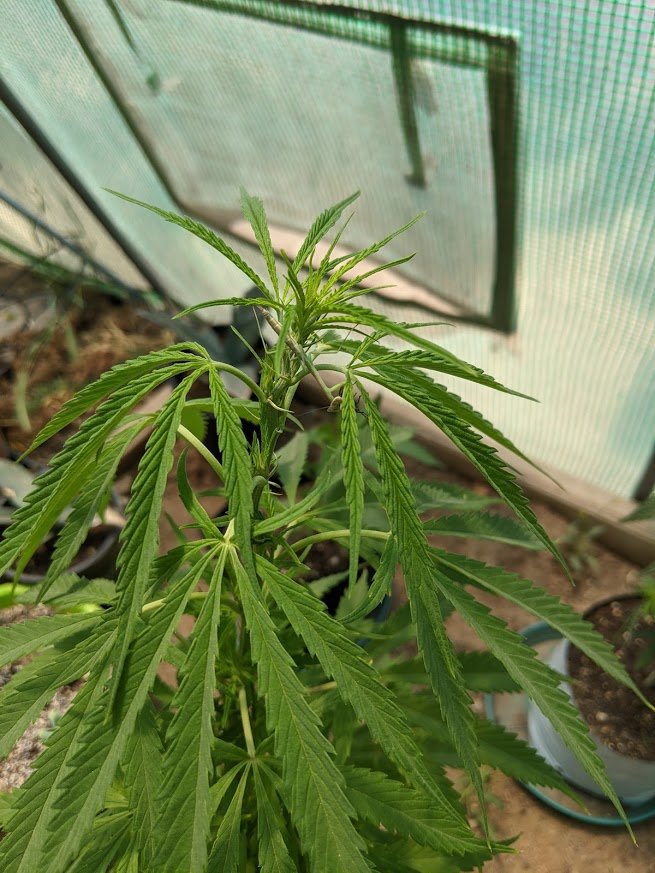 GG x 5G and her guardian Mantis that caught a pHat fly. Fun to watch. Thought I'd share.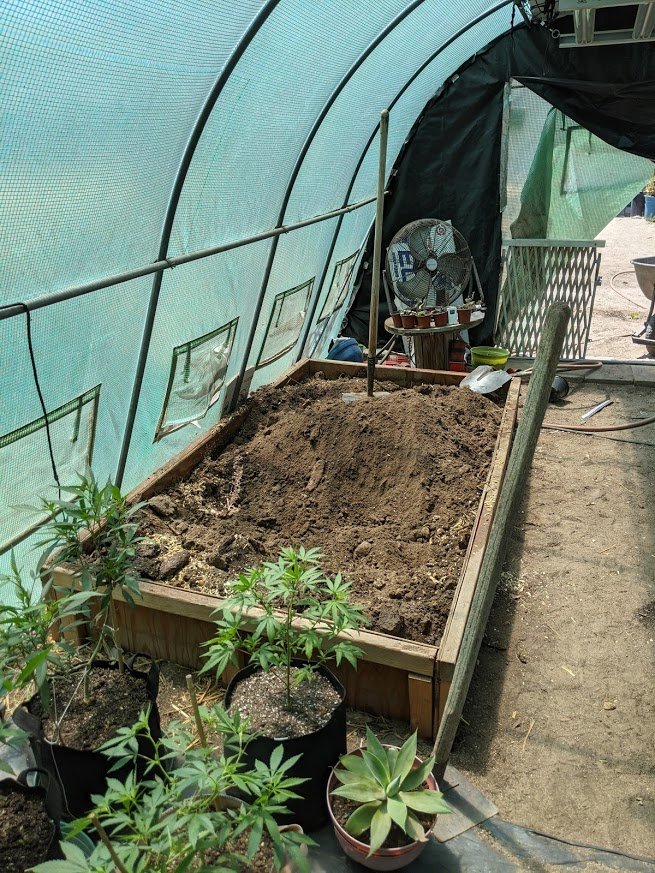 I know the idea is "No Till" but gotta member Box 1 is just a compost box I covered with dirt. Mojave desert dirt, so you know pretty much crushed nothing.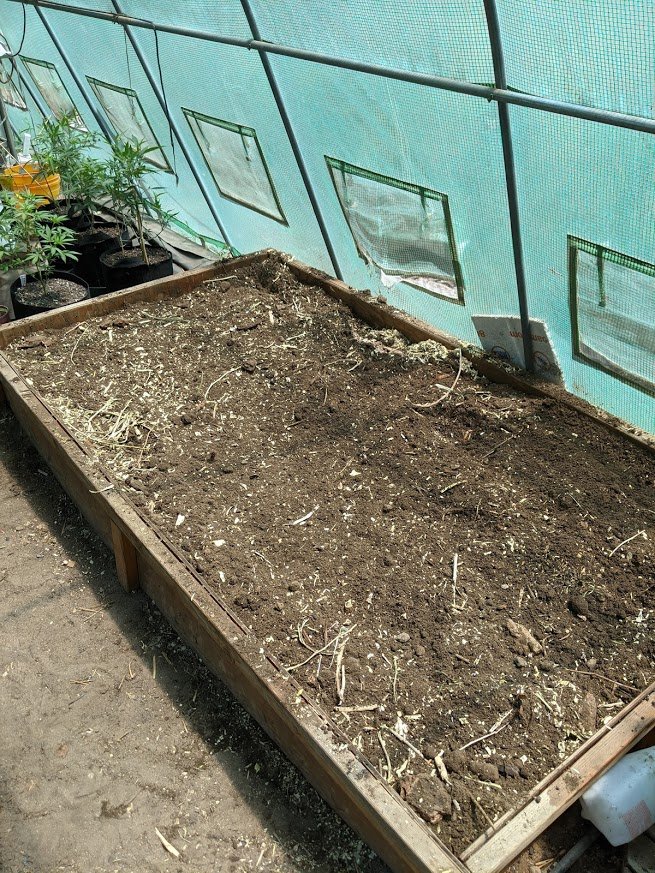 Smell that... No? It's ok, probably on my side this time I have recently down graded to the phone again for photos.
Well if you could smell my box it'd smell like dirt with a dash of coffee.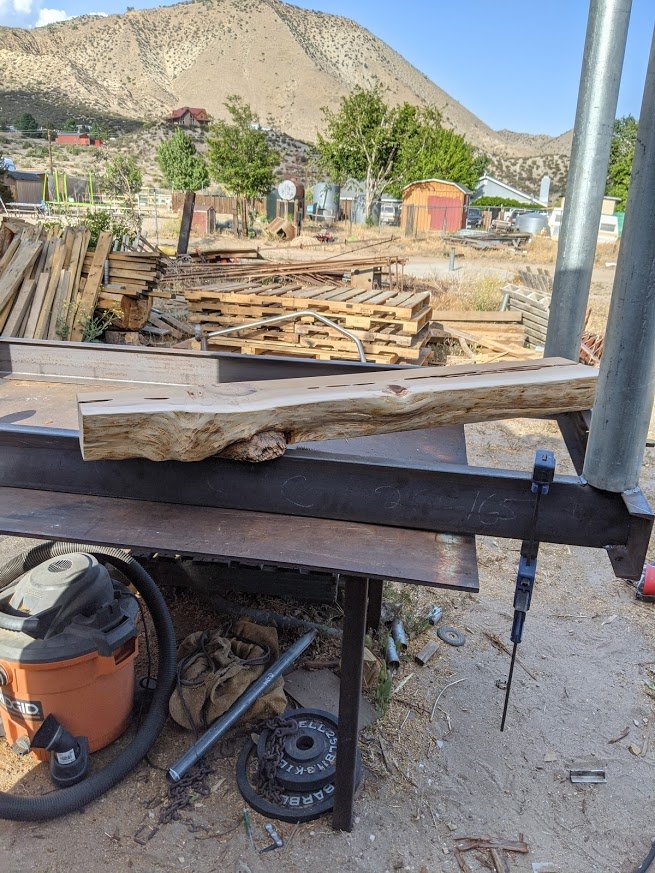 You probably thought I was gonna say pHishy huh?
🤢
Alright time to explain the steel. Pay no attention to the mantle I cut out of a log from the yard. Thought I was pHucking around when wood prices started taking a turn like the Doge coin. I mill most my own needs these days. More raw coming in this season as well, looking forward to it.
The steel frame with the 4" rigid for legs which are just under 60" tall is for elevating a steel water tank, not pictured. That is 3 x 3 x 8. That's going to be able to support the 2 new larger areas that are going to be needed, and going in soon. It's going to be backed by a much larger tank that is supported by a well. Just added heft to my systems.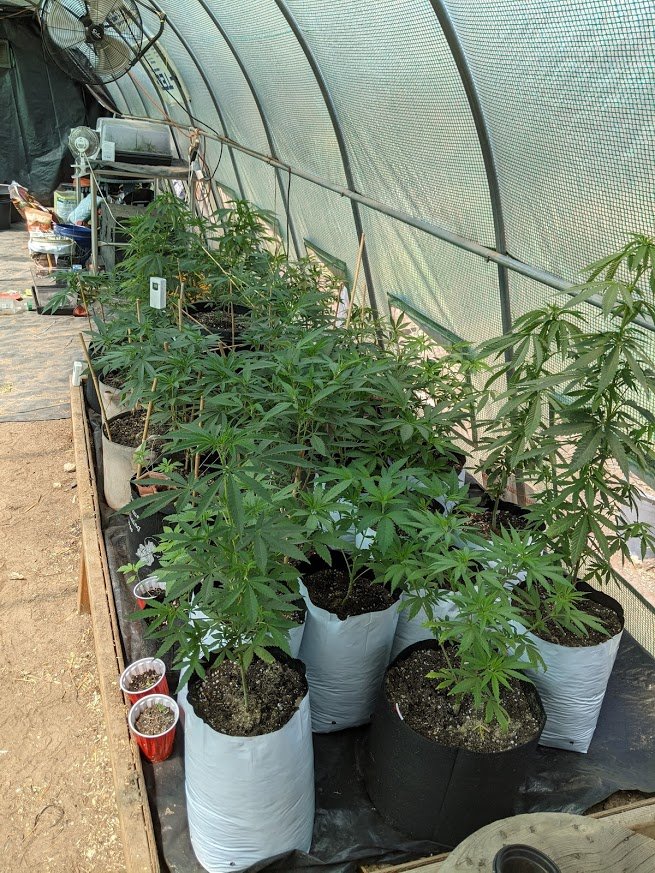 It's going to make keeping every ones water better balanced for inside and out. Going to also allow me to move one of the 50 gallon barrels to the flower box and get the Blumat's dialed back in.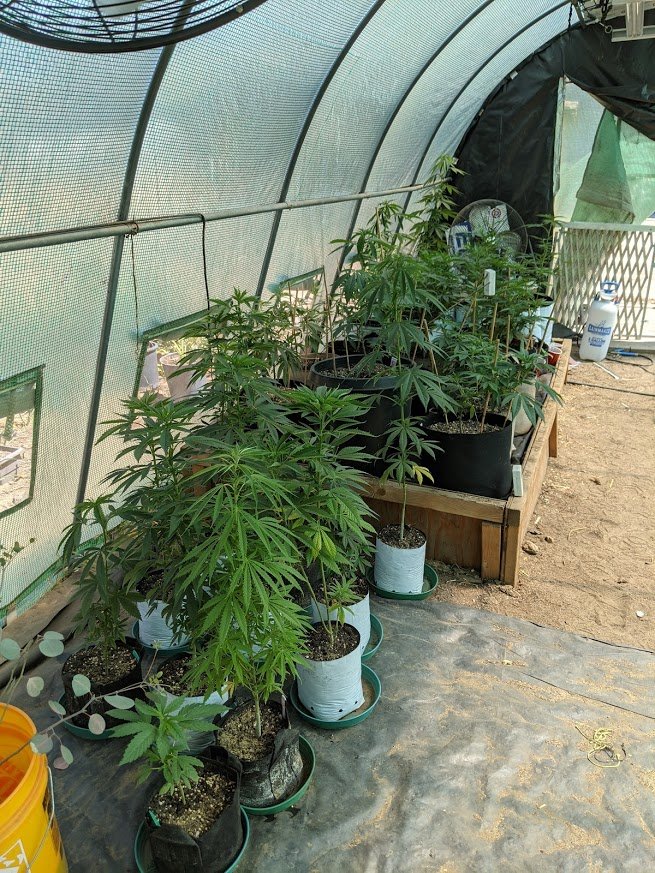 Que is starting to get thick. Who don't like it a little bushy any ways?
So we have Box 1/ E Wall, all THC heavy, some really heavy. Not only that, also present is the NEW timeline. Timelines are important to people who wear watches, seems more an more are doing that lately. Lots of folks push that 5 week run to the flip. Most are either working with autos or have a few pHat mothers that can take a trim of 150, 200 every, whatever your rotation.
One day I guess. I'll have to try a run like that. Just describing the process likens itself to the poultary industry, or just the industrial complex that has become the NEW American way.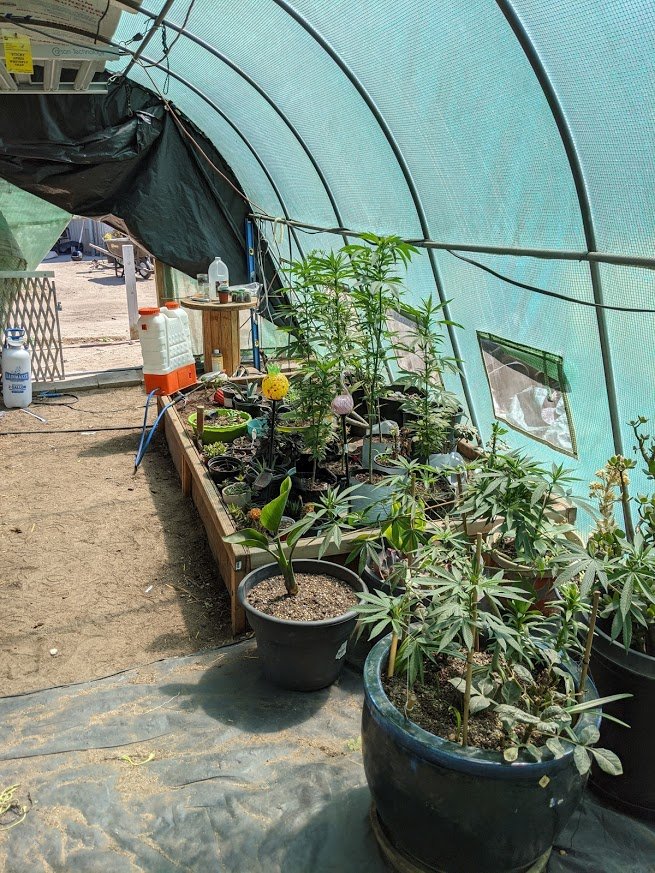 Before we get too caught up in the NEW, I fear the under toe of the OLD has too tight a grip on me.
Damn right.
That is the CBD only round in Box 2, well aside from the Bonsai. That pot is pHucking heavy.
Back to the old, I'm sure that you know our slave owning founders were among other things cannabis farmers as well. Massive fields of HEMP covered our country, all a very much expected crop on any respectable farmers line up for the summer. I would like to note that at one time it was mandatory to grow this along side your other crops. This plant was used for everything that made their world work. It's just hard to process, that's why cotton and plastic. Easier to process to make product's, notice how I didn't say GOODS.
Cuase they aren't.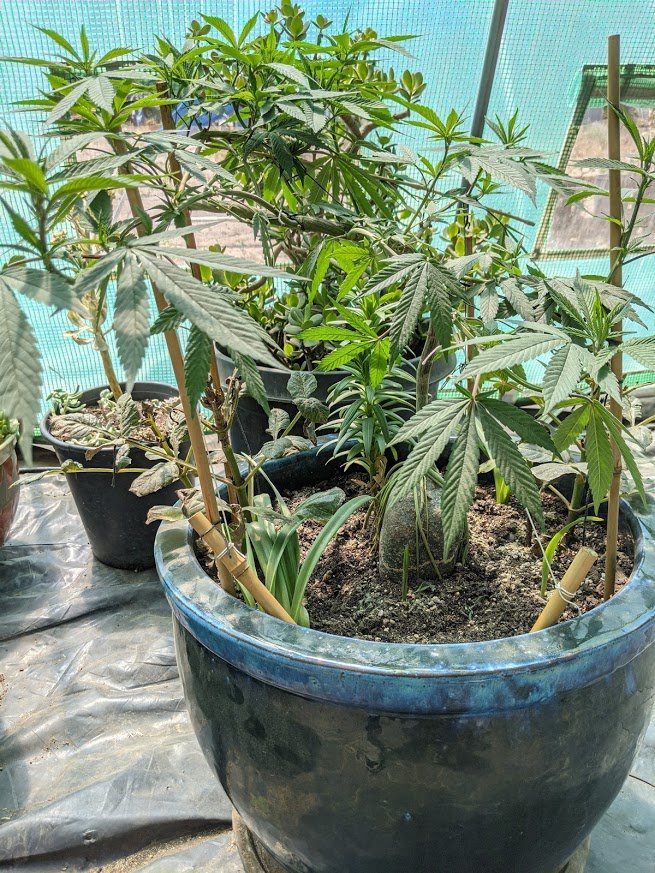 I myself hope to have fields to process. The hard way is not the fastest but most the time more beneficial. These bonsai's are hard as well, the first few were but now root over rock has become a average. Is that good? I think so, it's going to make doing things like this to trees a little less stressing, as soon as I get a good cut to take.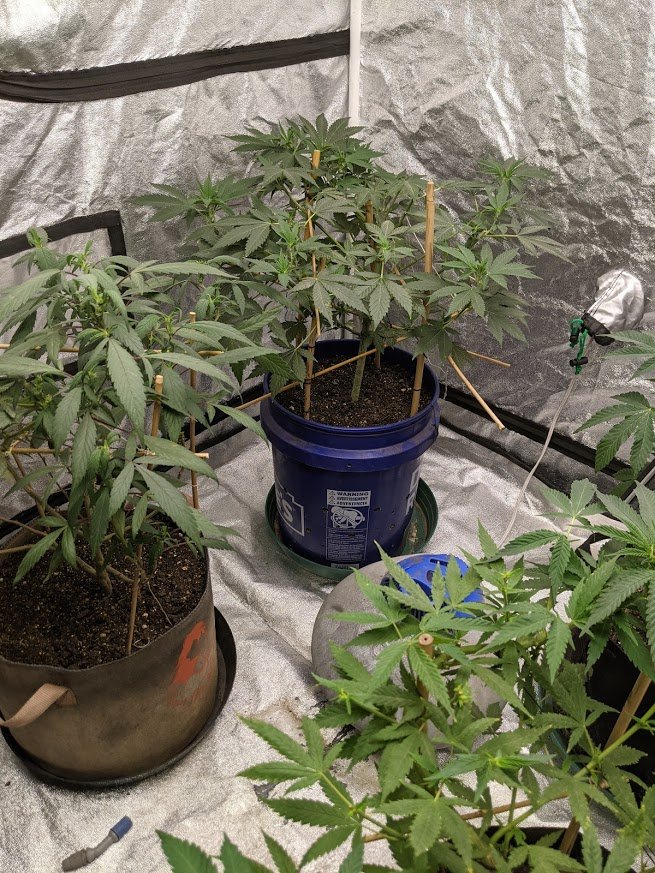 Figured Close it out with a shot of today and the progress the #5gallonchallenge has made after her topping. The Wedding Cake 1 has taken to the abuse much better than the StarGirl. So good note, also whilst I still got you. That is a good example as to why I throw multiples of the same seed. The Thin Mintz wasn't as happy about it. I guess see what her sisters do.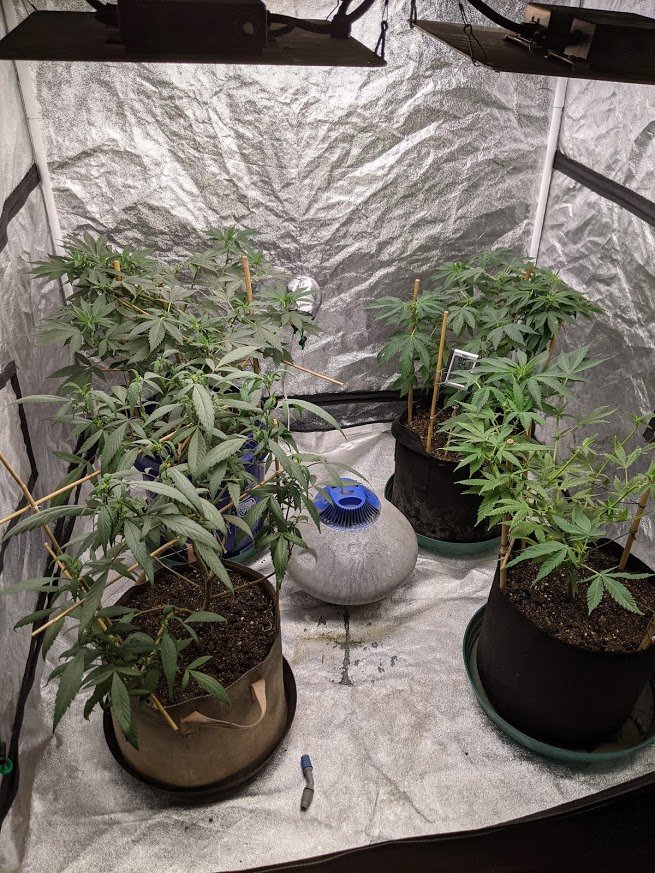 Describing how the Slymer took the topping, well not only did she seem to like it but since her first taste of new food, just a lower input of nitrogen and a higher phosphorus is all. 4-8-4 from Down to Earth with a little spike of Seabird poo and my favorite, Brown Sugar. I don't have exacts we're working it out of course. Also I really need to get this humidity squared away this thing works for now, on account it has been cooler at night but soon it's just gonna be all around toooooooooooo hot for some shit like this.
So, well hey, ever hear of the Nazca lines. The Nazca Indians were a thriving culture that was dashed out by drought, according to the archeaologist that have studied that area with intensity. I think that they leave out the other parts that have to do with the on set of drought, the greed and hoarding and just in general large groups of assholes just being assholes. You now the fall of an Empire.
I brought up the lines, cause obviously CA, and all I was able to get was the lines this week it has been a busy one fur sure. Thanks for keeping up.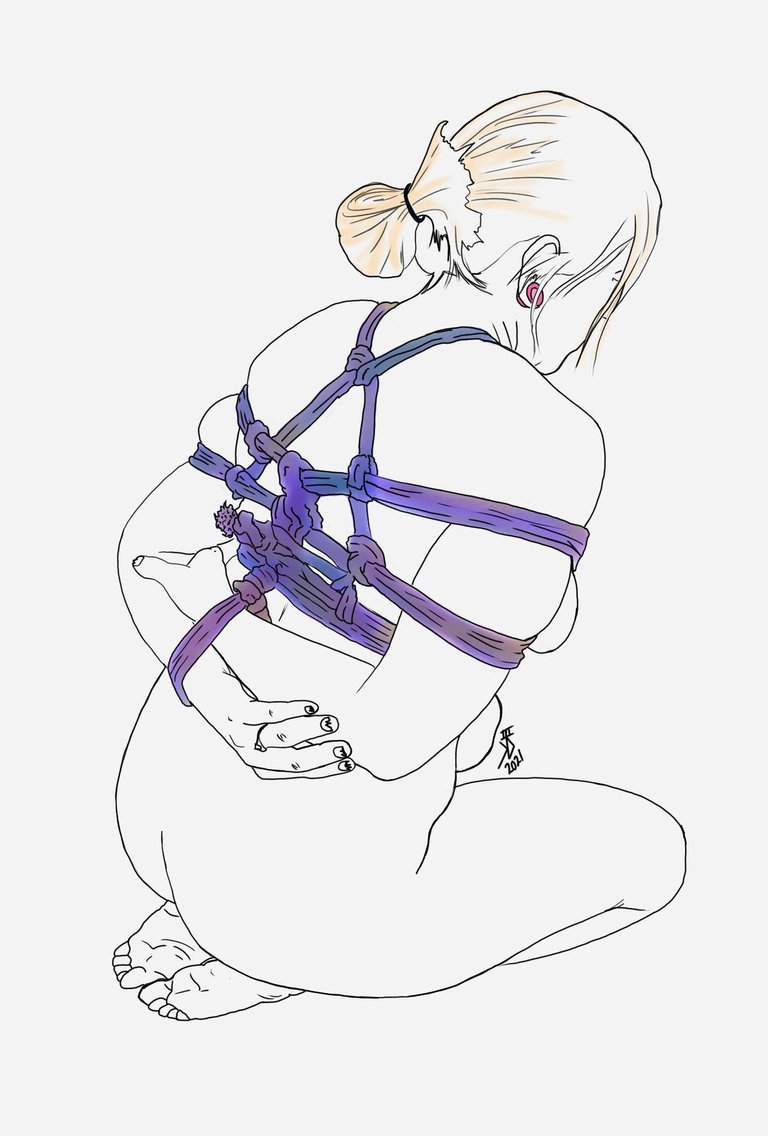 Lot got done this week and more is coming as well.
That said if you follow directly, your going to start seeing just photos with a title, limited explanation, not the usual read. I will have my highlight and art work up on the week endcap post. If you would like to adjust your auto-vote, to which I can't believe I am saying that. Crazy, Thank you for your confidence in my posts an ability. For Real an True, means a lot. This should be the last Monday post, with everything, and gonna try and stick to a larger Sunday drop.
Look for me in the feed or just hit the follow.
Thank you all, and have a Great week.
Knottydaddy, Tied Off.