Sitting on that perch just before transplant from the starter pot. The obsidian that I cleaved off the other part you saw earlier in the '73 ball pot. Flynt is proper but I cheated and used a hammer. I didn't have the proper stone handy to keep it traditional. 🤷‍♂
Nov 17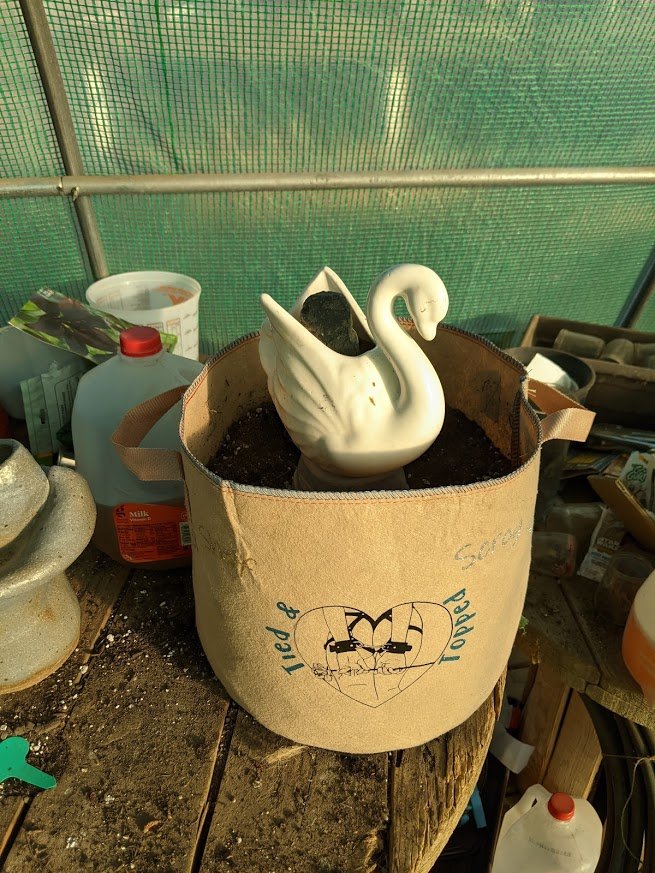 I do have a few other ladies set up in their space as well there the "Cereal Bowl" and that little one there just in the starter pot, that girl there seems special, get to that on a later one.
November 30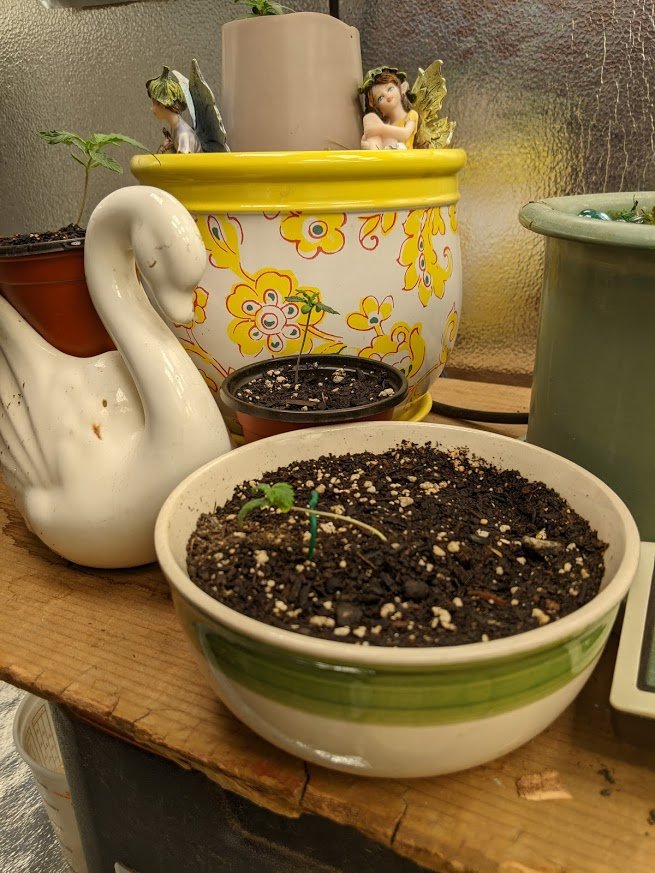 The lady in the cereal bowl just did not want to stand. Oh well, some just need a little more help then others. Given when moving around here I either have some bonsai wire or finish nails and some string on me so support, or restraint, is easy to handle.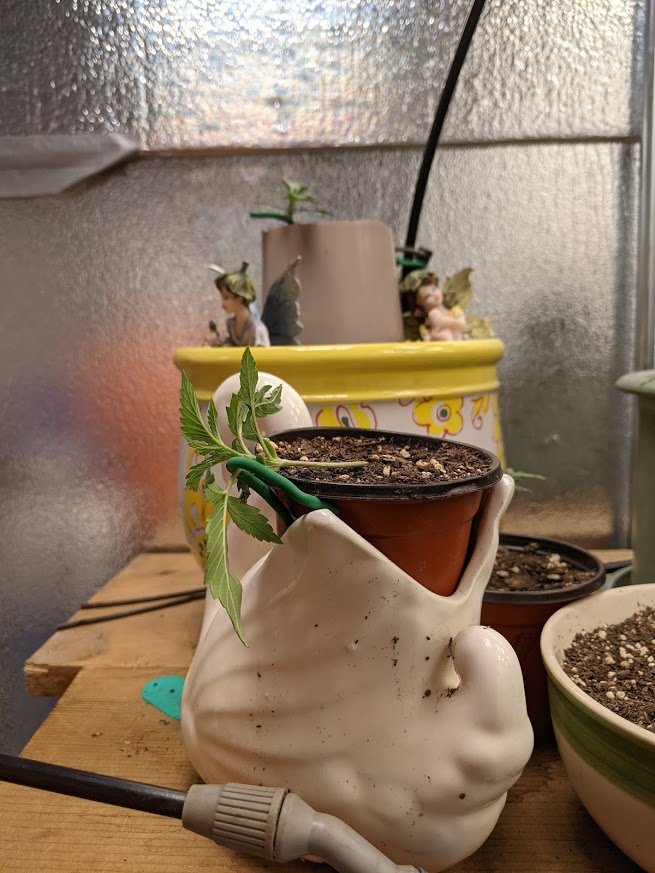 Just like '73 Ball Pot this lady was transplanted from her starter pot very early. Lesson learned, very lucky these were photos and not autos.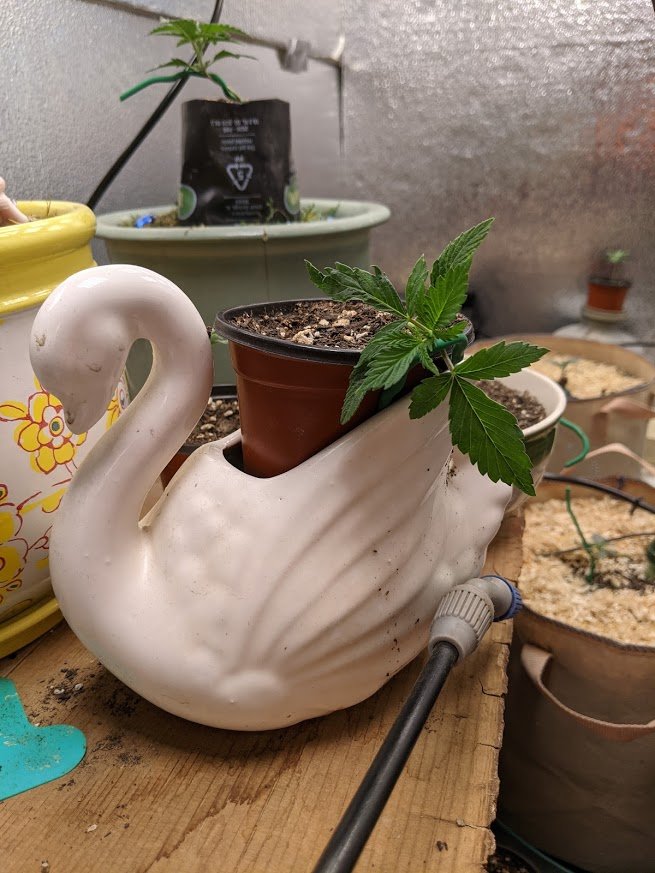 This CB19 bean that I popped for these projects happened to be perfect. Hardy to say the least even with my constant fiddling with her and her other sisters alike. LST Till I Die. Extreme but I just prefer to not top on purpose, I've snapped many a stem. Just rolls off the tongue nice. Sounds good on the ear balls.
Dec 11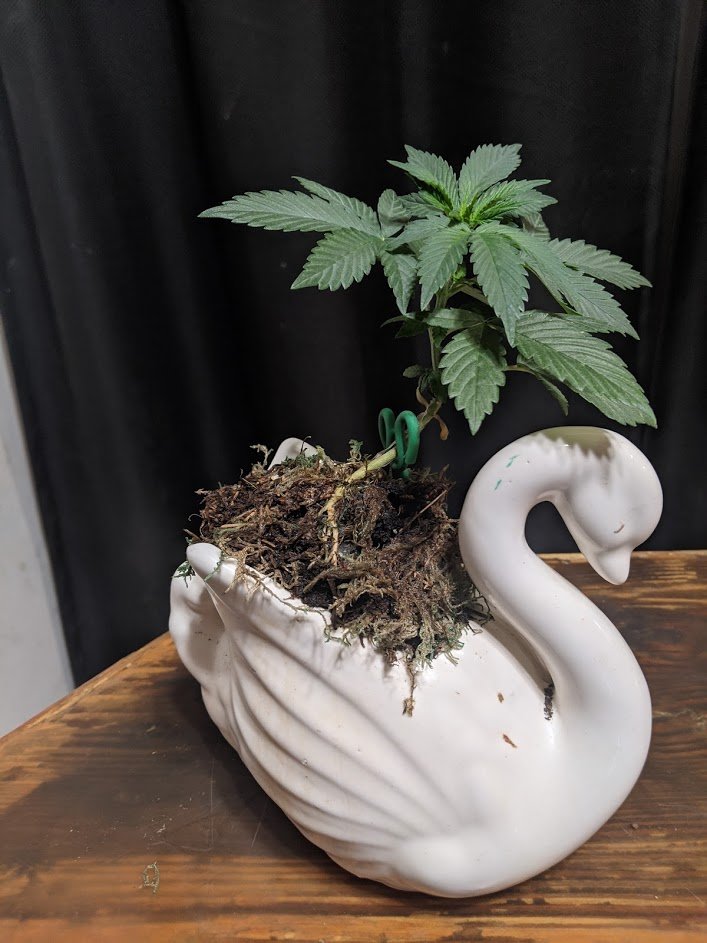 Training Day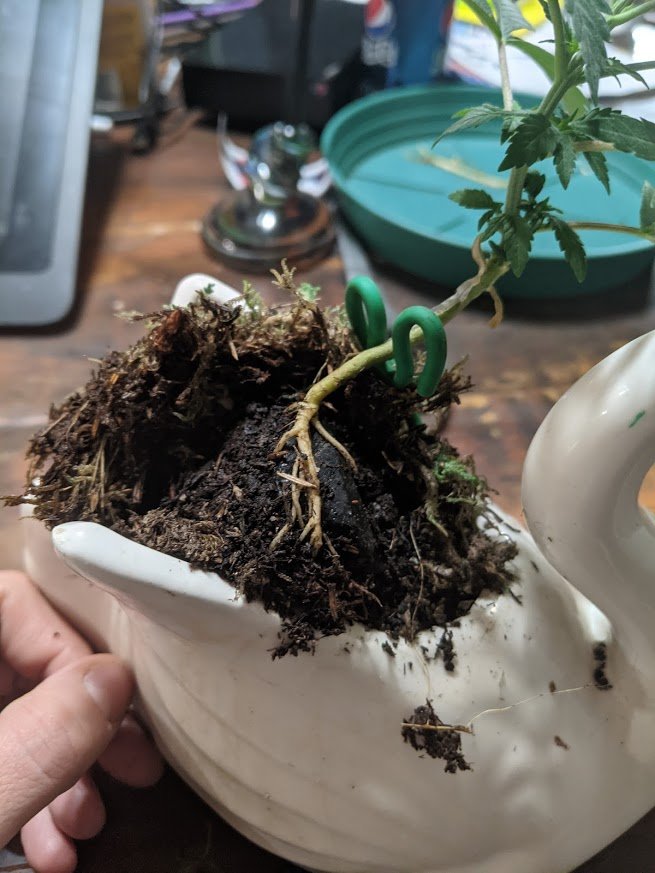 Removed the plastic starter pot with no bottom to check on root growth an see if any adjustments were available. I will note that when you or I go to take on another micro bonsai style grow; the first move from their starter to their next home is actually the last, that is if you plan on capturing an object with the root system like I had chosen to do. Like I was rambling about earlier, we train early and often around here.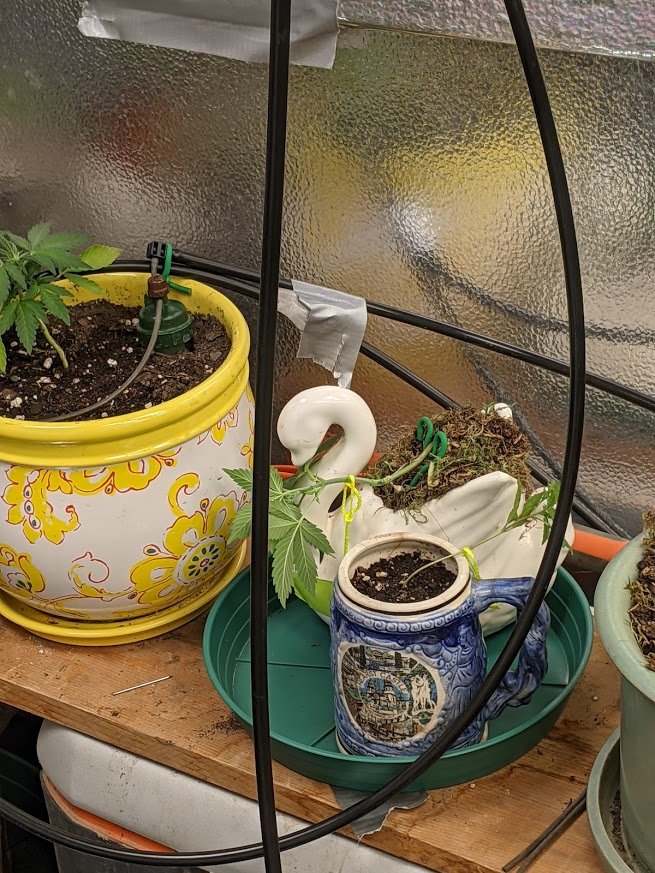 Like that Hearst Castle mug there huh? Me too, FUCK that guy, hope the roots smash the bottom out when she takes off, I won't stop her, she deserves it. Kind of ironic. Gonna be great.
More on that grow as it goes as well.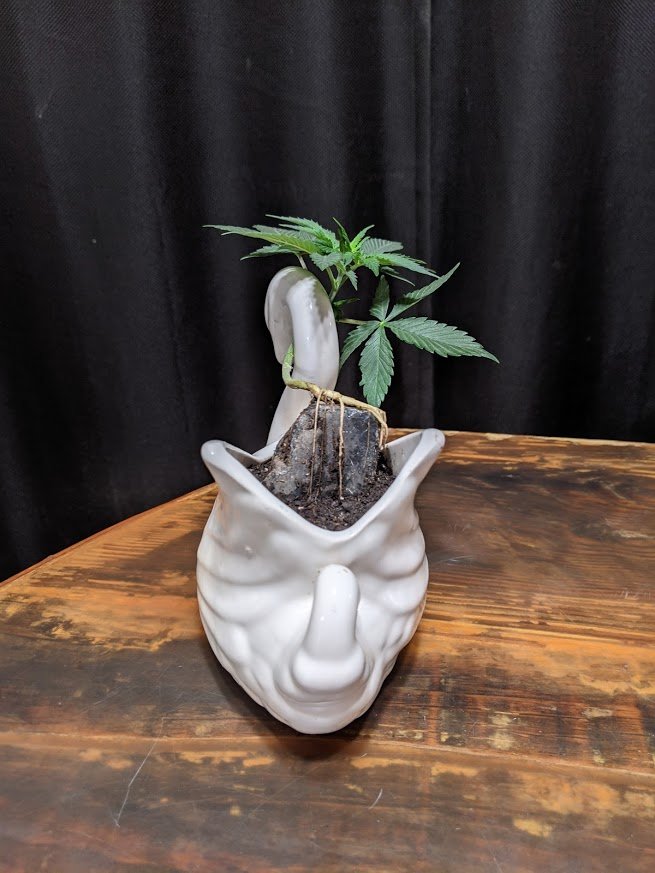 December 14 Fancy Black curtain photo shoot. Cue cheesy model music.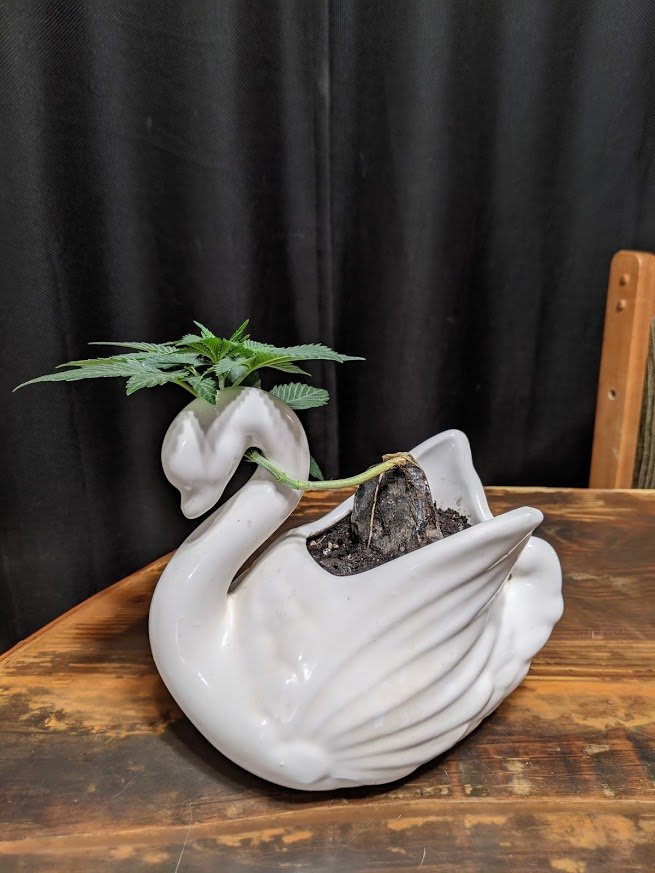 Something about a Shirt Walk?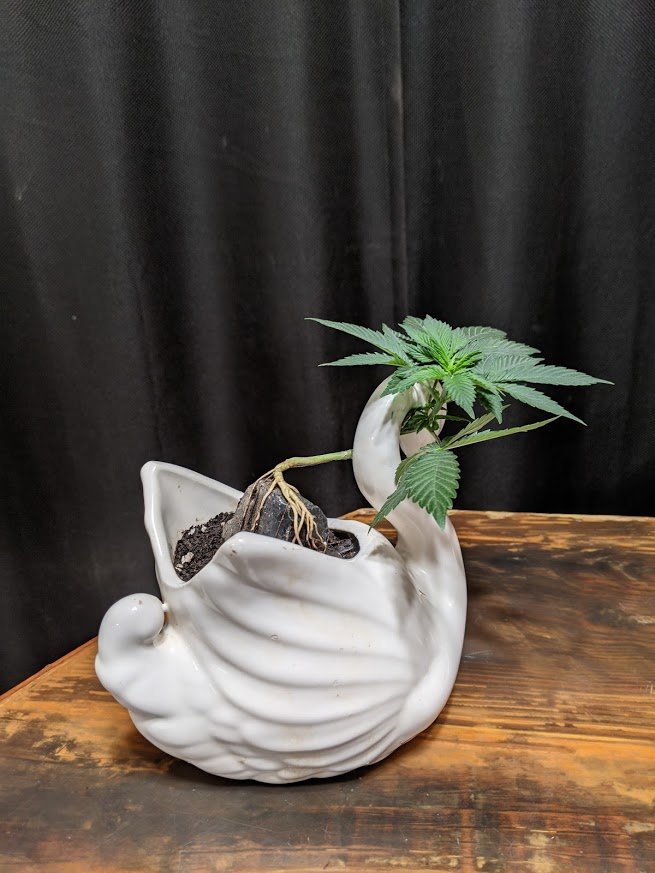 The roots and the rock such a cool way to see a plant displayed. This canna-bonsai, or any bonsai now, has caught my attention. I have a Magnolia cutting that I have cooking up, many years of work ahead. Like many things on the harder side of completion, the payoff is big. If your lucky, the pay off is an ass load of money, or experience. The later being the obvious here, but also worth ever so much more than its face value.
Crashing in thru a random door to find fantastic beautiful living objects all around. Makes one look for the window if the temperature happens to be edging closer to 80F/26C just so the airflow can pick up.
Probably gonna be in this room a while. Hope you all don't mind.
Mostly SFW, there's a window there 😉. Going on about rooms an doors and windows, restraints, and supports. Trying to capture a little bit of the Aurora Borealis with the greener blue shades towards the horizon. I did however take some artistic liberties with the moon of course. Nice thought, to have a moon with rings to gawk at whilst burning down the future CB19/Swan Joint.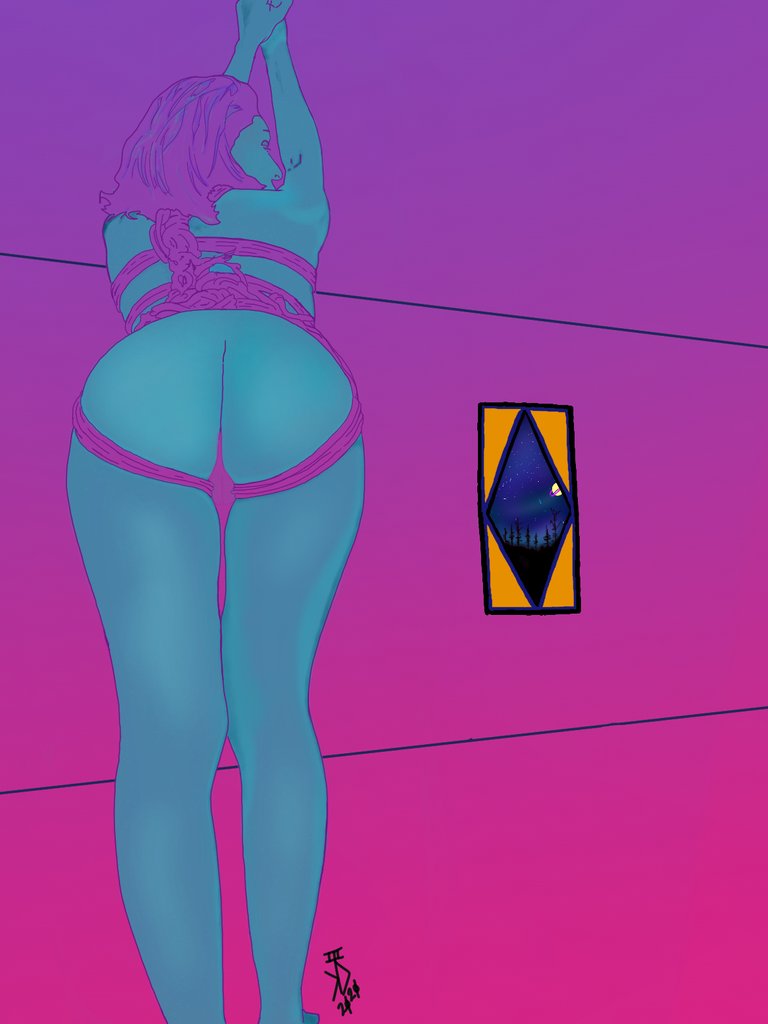 Knottydaddy, Tied off.