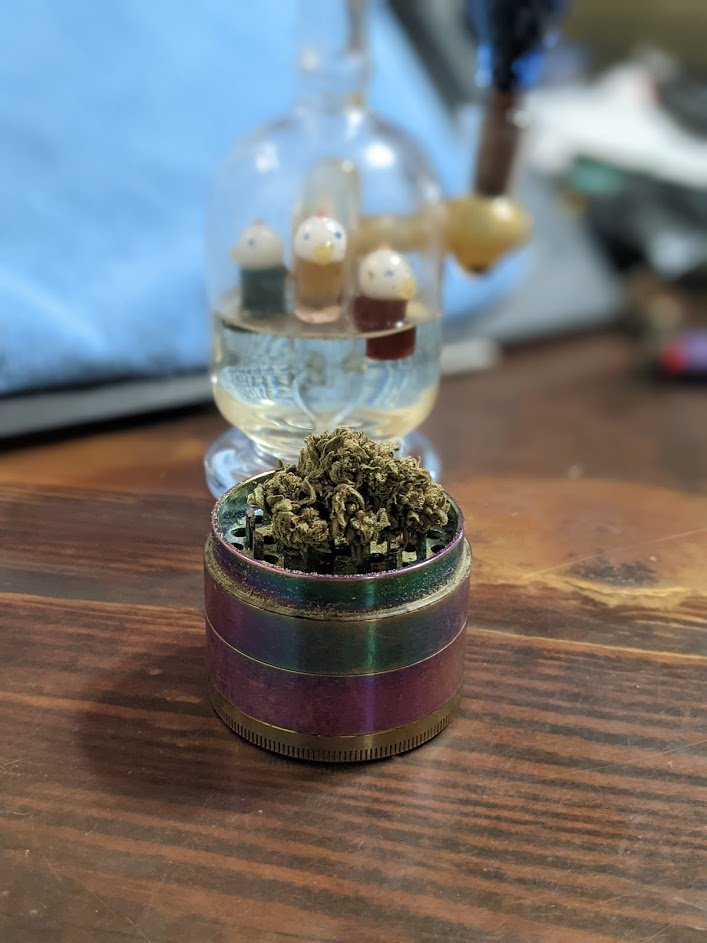 The chicks, and some of that Thai OG on the Green Monkey grinder field. My buddy always calls my tokers cute, well he's right. Real fucking cute, hits great, looks good, sold. Moving back to the tents, I started with a 4x4 on lone from a friend for some work that still has to be completed, people be getting sick an shit. These ladies don't pose any threat to anyone I'm gonna keep up my working here. 👍
Below, top right working left and down is 3 of the 5 Larry OG Autos, a Monkey-Mints, Monkey Juice*Kush Mintz cross w/ the pentagram harness lady.
Tester CB19 the big leafy girl as well as the canna-bonsai over the obsidian.
There is also a Banana God, Motorbreath, Papaya Melon x Wilson #3 and #5,
and the others are tester V7 and V11, all from the same area. 😉 Auto's came from @unitedseedbank, over on the instagram, breeder was Sherbinskis.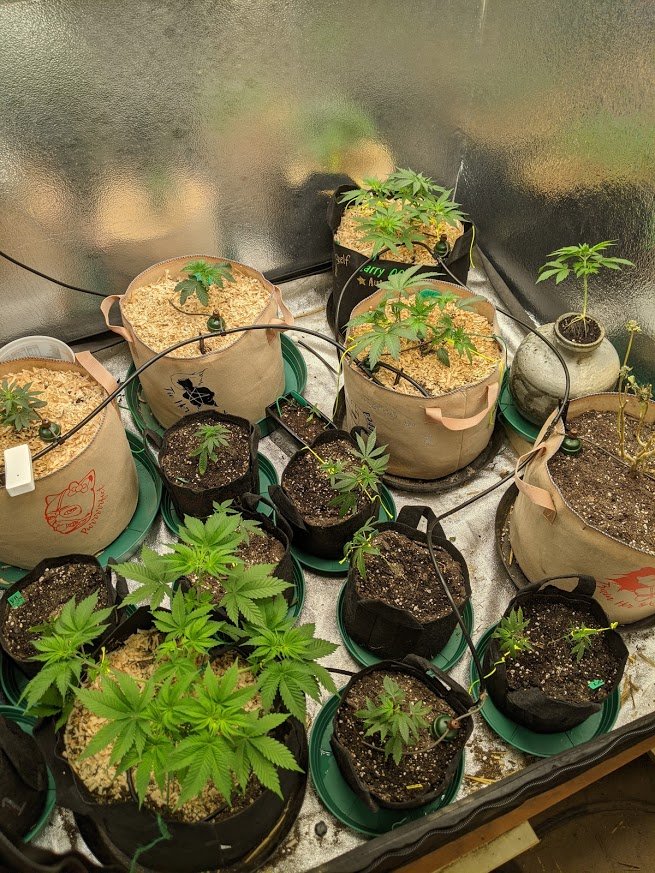 I know I do seem to have a problem with projects but they do look so pretty when trained and trimmed all proper in their pots, be it a bright yellow ceramic, or old hallowed out tree. Love that fabric pot for sure.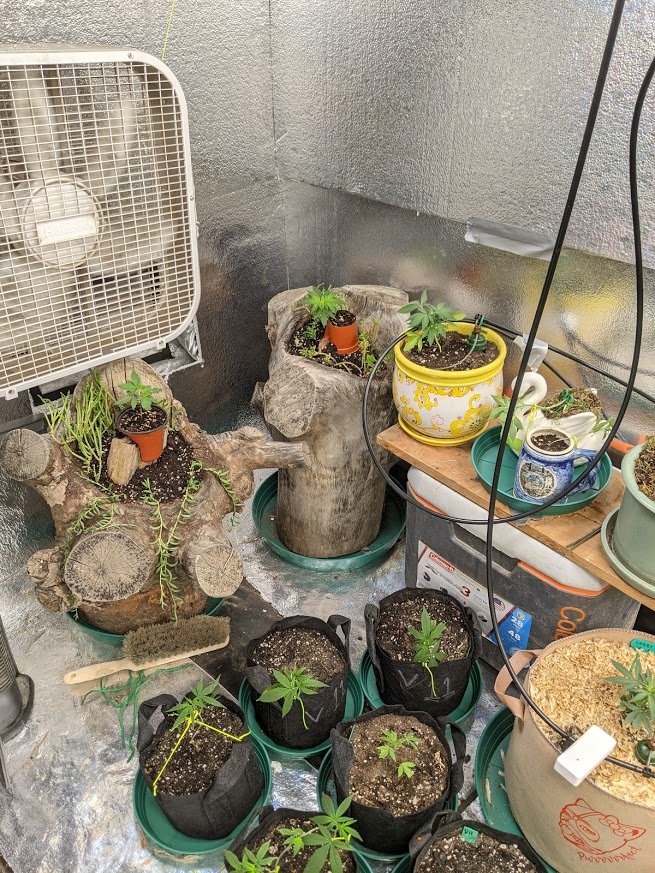 This below is how I found all that room to put my projects in. First lady closest is the Sour D, excited. She started to show pistol hairs before the move to the flowering spot, first week for her.
Moving back down the line are the original CB19 testers that started in Coco and bottle nutrients, then turned organic living soil. A road worth the travel for all that are interested.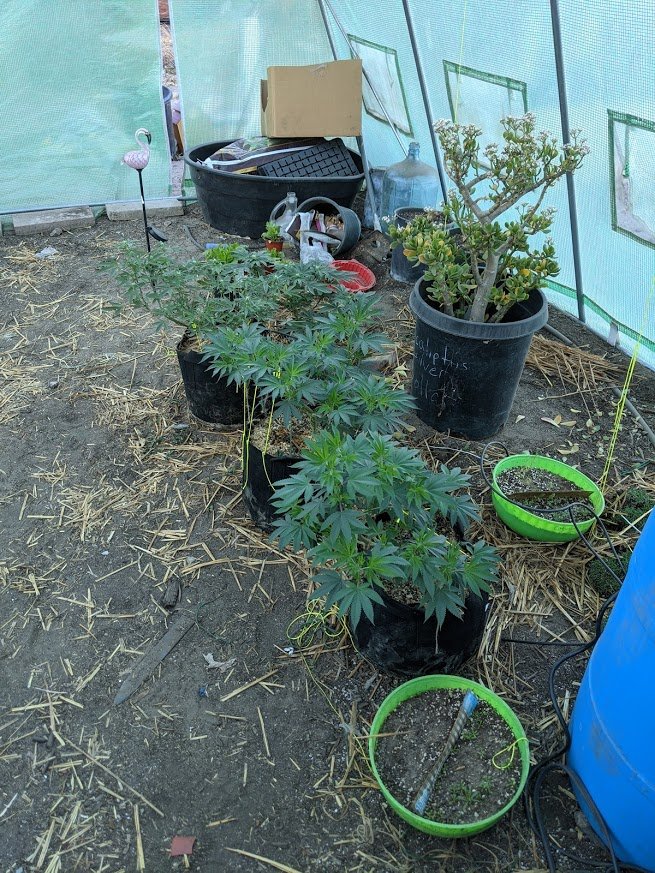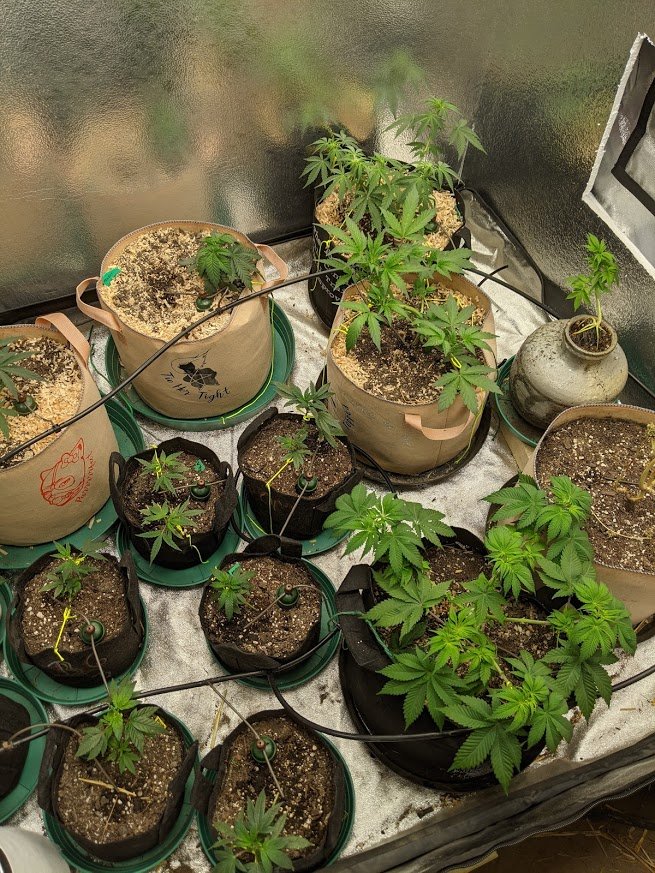 I like it too. My favorite is the Blumat watering system, still has to be monitored just installed but after that good to go. OUTSTANDING. That in itself is its very own post , they are very pretty awesome, all the adjectives.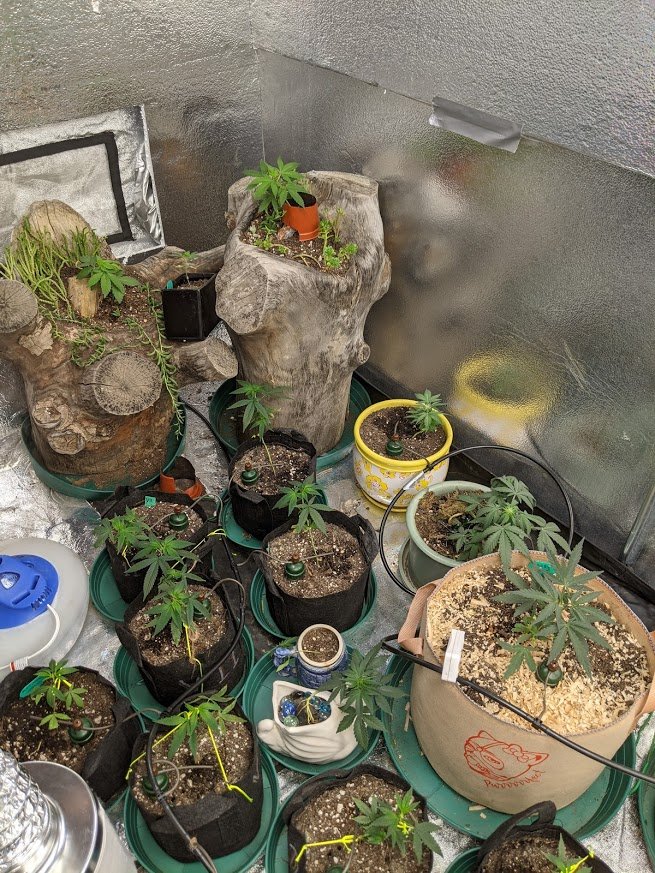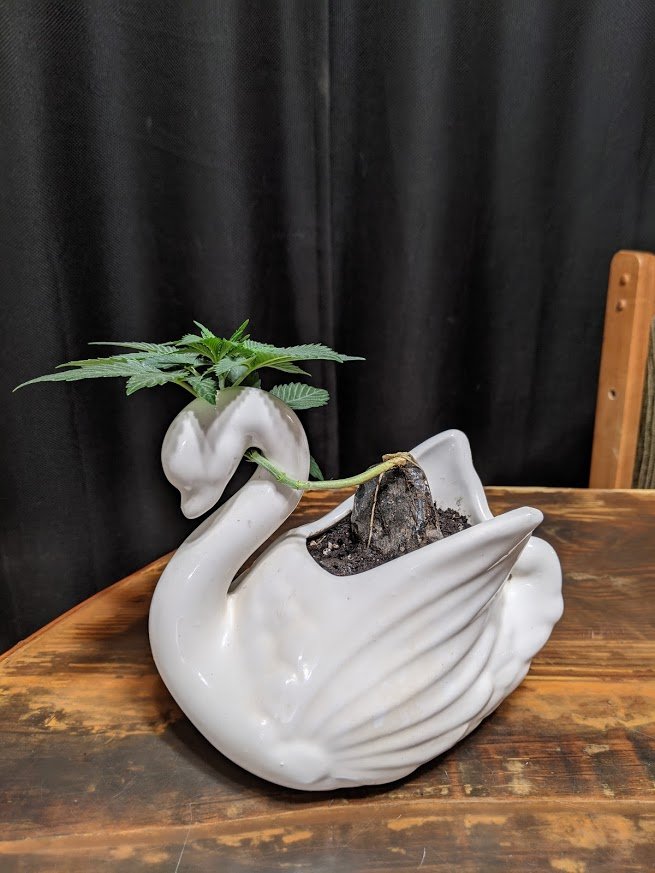 Getting silly in the Swan Pot, why not all the other cool kids are. 🤷‍♂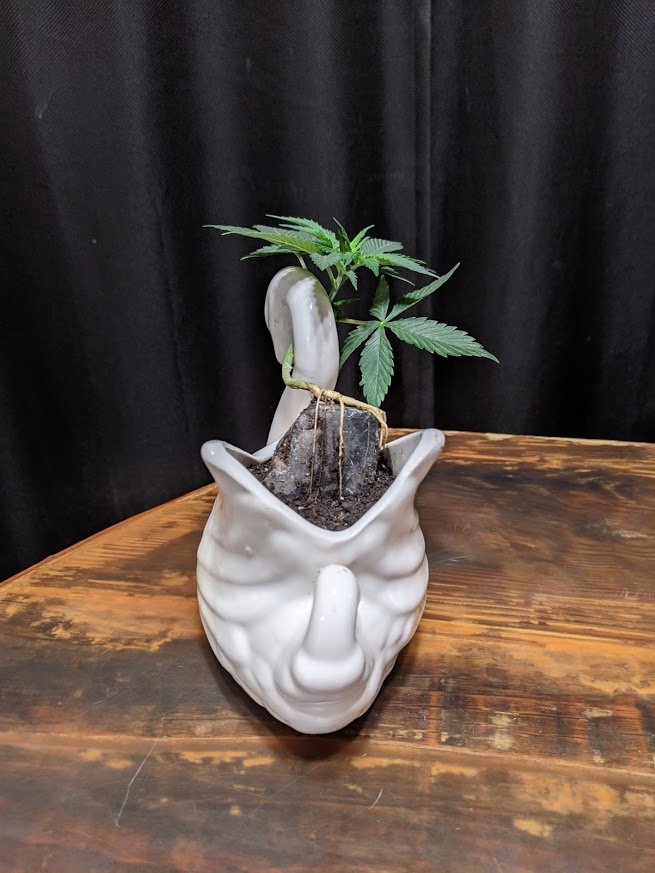 It's not a bridge, so we're good.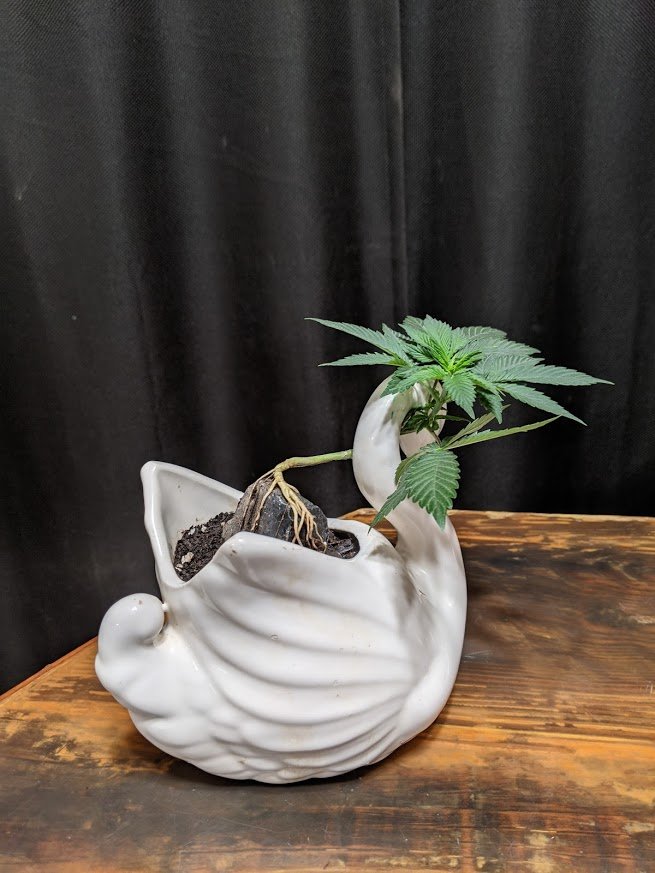 Both Canna-bonsai's here are CB19 with the roots trapping obsidian in the pots.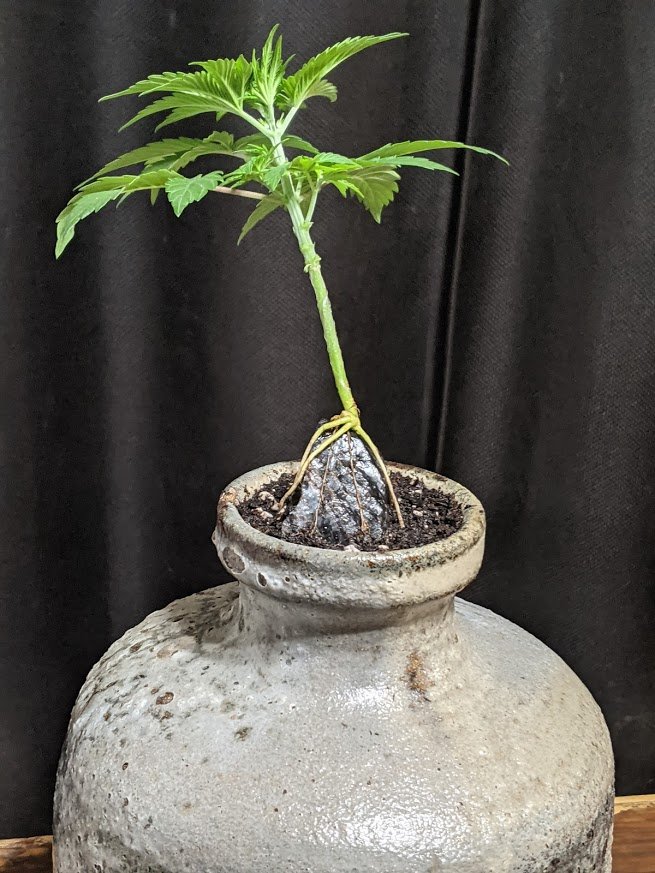 This clay pot was handcrafted by unknown back in 1973, one can only wonder how many if any have been in this pot. Fun thought exercise though.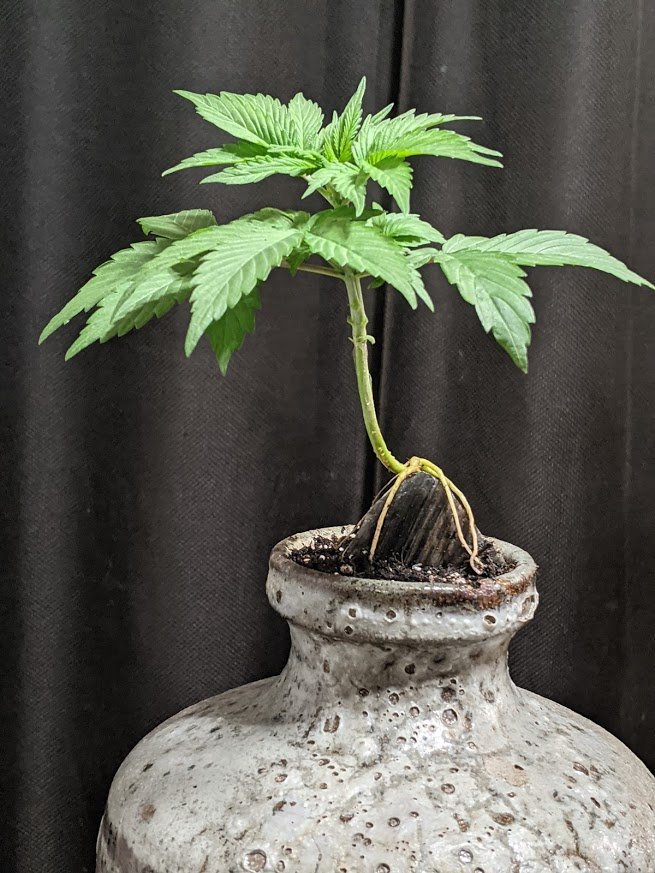 Day after trim an train.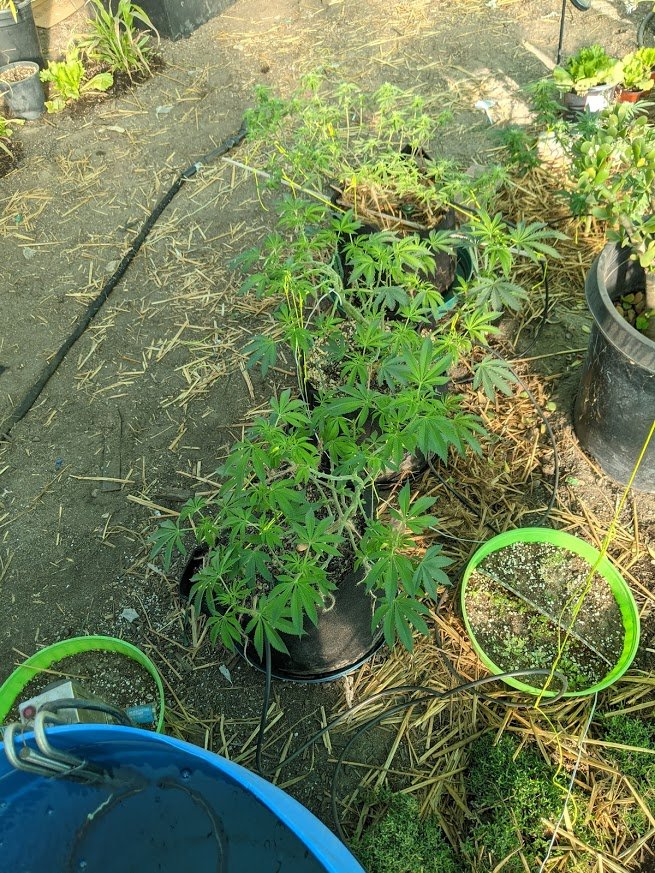 Just like the little canna-bonsai I train the big ladies just as much if not more, to be fair if they would not grow I would train.
Who would want that?
Using the Blumat watering system here as well, water heater that was used for sour mash makings. Which incidentally is a fantastic way to supplement Co2 in a given area.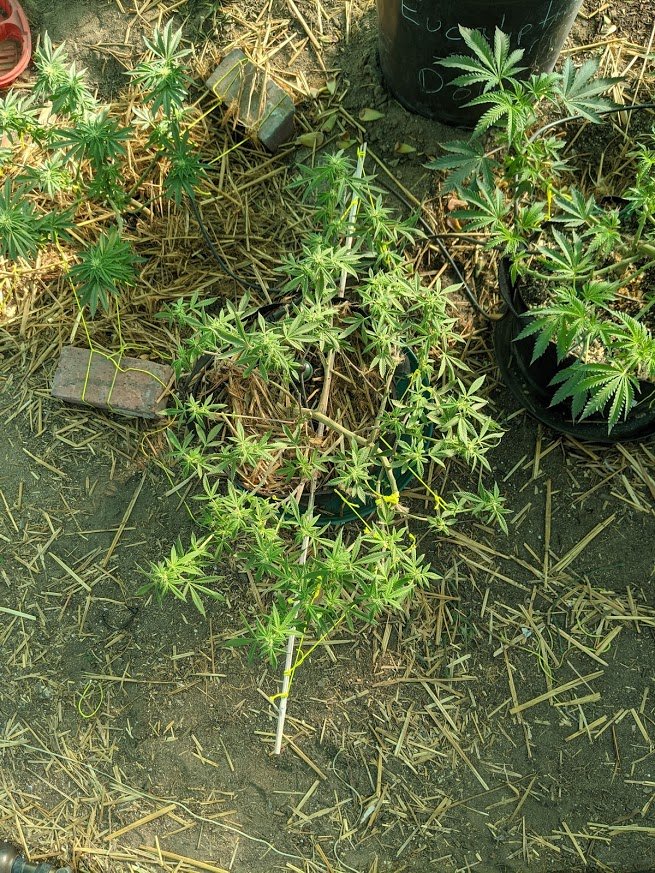 Those are the First round of new and improved, with a side of much more to come. Putting the work into the space to make it more efficient, has to be done. I like to think that I can keep up with and provide proper water, but truth is that Blumat is superior. Once dialed in just keep that reservoir full an have a crop to monitor it will do its job. Down side is it is 8mm hose that supplies the water to the spike, so plan accordingly. I work with well water so I mostly just maintain the level and the temp no need for a Ph up or down, thankfully. All on auto now, I have other things I like to mess with as well.
That Thai OG does stimulate the appetite.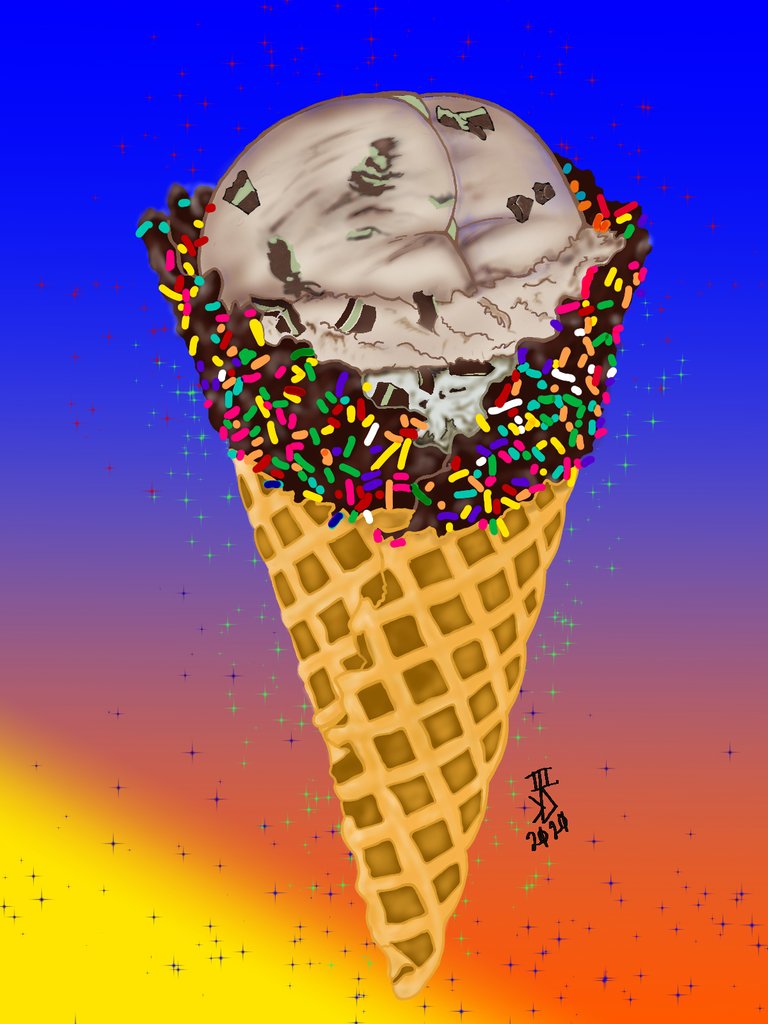 Not as cute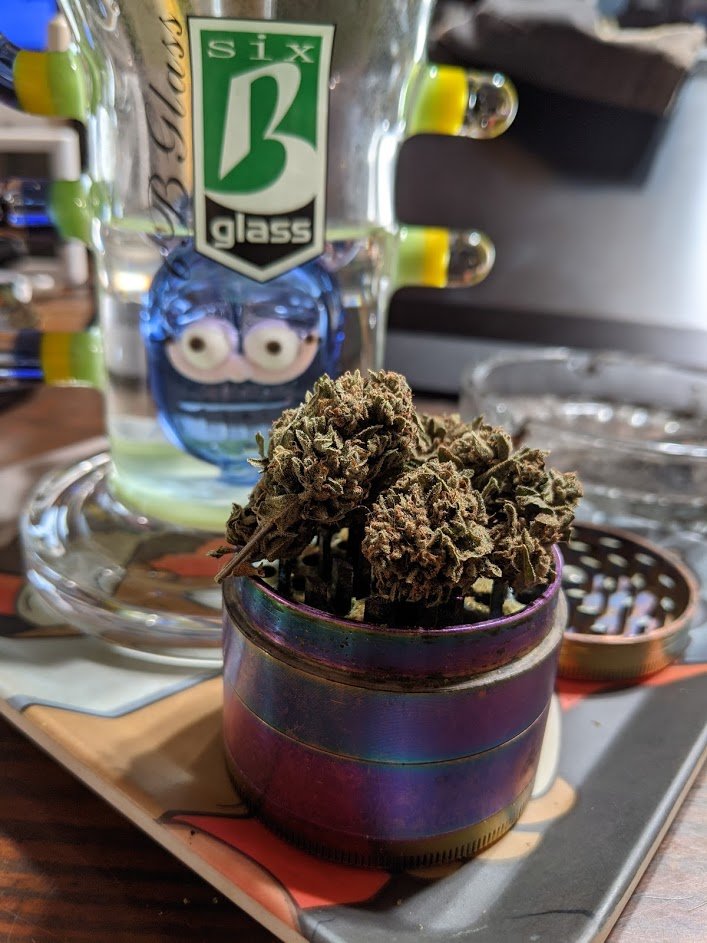 Little bit of my Digital art, that's how I get to the iron on decal for the bags, eventually.
Happy Frog soil for my base and Down to Earth dry amendments for my fuel.
The Future Cannabis Project has been a fantastic source of information as well, those folks over there have a degree in something I was dreaming of when I was in High school.
Thank you for stopping by the garden.
Knottydaddy, Tied Off.