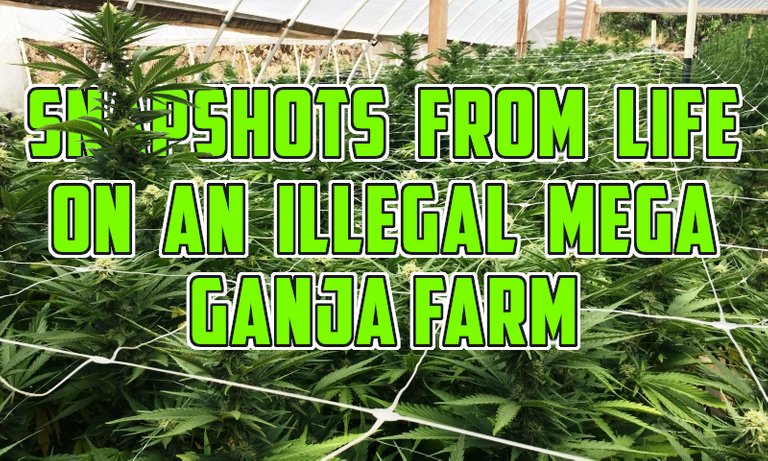 Once upon a time I worked in southern Oregon on what I hoped was going to be a legal and licensed commercial ganja farm.

📞 An Uneasy Agreement 🤝

     After I lost my residency visa in Cambodia a few years ago, this problem combined with @Sreypov and I's inability to legally marry in Cambodia, caused us to go abroad to stay together.
     The loss of my residency visa caught me off-guard, and we lacked the savings to all leave together, so I initially went to the USA for what I hoped would be a 3+ month ordeal earning money to help solve our legal problems.
     Before I left Cambodia for the USA, I found some work with an old friend I hadn't seen for over 10 years. He told me he had a ganja farm that was too big for him to manage by himself, and offered me lots of dollars to help him for a season.
     I've posted a lot already about our family, legal and migrant/immigrant struggles, so I won't let that be focus of this post, but the 3 months turned into nearly a half a year due to unforeseen issues.

✈️ A New 'Merican Life 🚙

     Being separated from the family caused me to want to work as many hours as possible while in the USA to make sure this problem never happened to us again. I would say I honored this goal very well, as I barely managed 10 photos during the 6 months I worked on this ganja farm, which was highly illegal by the way.
| my humble abode on the farm | interior of the cabin |
| --- | --- |
     My friend picked me up at a local airport, and we went out to get a bite to eat before he let me know his farm was anything but legal, and my cabin only had three bear-proof walls.
     The place was surrounded by illegal large scale ganja farms, and this wasn't hippy white people Oregon, this was armed-to-the-teeth doomsday preppers and racists, certainly not my cup of tea.

🚜 Farm Life 👨‍🌾

     I couldn't have imagined the scale of the farm that the two of us were going to try and manage until harvest. Nearly 200 full-sized monsters and another 100 or so half-sized plants, blatantly illegal.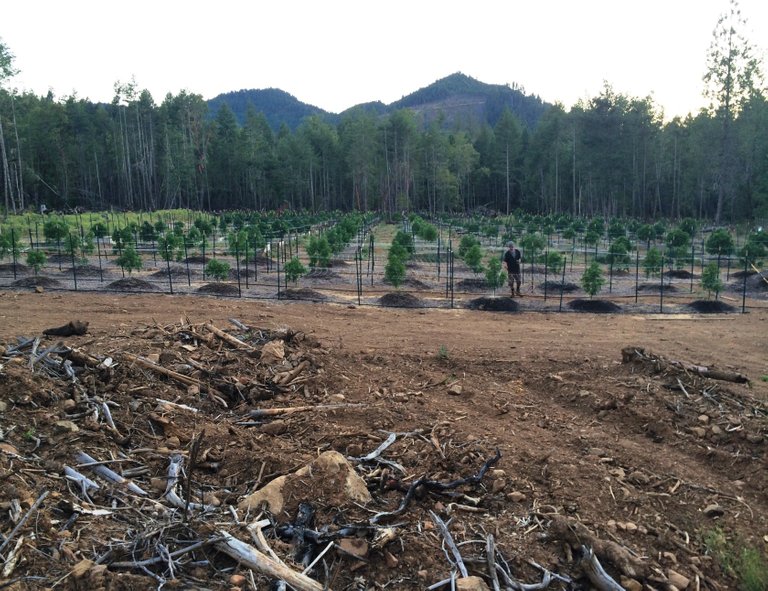 impossible to squeeze the whole field into one picture
     There were some positive things, my friend was using a few permaculture techniques, and was mostly organic. We used hügelkultur beds for the both the monster plants and the smaller ones.
     Hügelkultur is basically buyring dead wood under the ganja beds to provide moisture control and time-released nutrients, although we still had to supplement later in the season.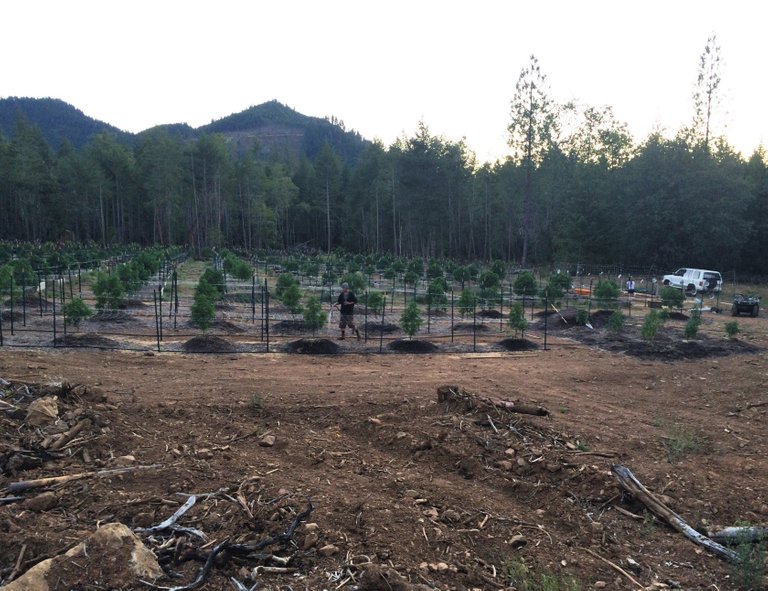 no guerilla grow is complete without an abandoned car
     The scale was something way too much for two of us to handle, but we managed by working 16 hour days. By harvest time, I needed a 6 foot ladder to work on these monsters.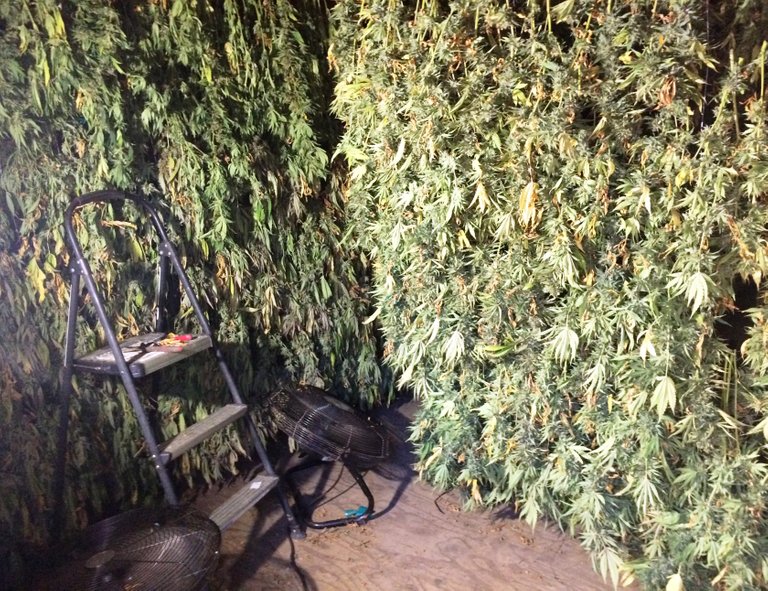 walls and walls of weed, the heat created is incredible, even without outside temps below 0°C
     Here is a pic I took after I boxed myself in hanging stems on trellis in a 40ft long shipping container. After this thing was stuffed, we filled an additional farmhouse with drying herb, fans and dehumidifiers.

🛣️ Beyond The Farm 👨‍🌾

     After harvest came the trimmers, and the youngsters and their trim scene wasn't for me, and I was able to find some work on other nearby illegal farms building hoop houses, pruning, harvesting, hanging, bucking and putting in ganja starts.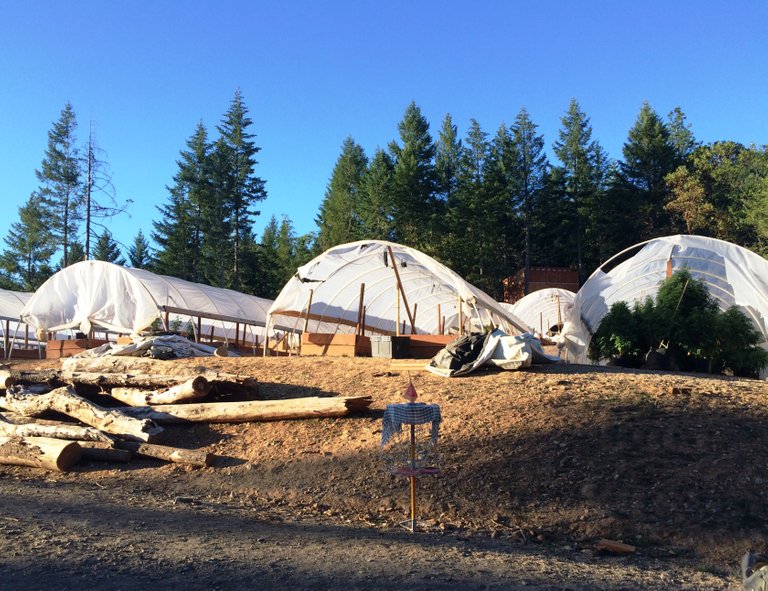 This particular farm had a bit of overhead helicopter protection, but was still a massive operation, containing a total of 3 terraces with 4 hoop houses on each terrace.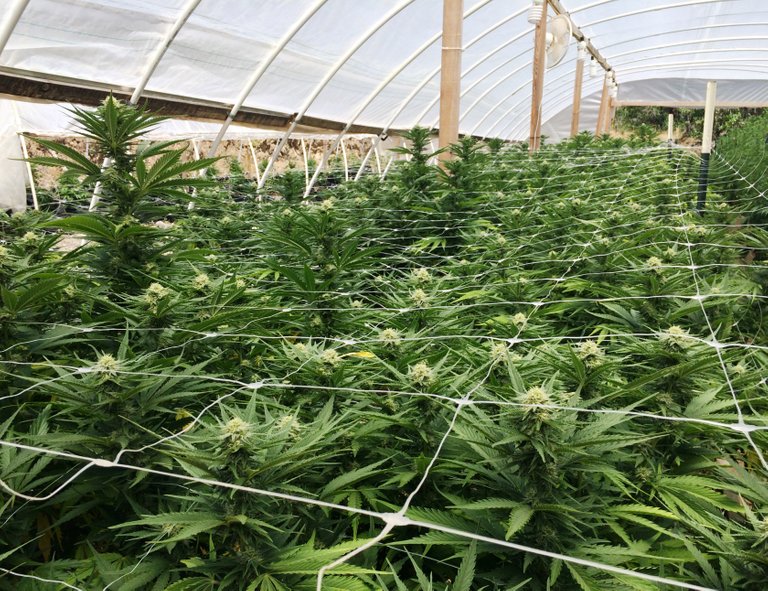 I learned a lot while working on these farms, most importantly that most of these black market farms aren't growing naturally nor with the customer's safety in mind.
     Despite how awesome the above picture looks, I tried to touch the plants as little as possible with bare hands based on what chemicals (and the associated health warnings) I saw being used on these plants.

🛣️ A Legal Farm Using KNF Methods 👨‍🌾

     One local friend I made had an Oregon state certified legal recreational farm with three commercial greenhouses. He was growing mostly from straw bales using fermented plant juices to give the plants what they need.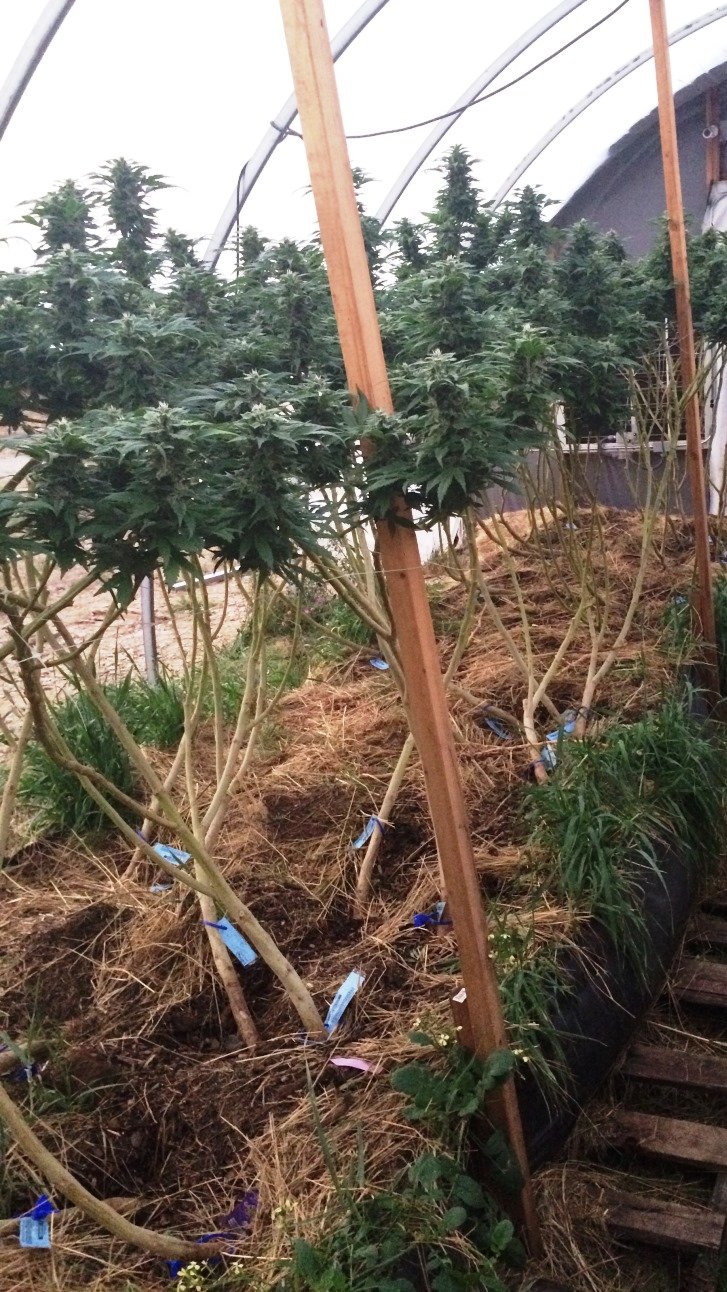 He called his pruning method "lollipopping," basically letting the plant focus all its energy on a singular monster cola. He assured me this method was more profitable for him and the only way he could manage three greenhouses by himself.
     I can testify to how much time is spent pruning in the later stages of bud production, as it basically became my full-time towards the end of the season on my buddy's farm.
     Also, this legal farm was using Korean Natural Farming techniques, some amazing old technology that doesn't need to be updated. Koreans have known about the benefits of microbes in soil for centuries, and have really simple ways of naturally producing plant fertilizers, pesticides and mycorrhizal fungi.

🛫 Back To Cambodia 🛕

     After the season was over, I had enough cash to fly back to Cambodia and head to Ecuador with the family in tow.
     I had never spent more than a night away from the family since the first day @Sreypov and I began living together, so I was extremely excited to return to Cambodia.
     Now in a post COVID-19 world, we find ourselves stranded in Suriname unable to return to Cambodia because of plane ticket prices and a ban on e-visas and visas on arrival in Cambodia.
     Hopefully things will change soon, ticket prices will drop, freedom of movement will increase, and we can return home to Cambodia, albeit unmarried and without basic family rights.

🙏 THANKS FOR READING 🙏
If you enjoyed this post, please upvote and reblog.


---
Posted via weedcash.network