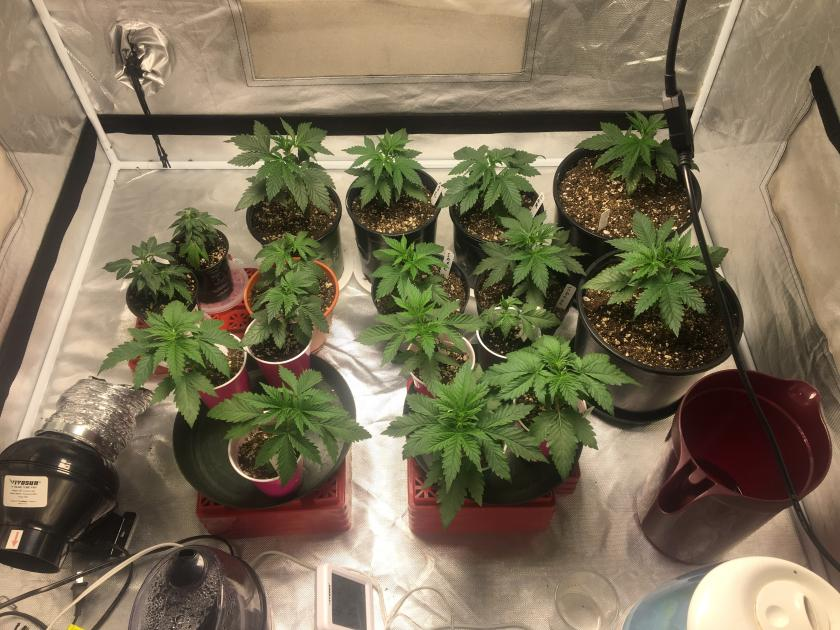 What's up Weed Nerds! So what a crazy past 24 hours. You see here on the Coast of California we just got hit with a nice rain, something they call an Atmospheric River. It came good too! It was a welcomed much needed rain, and I was loving it. After all it is not often we get rain, let alone a pouring! But that all came to an end when I heard a leak in the kitchen. At first I thought I left the sink on. NOPE. The water was coming down from part of the gutter, on to my house like a waterfall! So much so, water got through a crack, and then came into my kitchen VIA the kitchen light.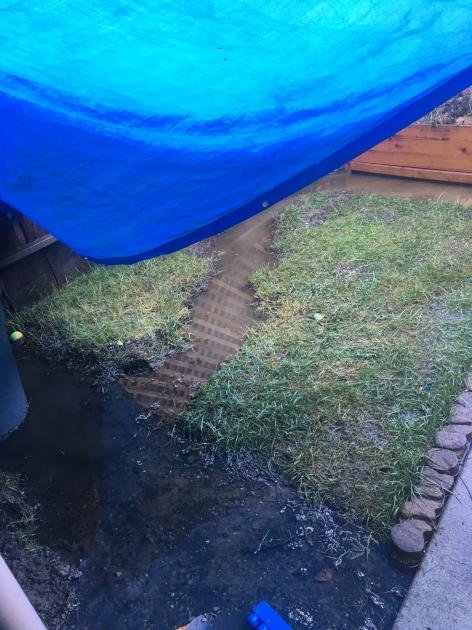 Luckily it was not to much that came in that crack, but it was coming down so hard, it was going to flood my apartment, like it did a couple years prior. Yeah it sucks renting. S0 at 1 am I threw on some rain gear, and dug a trench through my lawn. I even planted some grass seed, knowing it was going to rain, and had hopes of brand new grass growing in the bear spots. So yeah that's what I had to do. Know I got to deal with the property manager, and then contractors to come repair what is broken. Just a big headache. I am a somewhat private person when it comes to having people in my home, and just gives me high anxiety.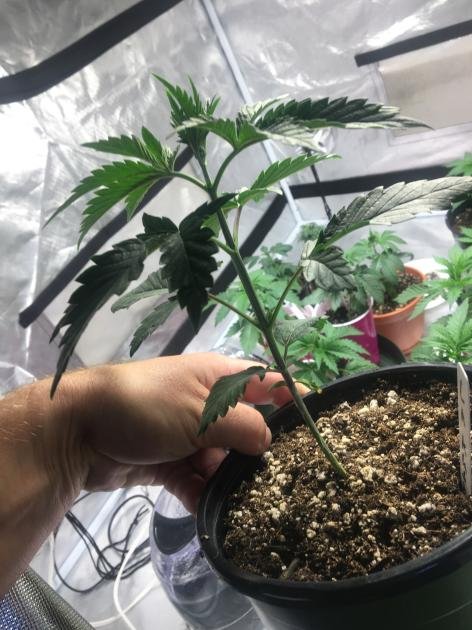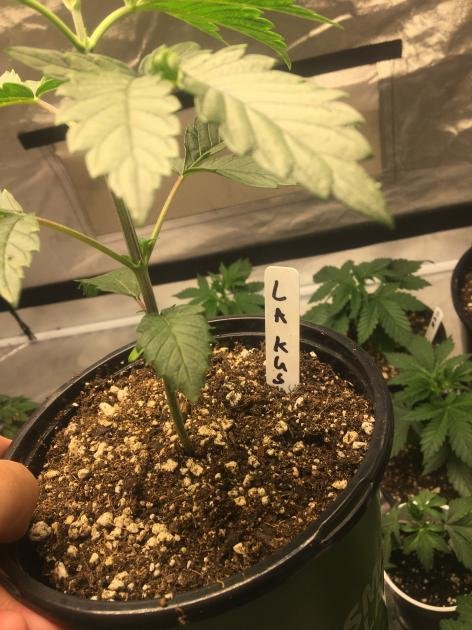 ---
But the show must go on. One great thing about being in California, this plant is widely accepted. Good thing too. I have a few of them. I planned to have them all transplanted today, but with that disaster, I was unable. I did manage to do a few on Saturday. Since I am dealing with Regular Photo Periods I am only transplanted to .75-1 gallon pots. This is to save on soil until I know what the sex are. Above is a La Kush Cake, but since it is looking a little masculine, I transplanted into .75 gallons.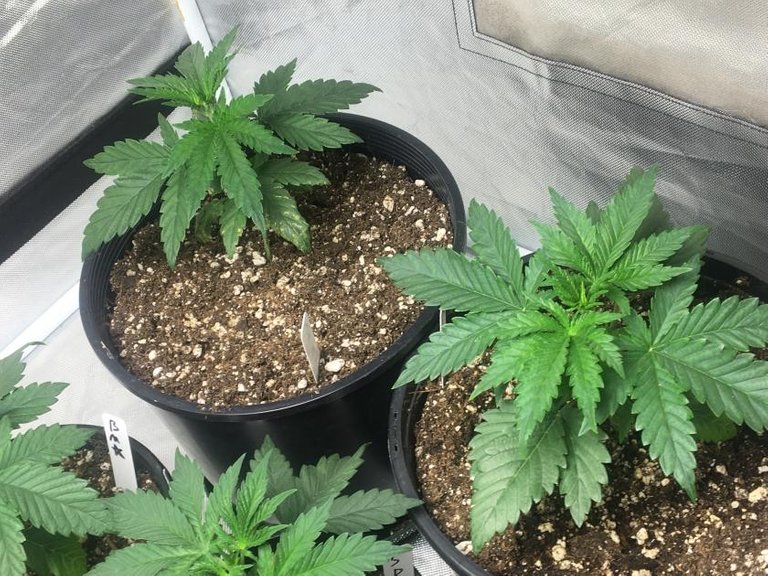 Then the ones that are looking more feminine, I transplanted into 1 gallons. Now this is not an exact science, just a hunch. I have been fooled before. But it is worth a shot.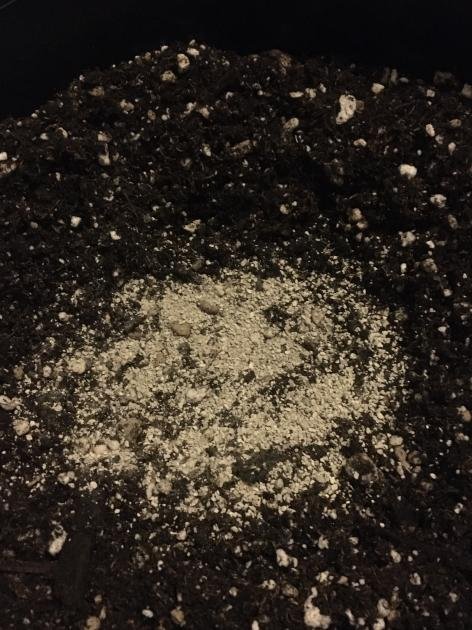 I am using Roots Organics 707, and a sprinkle of Mycos.
Light is still on 20/4 light cycle, and still using the Mars TS1000. Only thing I have added to the water is Cal/Mag since I am using RO. Next feeding I will begin to use the Mono Silica, and add the Top Dressing, along with a Mammoth P. The Silica, and Mammoth P will be added once every 2 weeks, while the Top Dressing will be added as needed.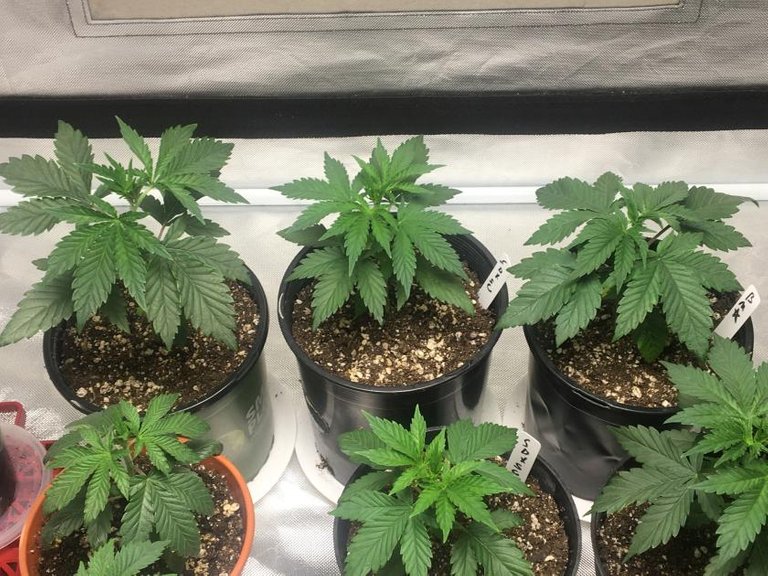 Strains:
La Kush Cake From Jungle Boys, courtesy of fellow Weedcasher @lacausa
Sundae Driver x Slurrycake from @bifbeans
Big Mack Superstar, (All star pheno of Big Mack x A backcross of (Banana Punch x Mac and Cheese) X Mac and Cheese F2)
Still looking out for that Grape Ape, which is not looking good:(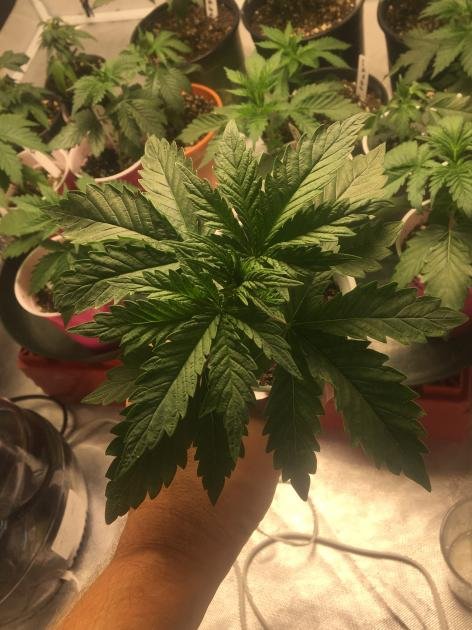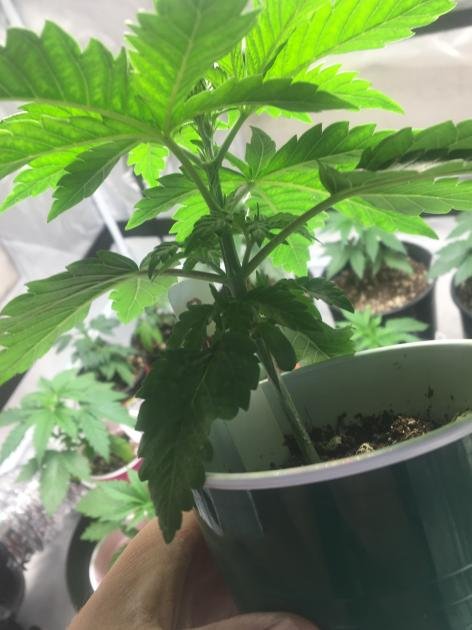 ---
I will top once all of them are transplanted. These plants are growing up so fast, that is why I am starting to think I will have to pass on the Grape Ape. Or maybe I will just get another bad ass cross, such as GELATO ICE CREAM, LARRY'S BREATH, or even VANILLA CREME PIE. I just want to add 1 more flavor in the tent. We will see.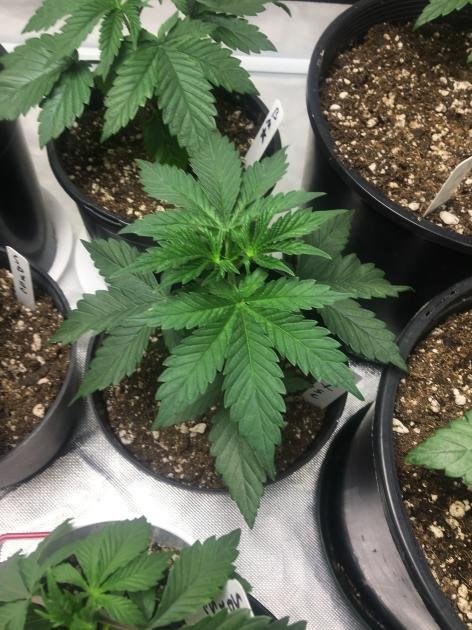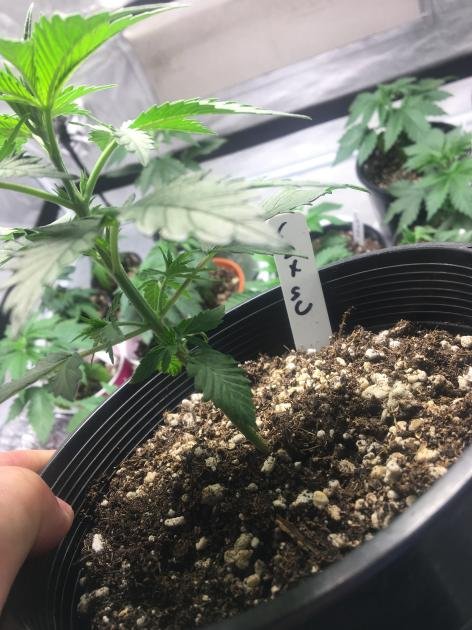 ---
So next up after I sex, and figure out what is staying, and what isn't, will be installing the Trellis. But easier said then done. It is so hard not to get attached to anything with roots, but then again having a packed tent with so many plants was a pain. I want to have a packed tent VIA bending, and tucking branches this time around.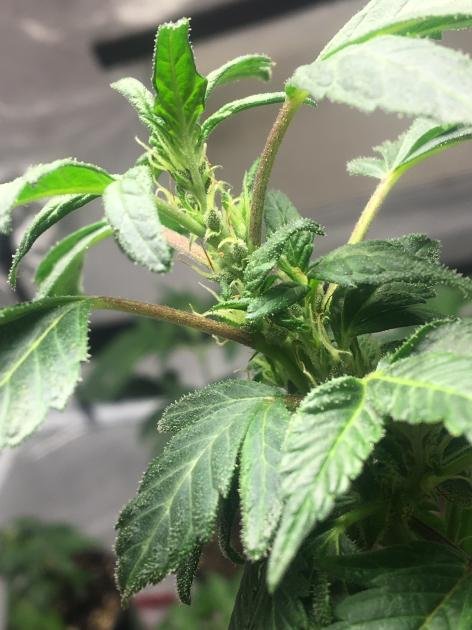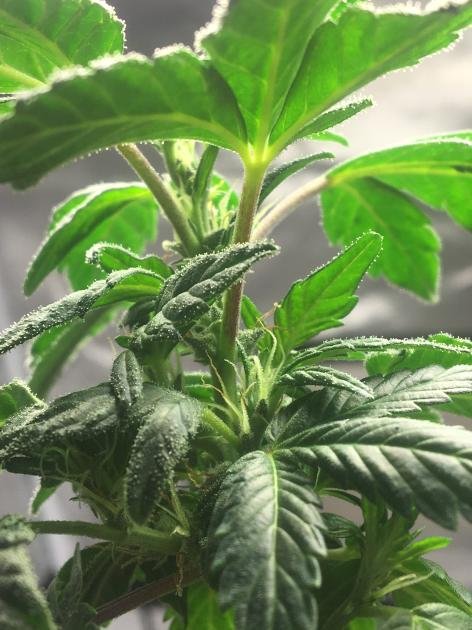 ---
I almost forgot about the Miracle Mack! Add this one to the list of strains. She is going to be a very bushy lady, and I welcome it. Nothing wrong with that 1970's look, ;)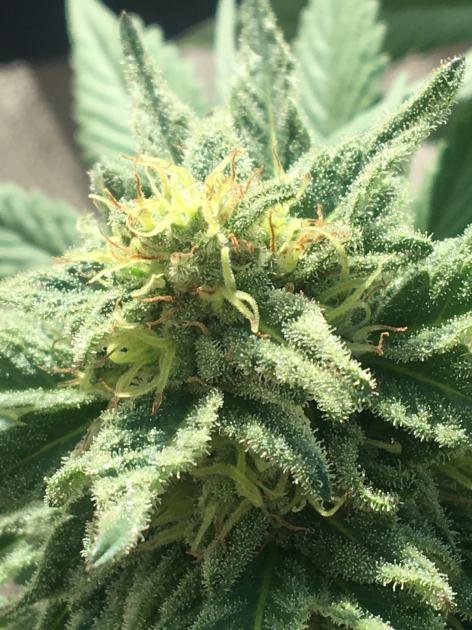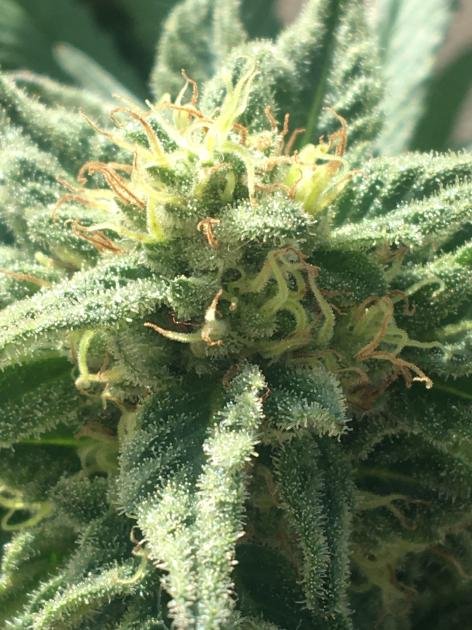 ---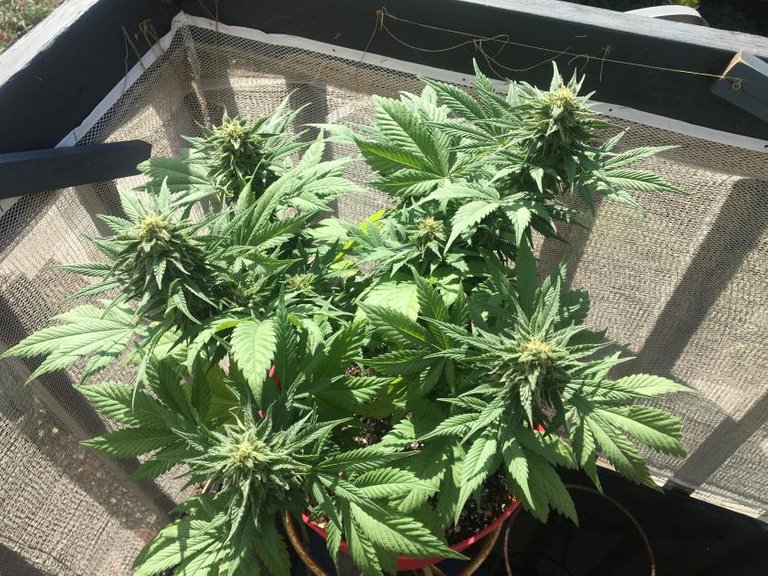 The mom is still loving life, although she was inside yesterday, to avoid getting wet. I am really loving this version of the Big Mack. This is because it has more gas, and less fruit. I really do hope a Big Mack Superstar is a male, if so I will pollinate one of the Monster Cropped cuts, and have a very solid strain! Never would of thought I would of worked this Banana Punch X Mac And Cheese F1 so deep. The Block Chain will see so much more from the Big Mack lineup.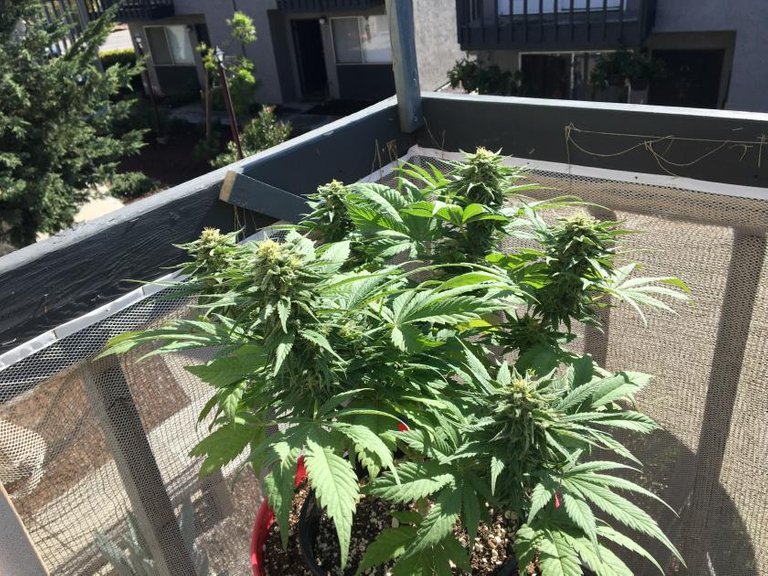 In the meantime I will deal with getting the shit around Apt fixed, then I can have a clear head to focus on growing my next crop. With no more rain in the forecast, I can see sunny days ahead. Also with so many of you all also starting up your grows, it is a honor to be growing with you all. So lets have fun, and grow the best that be can!