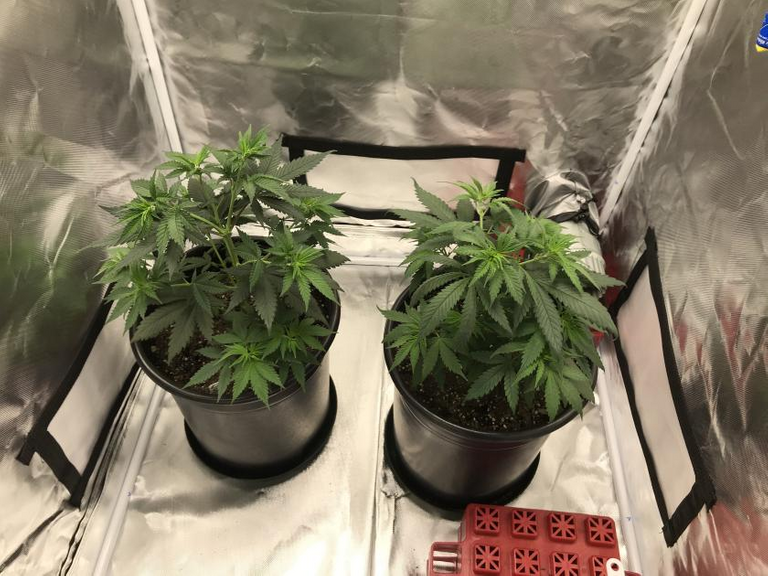 Hello Steem! Six day's ago I got my tent setup, which is in this post here. Things could not have going any better. Having this enclose space, where I am able to have good air flow really is making a huge difference, compared to when I grew in a closet.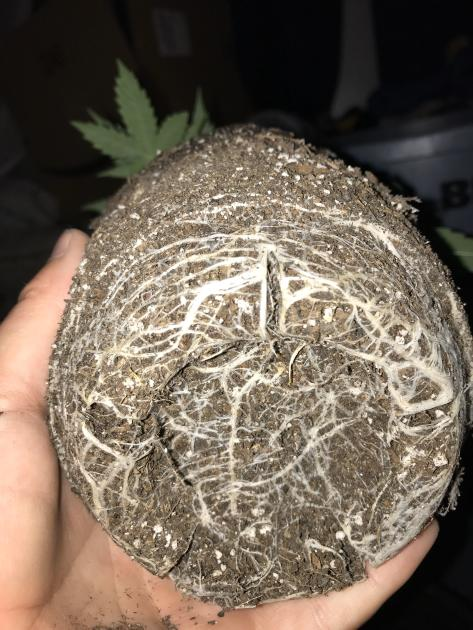 Lot's of growth in the past week, but first lets go over what I did as soon as I got my tent setup.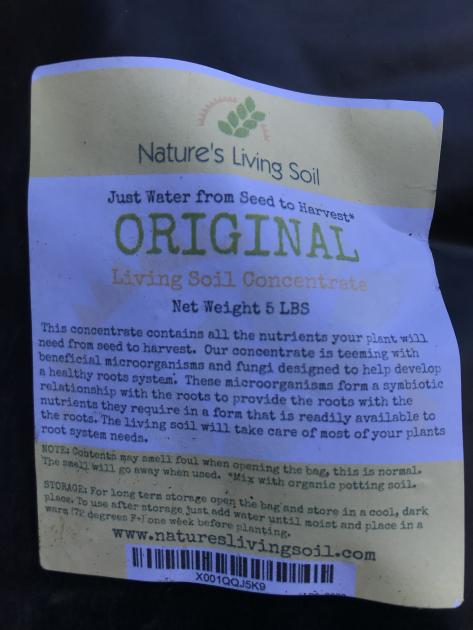 I have been wanting to make my own Super Soil ever since I even started to grow. But being so busy, and living in a small apartment, I have always put it off till tomorrow. Well I did a little research, and actually found some pre made Super Soil mix. I went with Natures Living Soil. All I had to do was mix it in with some premium potting soil, in my case Fox Farm.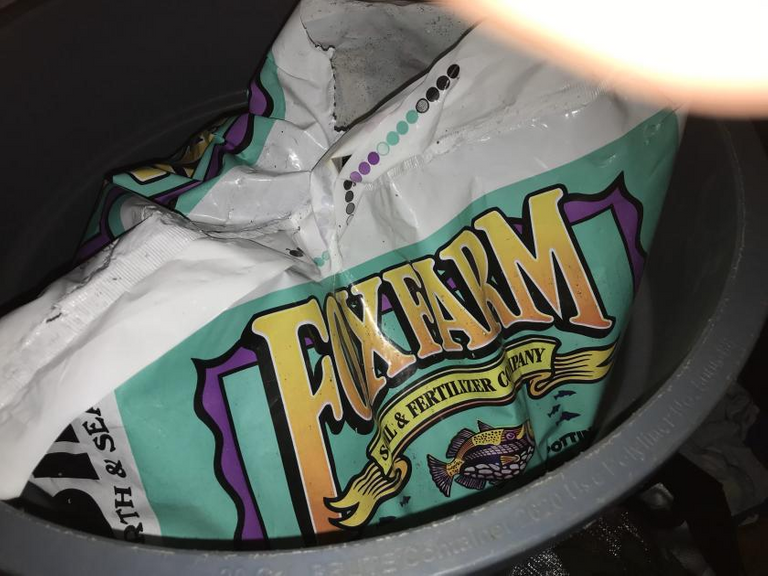 The instructions state, you mix 1 pound of the Nature's living Soil with a gallon of your potting soil, and put into the bottom of a 5 gallon pot, then fill up the rest of pot with your regular potting soil. This is to let the Living Soil mix break down, and by the time the roots hit the LS mix, it wont be to 'hot' and give your plant nutrient burn. If you where to make your own Super Soil, you would let it sit for 4-6 weeks, so the soil is not to 'hot'.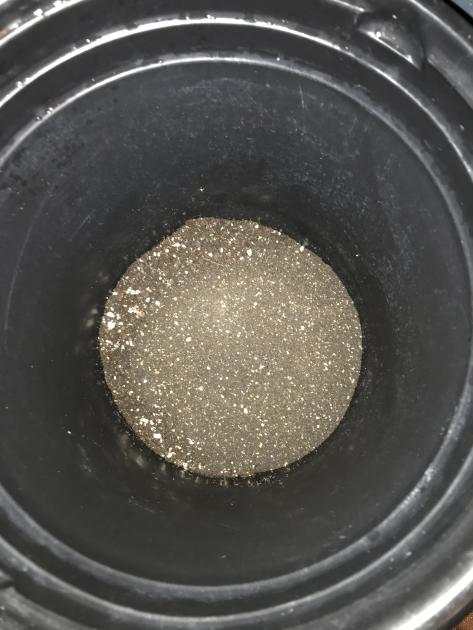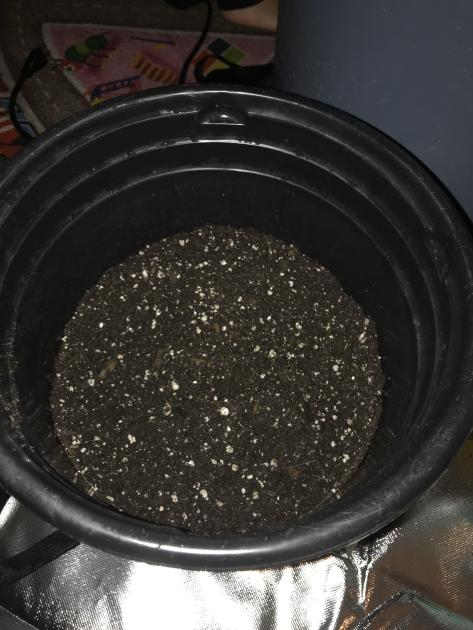 ---
The next step with The Nature's Living soil mix, is to just add water, all the way to the end of harvest. Everything your plant needs is all in the living soil mix.

Organic Earthworm Castings
High Quality Bat Guano
Blood Meal
Bone Meal
Fish Bone Meal
Rock Phosphate
Humic Acid
Dolomite Lime
Azomite
Alfalfa Meal
Kelp Meal
Coco Coir
Crushed Oyster Shell
Humic Acid
Epsom Salt
Coconut Water Powder and Aloe Vera
The way Living Soil works, is feeding the microorganims, and bacteria in your soil, hence the term, 'Living', this soil mix also adds the following bacteria:fungi Glomus Aggregatum, Glomus Etunicatum, Glomus Intraradices,Glomus Mosseae, Pisolithus Tinctorius, Scleroderma Cepa, Scleroderma Citrinum,Trichoderma Harzianum, Trichoderma Koningii, Saccharomyces Cerevisiae,Azotobacter Chroococcum, Bacillus Amyloliquefaciens, Bacillus Azotoformans,Bacillus Coagulans, Bacillus Licheniformis, Bacillus Megaterium, Bacillus Pumilus, Bacillus Subtilis, Bacillus Thuringiensis, Paenibacillus Durum,Paenibacillus Polymyxa, Pseudomonas Aureofaciens, Pseudomonas Fluorescens.Source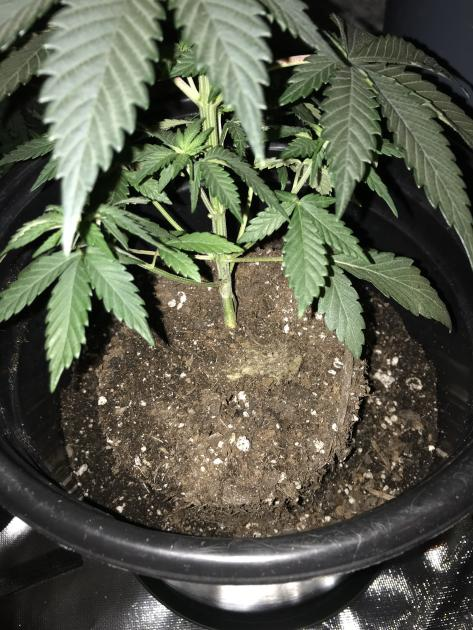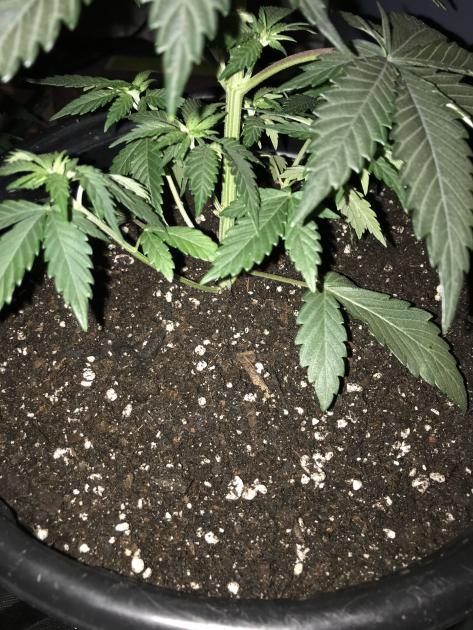 ---
So the plan was to do a side by side comparison of the instructions provided by Natures Living Soil, and then using pure Fox Farm Ocean Forest Soil with adding bottled nutrients.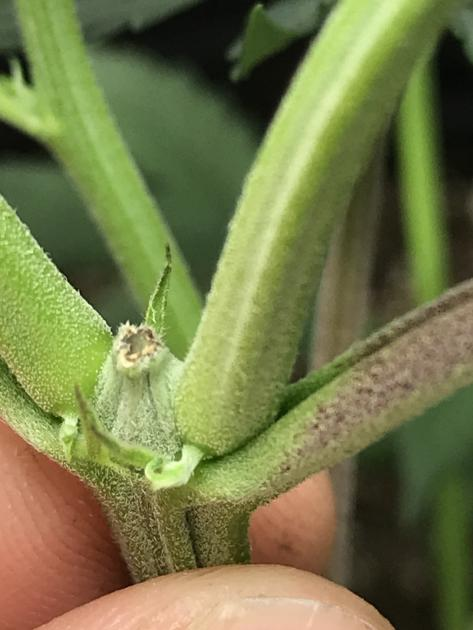 BUT TURNS OUT THAT THE LIVING SOIL SUBJECT IS A MALE!!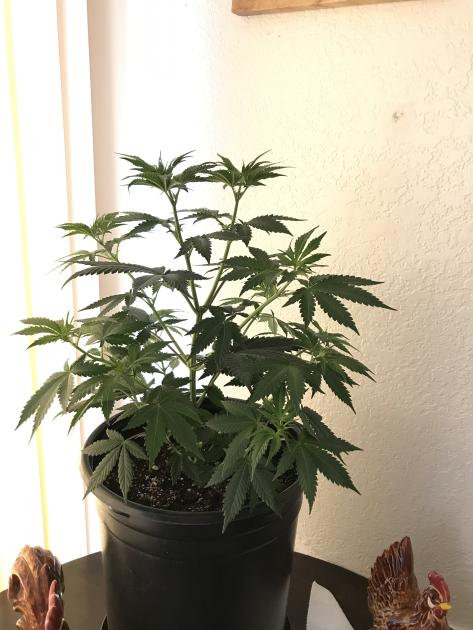 Really disappointed in that, but it is not a total loss. I will put him to good use, and put in the backyard for the bee's. I will also maybe make a few crosses with the Santa Kandy male. I just would be a shame for my work the last 30 days to be a waste.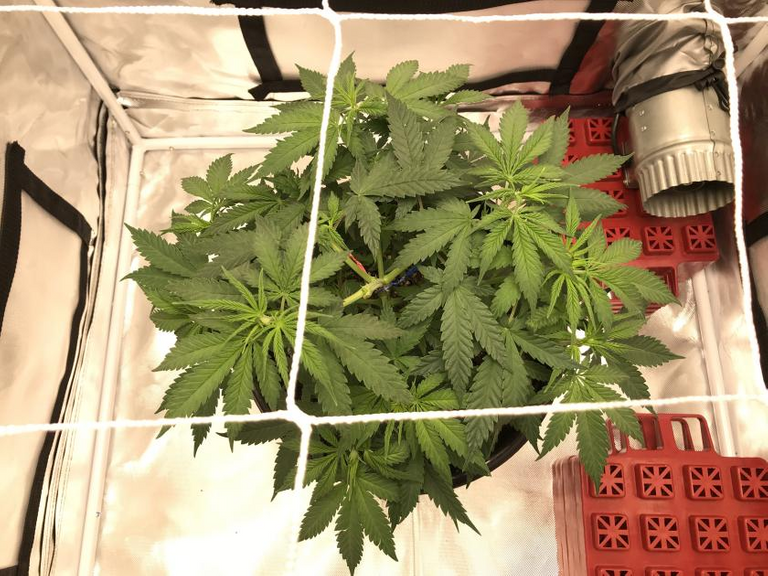 Here is the female that is in the Fox Farm soil. I have only added spring water, and have not used any bottled nutes. I have been Super Cropping, to get more tops out of her. Since my planned experiment was a no go, I am thinking of added the Living Soil mix as a top dressing when I flip into flower.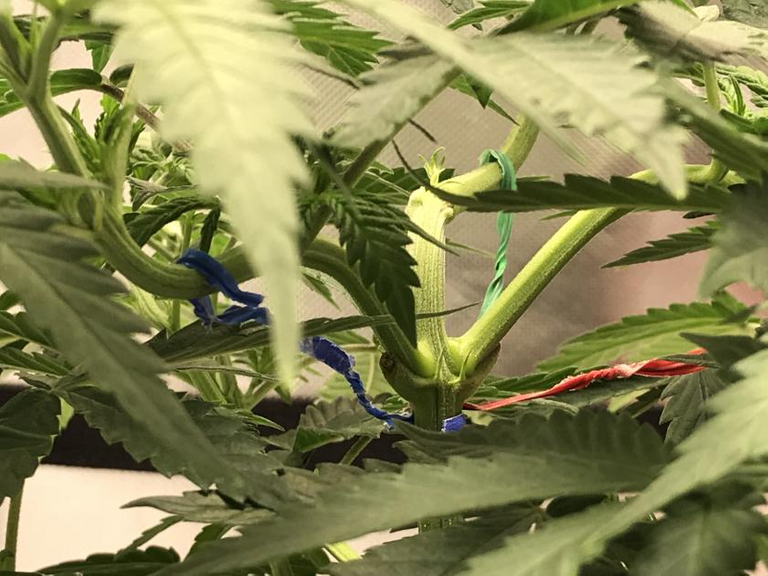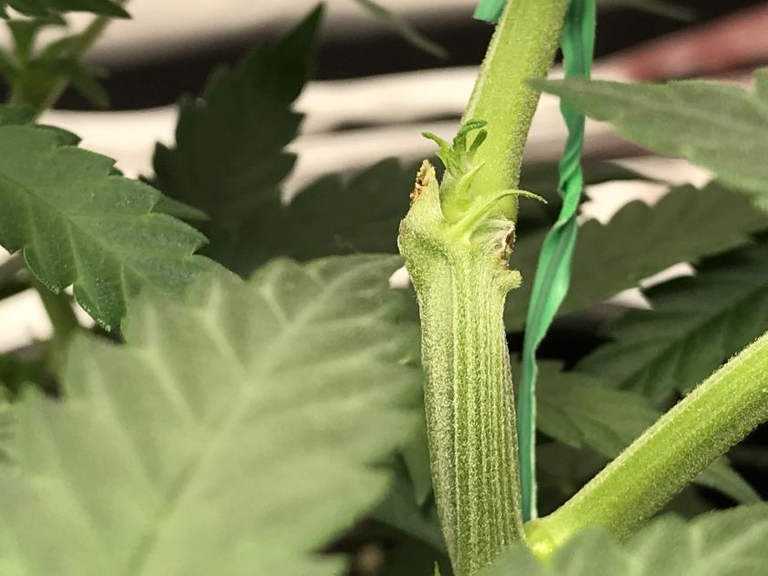 ---
The plan is to veg for another 30 days, and then use the SGROG method when flipping into flower. I am debating if I should transfer from a 5 gallon to a 7 gallon pot, so I do not run into any root bound issues. Another option I may do, is just go a hole on the bottom of the current pot, and then set on top of another pot to have more room for the roots.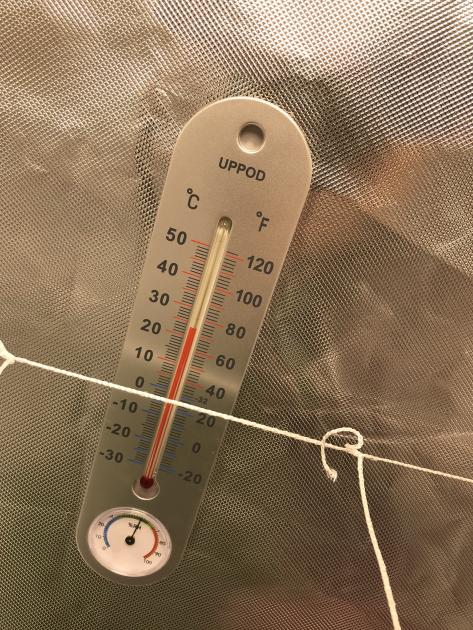 Until then, I will monitor humidity and temp levels, and continue to add spring water. The Fox Farm has plenty of nutrients to get me through another few weeks. Then I will have to have my mind made up on what I am going to do, add bottled nutrients, or use the Living Soil mix as top dressing.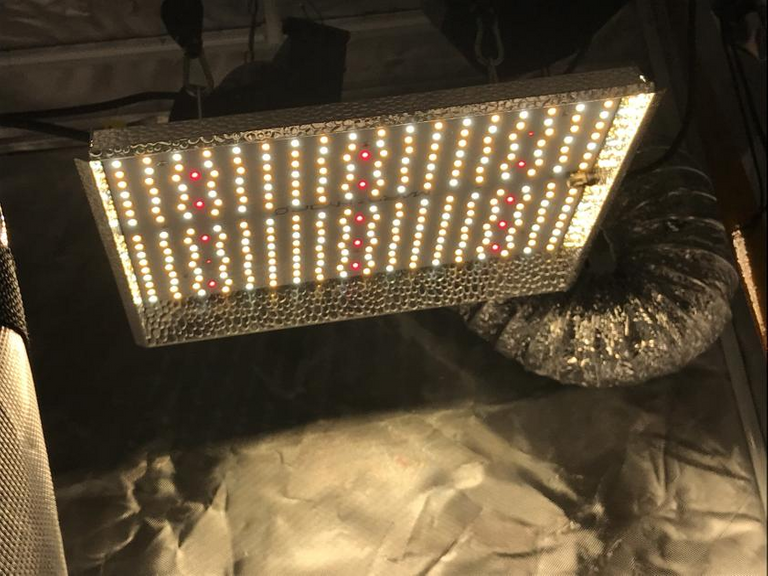 I am loving this Marst1000! I won't rant and rave just yet though. The true test will be for the flowering stage. But so far, it is working great.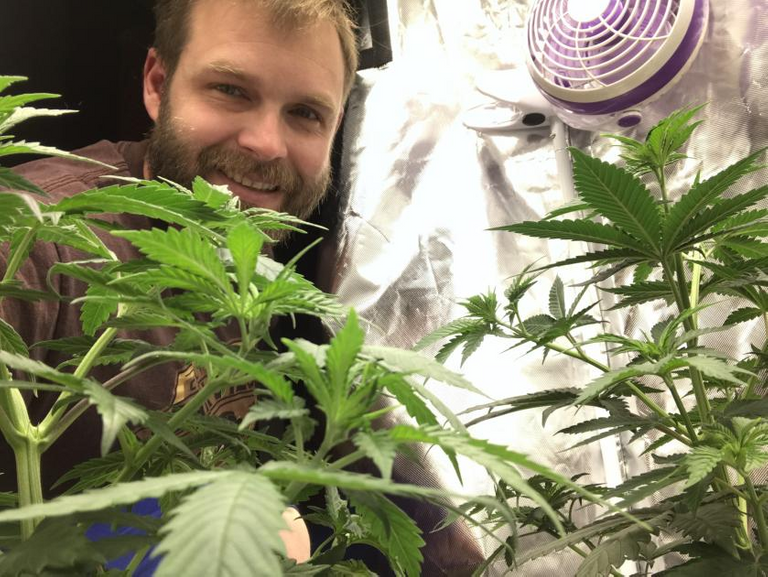 Just look at that face! I would say that guy really does love his new Mars light. Actually that is the face of a grower who just came out of the closet, ;) Seriously though, I really am a happy camper with this new setup. I can not wait for this Santa's Kandy to be finished, so I can go to my local nursery and get some new flavors in the stable. I do not think I will clone. I am going to focus on 1-3 plants each cycle, and use the tent as a dry room. Once a cycle is done drying, I will go out and get a new strain. Last time i had 4-6 strains going, in 2 small closets, and it just hindered my quality. Maybe one day I will get more room and focus on more, but until then, I am going to focus more on quality.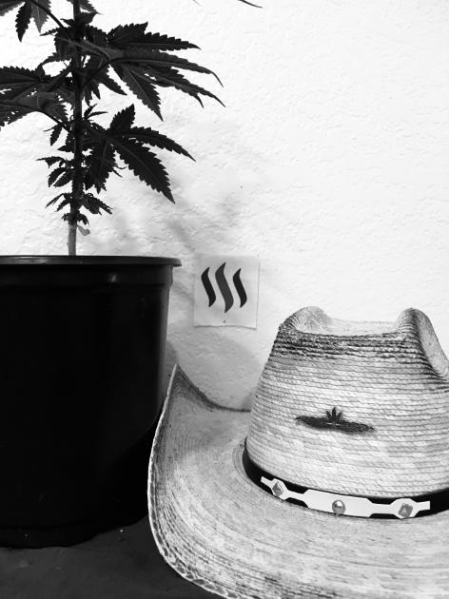 Don't forget to wash your hands!


---
Posted via weedcash.network