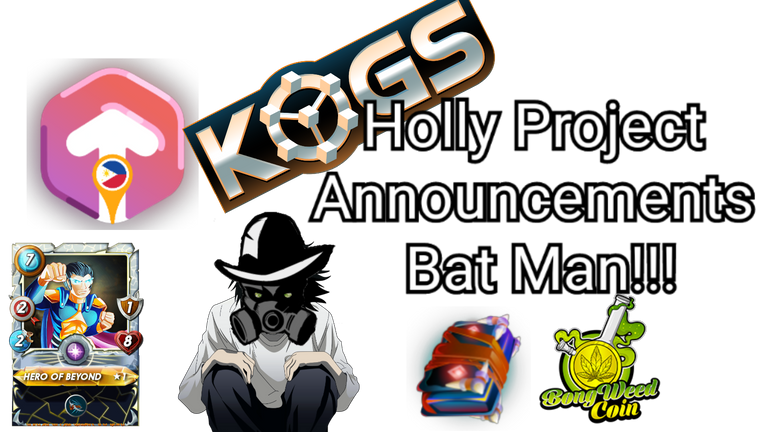 Markets have been dramatically affected by BSC mass adoption, Due to the GAS fee workaround available Many old ERC20s I thought dead in the water are actually looking viable. Torum being the biggest shock, KOGS an NFT project over budget and under utilized is coming out with series 3, & a new cannabis crypto
Blockchains form of a lazarus taxon ( meaning wow i thought that was extinct) but then you find one BWC Bong Weed Coin.
Torum looking real passable
Never Thought I would be writing this but Torum just announced a few projects developments including a BSC integrated NFT market that might make their crypto XTM actually valuable. Valuable for something that I believed wasn't even viable, Torum may just have made an ERC20 project doomed for failure Viable by utilizing BSC.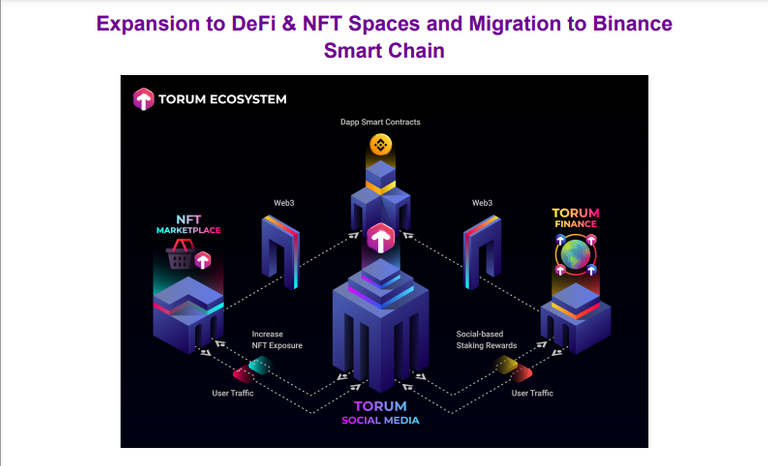 I know This project Torum has been a whole lot of waiting and not much else, Despite that in the event you did or still want to sign up their still giving out site XTM To user accounts now that its going to be on BSC instead of ETH combined with the recent announcement of a Torum BSC NFT market if you come bine that with what they did have a crypto blog that promotes and rewards user interaction with a fairly solid gift system throw add an NFT market into that you got the potential for something great something.
NFT gifting made simplistic with posting and rewards I'm simply baffled this is actually seeming realistically viable maybe even popular.
Here's the recent article about Torum & BSC NFT market
https://news.bitcoin.com/the-first-defi-nft-social-media-project-torum-announces-nft-launchpad/
Promising a launch pad system for NFT producers its simply baffling to me this project may actually finally have its site crypto redeemable or tradeable. Been almost a year of coming soon but it appears that day may finally arrive. Not on Torum yet you can use my referral to get some site XTM in your account So in the event I'm right & it finally becomes useable crypto you will have some XTM now down to 35 XTM another sign it may actually be redeemable soon.
https://www.torum.com/signup?referral_code=chubb149
Hell I have had a few long shots pay off before Doge is a popular example many probably identify with.
KOGS from over budget to a major contender

Dont get me wrong KOGS has never devalued enough for me to loose faith in this NFT project, However once the company announced they went over budget their resale volume fell on WAX even more so when tube staking ended. The Rplanet Staking reward for the collection have been decreasing as well All of this pointed to potential issues ahead for the KOGS NFT collection.
Despite this the series two version of KOGs NFTs that have been depreciating for a while, may be worth picking up if you see them listed low enough. Just a hunch but their game that has been in beta for a while now is looking promising allowing players to redream in game points for KOGS NFTs. This combined with the fact that series 3 of KOGs launches fairly soon means that the series 2 KOGS while relatively worthless compared with the new series at first will slowly trade places as it where with the older iteration soaring in value due to scarcity while the newer iteration slowly dissipates in its demand.
Bottom line being this 4 separate use cases for KOGs and the ease f use of WAX KOS might be project that lasts years like spliterlands. Just a hunch given what i have observed in the NFT market no reason gen 2 KOG will appreciate or even hold their current value in the short term but given the projects long term survival is looking possible might be worth garbing some cheapest gen 2 KOGS if you run across any.
New Cannabis Crypto
Bong Weed Coin BWC Another marijuana crypto project based off BSC available on pancake swap and listed on trust wallets add coin menu.
Cannabis Crypto other then WEED has a real tough time from what I have observed. Many projects simply devalue and some are eliminated all together, cannabis crypto faces issues that other forms of crypto do not mostly the market avoiding them due to laws varying and the nature of this type of market. Not necessarily outright outlawed but risky to say the least especially from an investors perspective.
What I have observed what makes WEED viable in my eyes is its multiple usages combined with a loyal user base. This and the real world use case via the store and involvement in two Dapp Games on Hive.
Ill be watching BWC maybe even buy a little if the price is right, they seem to be promising a lot that appeals to a consumer market rather then an investment market. To similar projects not based on the same blockchain these appear to be competition for the same niche market.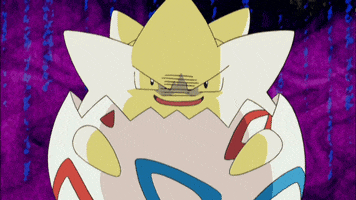 Troublesome if not menacing, but in this pursuit of preservation of a project the market can really cause a project to go under due to this competition. Those based on the same system like Hive seem to be an exception as the consumers access to using either crypto like natural medicine LOTUS and WEED can share a market via cooperation.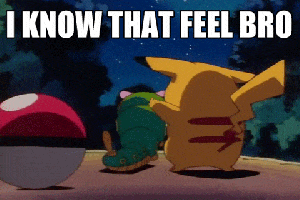 Many markets like a cannabis crypto market need to help one another if at all possible. I understand this is a business & that is not at all prudent course of action, Bottom line being the detriment or potential end to a project.
at the very least i find it best to keep am eye on projects like this hoping one day cannabis crypto is as widely available and accepted as any other form of crypto would be without bias.
https://bongweed.info/#Roadmap
This is very important NFT info
Splinterlands Untamed pack sale volume has done just what i had guessed a little over a week ago.
https://peakd.com/hive-13323/@chubb149/good-nft-news-everyone-splintershards
For those that didn't read that post I had anticipated an expediential increase in in the rate that sales of the untamed packs occur. The quickest i have recorded was $14,000 USD in purchases in 5 hours, Many investors like myself could see the necessity of stocking up on untamed packs. Long story short the untamed packs are the cheapest purchase that gives you the most points towards their new airdrop system.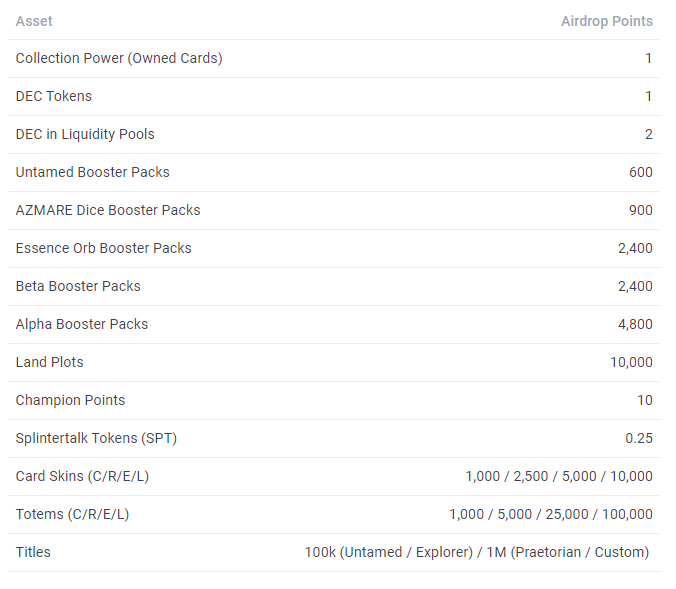 Airdrop info here
https://sps.splinterlands.com/airdrop
Splinterlands will be distributing their new BSC based crypto SPS launching soon. since untamed packs have less then 100,000 units left for sale until they are gone. After which the resale market will stall a short while at the current price point or just above & then the fomo sets in concerning this airdrop system and new BSC based asset SPS.
within a month of the untamed supply running out in the in game The price will likely be around $2.50 to $3.00 a piece that estimate is conservative but admittingly the time frame is an optimistic projection. The untamed packs on the market by my calculations about 3 days from time of writing the 13th or mauby even the 15th but probably sooner then later.
Anyway what all this adds up to is a unprecedented occurrence for the Splinterlands collection. To the best of my knowledge they have never done a one two punch like this when a pack runs out and those packs shot up in value rather quickly. Add in an entirely new crypto airdrop system dependent upon hoarding the assets in question, & honestly its tough to say what may occur to the price point we could be looking at $20-$40 a piece within a half a year.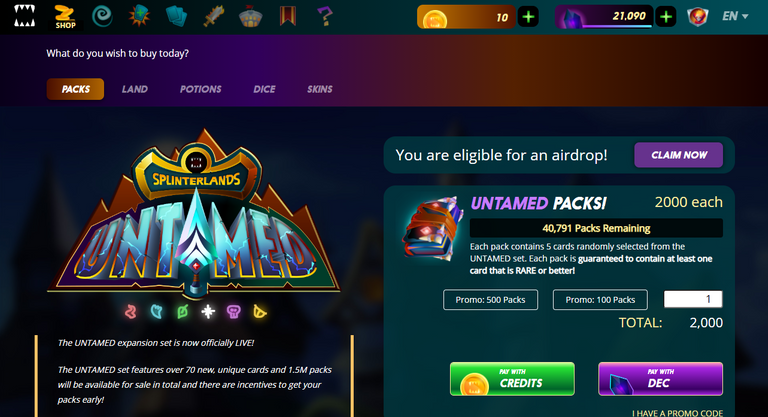 Since Thursday morning the number of Untamed packs sold is roughly 70,000 Units at a value of roughly 140,000 USD. with less then 40,000 untamed packs remaining my advice is get some while the getting is good.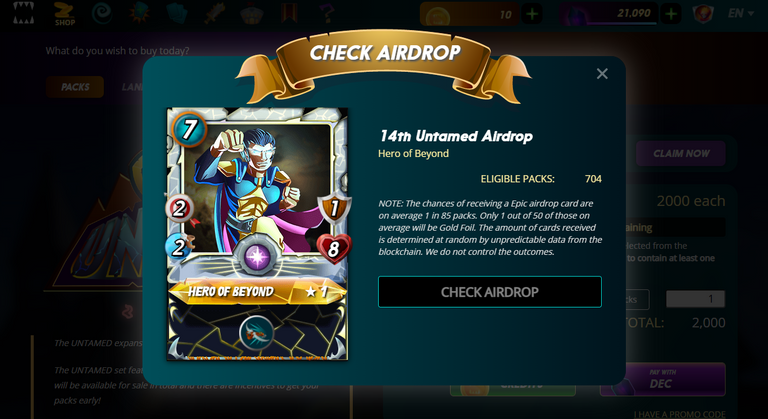 The airdropped cards have been happening more and more frequent the next will occur by tomorrow at the very most 2 days from now 6/11/2021.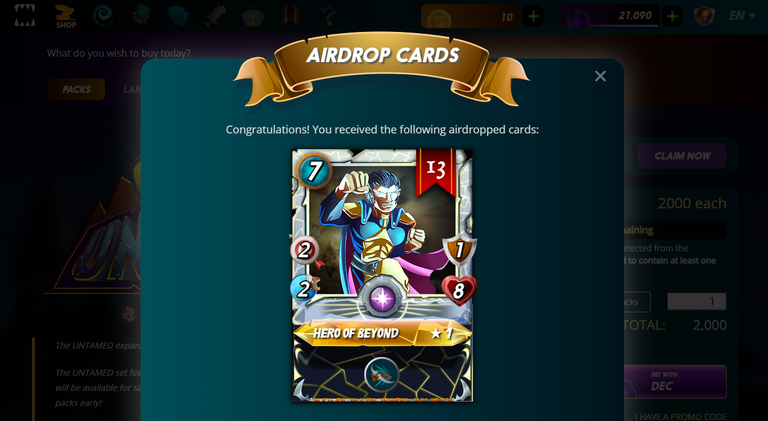 If the airdrops are not proof enough this is going to be big look at the recent prices i have been getting for resale something that usually sells for $1.50 USD resale has been getting me...



With the 9% they take off the gross its still a $0.15 profit when buying direct from the In game market but if you buy them from here
https://monstermarket.io/shop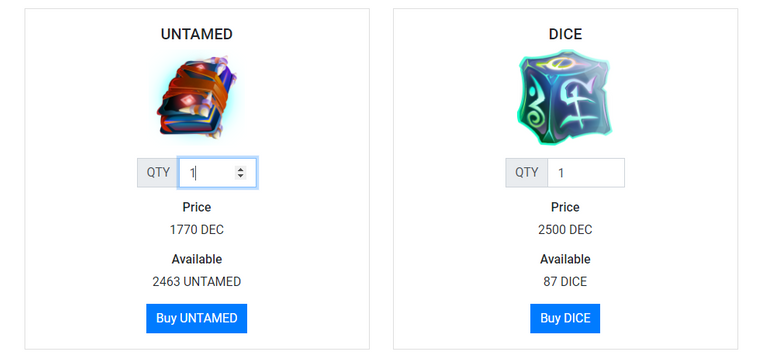 You make about $0.50 right now selling them but if you hodl them for about a week it will be around a dollar a piece resale.
Never invest anything your not prepared to loose I'm not able to guarantee anything however for a bet its fairly good odds.
My last ssplinterlands tip is this WAX can be used to purchase packs from splinterlands game store, meaning effectively you can just sit there and cycle profit.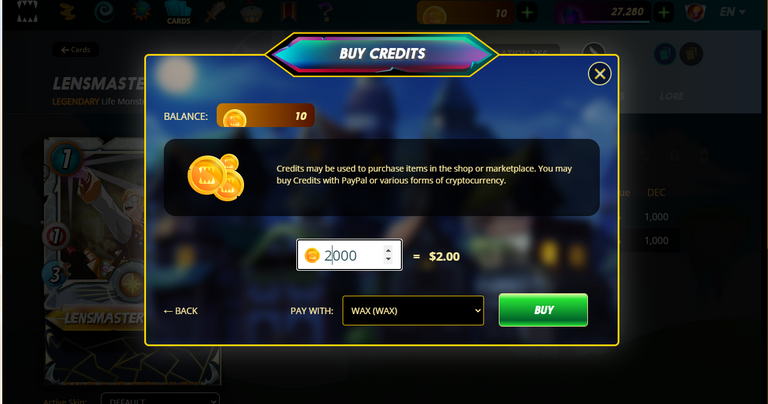 Hope this helps clarify why Splinterlands is something to focus o as a hive user right now.
What I'm smoking
Today got some grape fruit diesel from my buddies grow, Damn fine work if i do say so myself nice and dense clean tasting just look at those trichomes.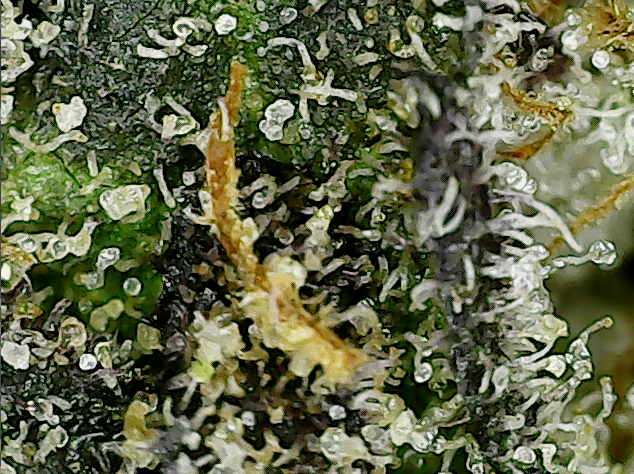 Nice coprophil development just a great job, just got to respect talent like that you know. Here's the bud...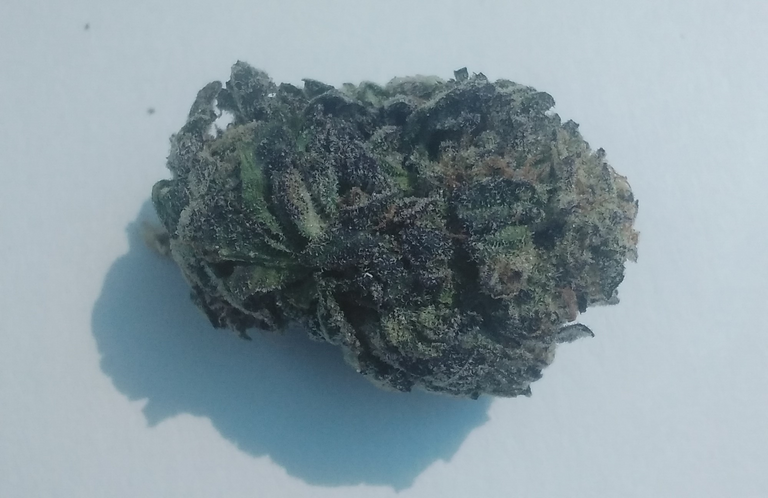 To my fellow stoners of Weedcash sorry if I'm not solely focusing on cannabis as of late but I'm trying to impart everything I learn about the NFT market because there is a wave of NFT developments upon us. While NFTs have had high points before this will be different with more permanent effect on the market.
So in my pursuit to get my Hive followers from several different front ends up to speed I have to dial back the weed content a little. Rest assured still smoking every time I post and the only drug test i could pass since high school is a written exam.
I still shout out what I'm smoking but its not my sole focus weedcash gave me my start and I always want to keep this community up to speed on NFT developments.
Big thanks for everyone that relogged or shouted out in a post my last post!!
Happy to see so many people liked the content and found it useful, thank all of you so much for helping spread the word that NFTs are becoming a serious market.
Free NFT 1 time airdrop URL
I try to include a single claim airdrop URL for WAX wallet users containing free NFTs, It may only be claimed by the first lucky person to click the link. After claimed once the URL will no longer be active. The lucky reader should receive 5 NFTs if you received less then 5 check your whitelist settings. Includes some featured NFTs from todays write up.
https://wax.atomichub.io/trading/link/122812?key=5K5KV4RPgouffHxoBjmzatWWUHBiamTkjyT9xpBfm63i1Rob4Us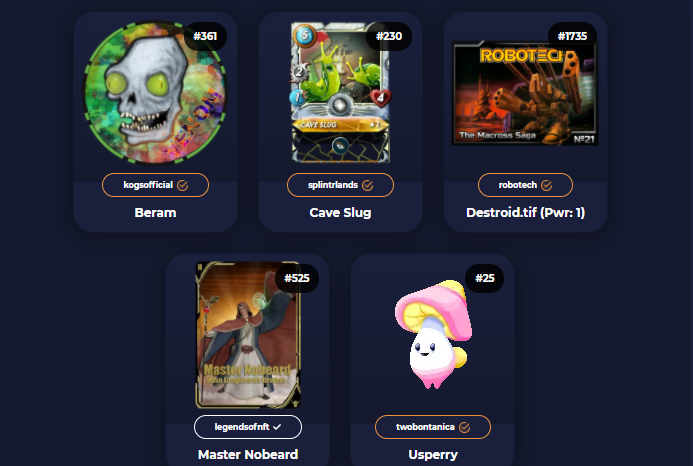 Once claimed please let the other readers know in the comments it helps.
Perhaps your interested in purchasing any of my NFTs from my ever expanding collection you may do so here.
My stock constantly rotates so it changes daily
https://wax.atomichub.io/explorer/account/akyqy.wam
Dont look at this post as if it where fact just compiling what I have learned thus far, as it has been very lucrative for me to invest in WAX and some Hive NFTs. Ill try to answer any questions that I feel I can but I'm not trained to do any of this just a construction worker flipping NFTs.
Womplay referral
https://womplay.io?ref=EDHNQLM
Earn EOS and NFTs playing free games on womplay, got my first pay out today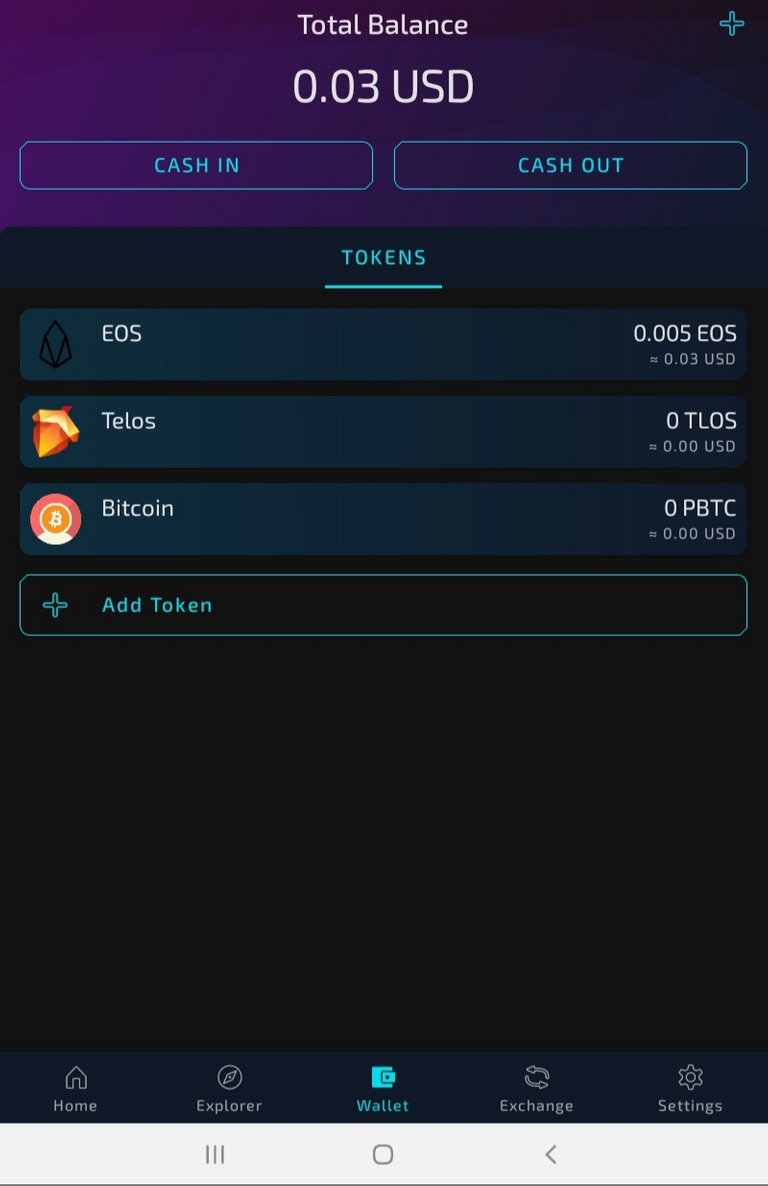 Might just be $0.03 but from humble beginnings crypto came as did I, yet another way to build my portfolio for free.