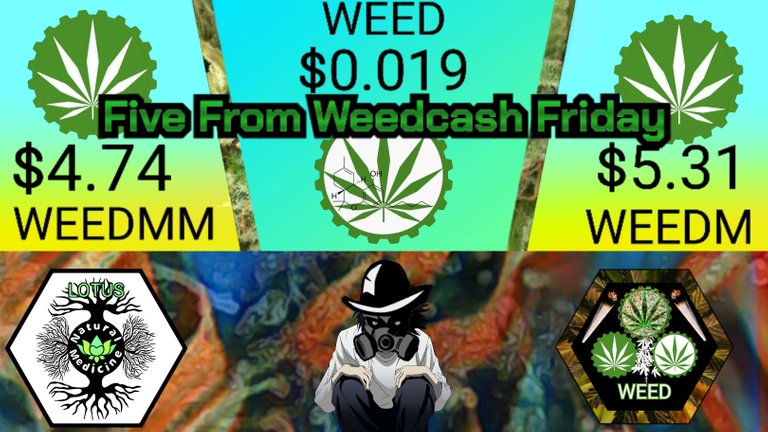 Every Friday I promote five Weedcash users posts from the proceeding week off chain on various platforms I either moderate or publish on. If my math is correct the number of posts I have promoted off chain is the same as the total number of stock images I have posted to Hive stock images 95 meaning next week is lucky number 100.
It seems appropriate that the month with the most sacred stoner holiday 4/20 is an important milestone for both of these weekly projects.
Since its a few momentous occasions this month ill have to do something special with both of my posts next week I'm not sure what yet but I'm leaning towards another airdrop where I send out NFTs to addresses left in comments and not just a 1 time claim.
My picks for this week
https://weedcash.network/hive-195708/@tylerc137/green-crack-bag-seed
https://weedcash.network/hive-195708/@thomashnblum/my-experiments-with-medical-cannabis-extractions
https://weedcash.network/hive-195708/@dankyoda/new-work-photo-fem-crosses
https://weedcash.network/hive-195708/@difaziolio/fhbyw-cannabis-growing-as-art
https://weedcash.network/hive-195708/@tonytrillions/19-days-until-420
I'm the mod of the Weedcash Torum Clan these post URLs get uploaded there and several other sites using my professional publishing accounts not personal ones.
Torum clan
https://www.torum.com/clan/5fee848bc954e45599639dbd
My Torum profile
https://www.torum.com/u/chubb149
this weeks post
https://www.torum.com/post/6066f5f18c816e75814a4e05
every post I make off chain also contains an airdrop it tends to get more interaction this way, However its a little extra effort so I no longer include the other Re post urls
Free NFT URL
Same As every other post I upload this one contains a URL for some free NFTs, This URL can only be claimed by one lucky reader and will remain active until claimed.
https://wax.atomichub.io/trading/link/39795?key=5J1ia4TWX16TVXjQZ7E73kUoACH6DDyrHzYs5yonTx5MWcCTtEm
please let other users know when the URL has been claimed in the comments it helps
There are other Cannabis NFTs besides my collection in this URL including a canna curate NFT
if you want to purchase any of my nfts click the following link
https://wax.atomichub.io/explorer/account/akyqy.wam