I woke up today and rolled out of bed and the first Hive post I saw was @hiddenblade's I bought some pretty crystals as a gift for myself :3.
It brought me back to about 7 years ago when I was exploring consciousness full time (high as fuck, if you will) and much more sensitive to the subtle things in life. I felt that there was a whole world beyond our senses, in the space in front of us and could even slip into it for a few moments. At the same time, I know a lot of people who claimed to understand it, to be able to communicate with it...and to be entirely honest, most of the sounded full of crap. Not all of it, but most of it.
As with most cultures, I find myself on the outskirts of "New Age" or "Spiritual" culture. I love the idea of mixing different aspects of different religions and faiths, but if we all conform to the same combination, that just becomes a new religion. I suppose there is nothing wrong with that, but I want to base my faith off experience.
I'm not someone who needs a scientific explanation for everything because my intuition tells me that matter arises from consciousness and not the other way around, but I have always abhorred the idea of escapism and there are so many things to escape into when you start playing mix-and-match with spiritual traditions.
I do not believe in science dogmatically, but I like to take a scientific approach, albeit one that the science community would laugh at because my own experience is the basis of most of my experiments. I rely on intuition, only after doing multiple experiments and analyzing the results, all very instinctively, without reports or process. Yeah, I know, it's not science-science. But it's been a very reliable process for me.
I observe patterns and I believe in things that fit these patterns, and once enough evidence shows up in my life, I build faith off that. I DO NOT put faith in things that people tell me just because they sound nice, and I will try to explore everything myself before adopting it. I try to keep an agnostic attitude, where I always admit the possibility that I'm wrong, and at the same time, enough experience leads to pretty strong conviction.
That's why I speak with a lot of conviction when I say that all is love, that duality is a game we play, that attachment to desires causes suffering (not the desires themselves), that we create our own reality.
I am very confident in the effectiveness of Chinese medicine, NOT because it sounds nice and NOT because it worked on me once or twice. I have experimented extensively with it and found it to be EXTREMELY effective, and not in a mysterious "energy-healing" way (not discounting energy healing, but it's not something I have the same level of confidence in). I can literally feel the blood flowing from one part of my body to another in exactly the way described when pushing on many pressure points and following meridians. This is not my imagination any more than feeling my fingers on the keys of my computer is an illusion. It has the same level of reality to it, and let me just say right here that I've never seen ghosts or visions or anything that could be described as hallucinations by skeptics (also not saying I discount those who have, I'm also interested in these topics, but far more skeptical because I have very little personal experience).
I base my faith in Chinese medicine almost entirely off clear physical sensation, and supplement it with observations about how certain foods that are said to belong to a certain element "earth, metal, wind, water, fire" and how certain meridians correspond to certain emotions, seasons, tastes, etc. I am still in the early experimentation phase of understanding these aspects beyond massage. None of it is something that someone convinced me of, it's all experienced first hand.
There are other things which fascinate me and which I explore without letting myself get carried away... there is always that childlike desire for everything to be magical even when it's not. Life is somehow magical though, and I find myself digging pretty deep into things that sure do make me look like a "New Ager". You could probably call me that if you really wanted...I never would, but whatever.
The idea of everything being vibration is incredibly consistent with so many aspects of life and works so well to describe so many things. Whether its just metaphorical or not is not really relevant to me. The idea of something "resonating" with you is one example...but my inner punk sees people overusing that word because it's cool, and avoids using it too much. I would like to encourage others to build their spirituality from their own experiences as well, not just adopt mine because I speak with conviction. I do think that once they take into account that micro traumas and subconscious have just as much influence as our thoughts and focus, they'll find the law of attraction to be very consistent.
There are other things I am not entirely sure of because they would require certain paranormal experiences or sensitivity to subtle energies, neither of which I have much of unless you give me some brownies and let me take a vacation in the ether.
I am still experimenting with ideas like past lives, the nature of time (Oh do I have some fun things I'm working on with this), astrology, crystals, chakras etc. etc. etc.
I do see many of these things consistent with patterns that I've found. The chakras work very very well for me as a metaphor (similar to Maslow's hierarchy of needs almost), though I won't speak with confidence about them until I can say with conviction that I feel them the same way I feel blood flowing down meridians.
I did do some experiments with crystals. They were interesting and I felt like maybe there was something there but I never went deep into it. Mostly because I forgot my crystals in a friends house before I moved to another city, and then he moved back to South Africa.
But today seeing @hiddenblade's crystals got me a little excited to go out and buy some crystals because I remember how special they felt, even if I wasn't sure what was a real sensation and what was just my wishful thinking. I'm looking forward to seeing their effects and if anyone is interested, I will share my vague experiences with the crystals the first time around and which ones I bought this time.
Let me know if you want a part 2.
And let me know; What kind of experiments have you done?
P.S. Naturalmedicine.io , one of my favorite Hive communities and front ends, and their token LOTUS are starting some real PR. Please check out @riverflows post Working on Our Marketing of HIVE/Natural Medicine - Plus, We're Now On Instagram and share the image ads on facebook, instagram and twitter. :-D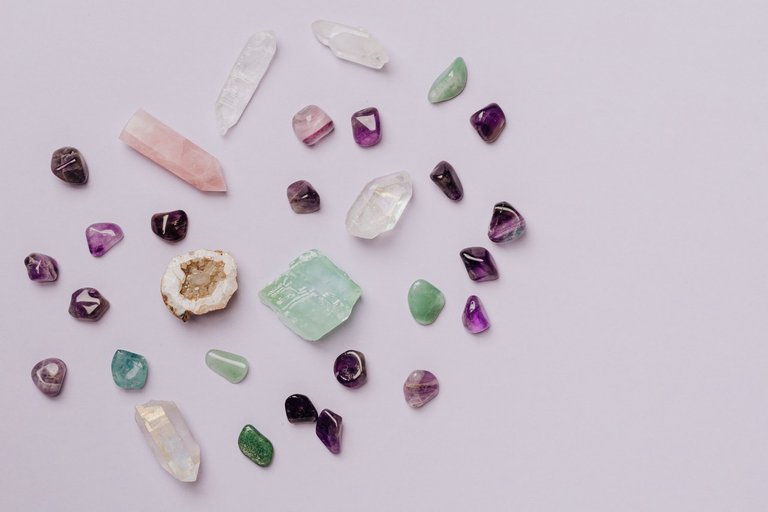 pexels
---
🌎🌎🌎🌎🌎🌎🌎🌎🌎🌎🌎🌎🌎

Come join us in Hive Cross Culture where we talk and share ideas about Culture, language and travel and share any bilingual content. Join our discord
We also have a @crossculture account curating bilingual posts and running contests to support local communities. If you like what we do, please consider delegating to @crossculture or follow our trail 🙂