Like with any game or any investment you do your initial research, get excited invest and then sit back and watch what happens. It's within these first few days you learn the most as it's new and existing and you start to get back datapoints that help you make better decisions moving forward.
It's kind of like that old saying goes. You can tell someone to do something 100 times but until they actually do it they wont see the results for themselves in which motivates them.
Here is my city after just 5 days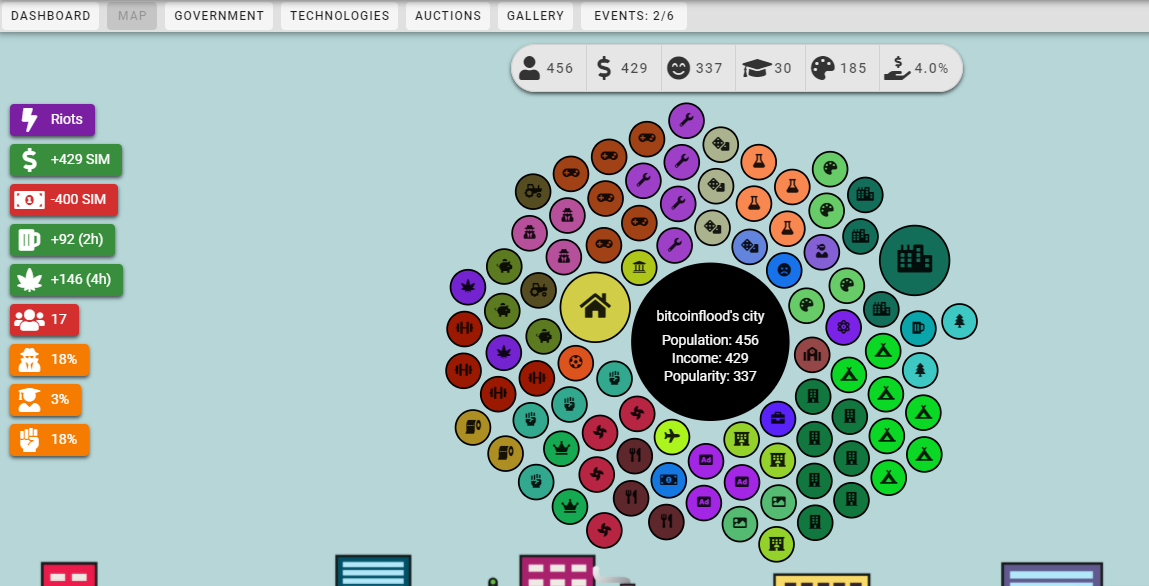 Yes I got robbed for -400 sim lesson learned that having crime in the city for the small payouts of game tokens etc might not really be worth it
I had a major population issue at first which has now been corrected
I bought nearly all of my cards and sold off a few that I had no use for yet and most likely wont for a while. This helped fuel growth of buying even more cards.
I'm at 429sim income per day but have a decently high risk I feel of most of that getting robbed each day.
The decisions I need to make now are. Do I want to continue down the path of production of tokens and minimize the risk of crime by buying up more police stations?
Or do I want to simply remove those buildings of risk and simply work on pop and jobs only and produce only sim?
hhmmmmmm Decisions Decisions!
One thing I started to like doing was events. I'm still weighing in the pros and cons of this but I'm leaning towards this isn't worth it until my city is larger and producing more.
Such as I don't feel Weed fest or Art Convention are worth there costs unless of course weed I'm producing it within the city in which case a double production value could be very well worth the investment.
While Beer, Science, Poker and Splinter seem to be good options at any time.
All in all I'm loving this little game and while some have a 7 month advantage on me I see product of SIM within the city after a month to be around 2,000+ on the current course I'm on.
Have you starting playing this little game yet? If so what are you finding works best for your city and what are the goals you have?
Posted Using LeoFinance Beta