Good evening community! Today we come to share with you the recipe for "Edu's pizza."
It is a 100% recommended recipe since they are exquisite !!.
With this recipe you will be able to make 3 pizzas approx (depending on the size of the roasting pan.)
Buenas noches comunidad! Hoy venimos a compartirles la receta de "La pizza de Edu".
Es una receta 100% recomendable ya que quedan exquisitas!!.
Con esta receta van a poder hacer 3 pizzas aprox (dependiendo del tamaño de la asadera.)
Ingredients for the dough / Ingredientes para la masa:
1k flour
50g yeast (I use the fresh one)
1 tbsp of salt
1 tbsp sugar
1k de harina
50g de levadura (yo utilizo la fresca)
1 cda de sal
1 cda de azúcar
Ingredients for the sauce: / Ingredientes para la salsa:
1 cebolla
1morrón
Salsa de tomate o tomates frescos
4 dientes de ajo
orégano (a elección)
1 onion
1 brown
Tomato sauce or fresh tomatoes
4 cloves of garlic
oregano (your choice)
Procedure to make the dough / Procedimiento para hacer la masa:
Mix in a 1/4 boul of warm water, the 50 g of yeast and the tbsp of sugar. Stir and leave to rise.
Add the salt to the flour (to taste), add the yeast and leavened and knead until it forms a uniform dough. Let the dough rise for 30 minutes then stretch in the chosen roasting pan.
Mezclar en un boul 1/4 de agua tibia, los 50 grs de levadura y la cda de azúcar. Revolver y dejar leudar.
A la harina se le incorpora la sal (a gusto), agregar la levadura ya leudada y amasar hasta formar una masa uniforme. Dejar leudar la masa 30 minutos luego estirar en la asadera elegida.
Procedure to prepare the sauce/ Procedimiento para preparar la salsa:
Cut the onion and bell pepper pomarola style and fry until the onion is golden brown. Tomato pulp and garlic are added, then cooked over moderate heat until the sauce begins to thicken.
Following these instructions to the letter, get some delicious pizzas like these!
Cortar la cebolla y el morron al estilo pomarola y fritar hasta que la cebolla este dorada. Se agrega la pulpa de tomate y el ajo, luego se cocina a fuego moderado hasta que la salsa comience a espezarse.
Siguiendo estas instrucciones al pie de la letra obtendan unas exquisitas pizzas como estas!!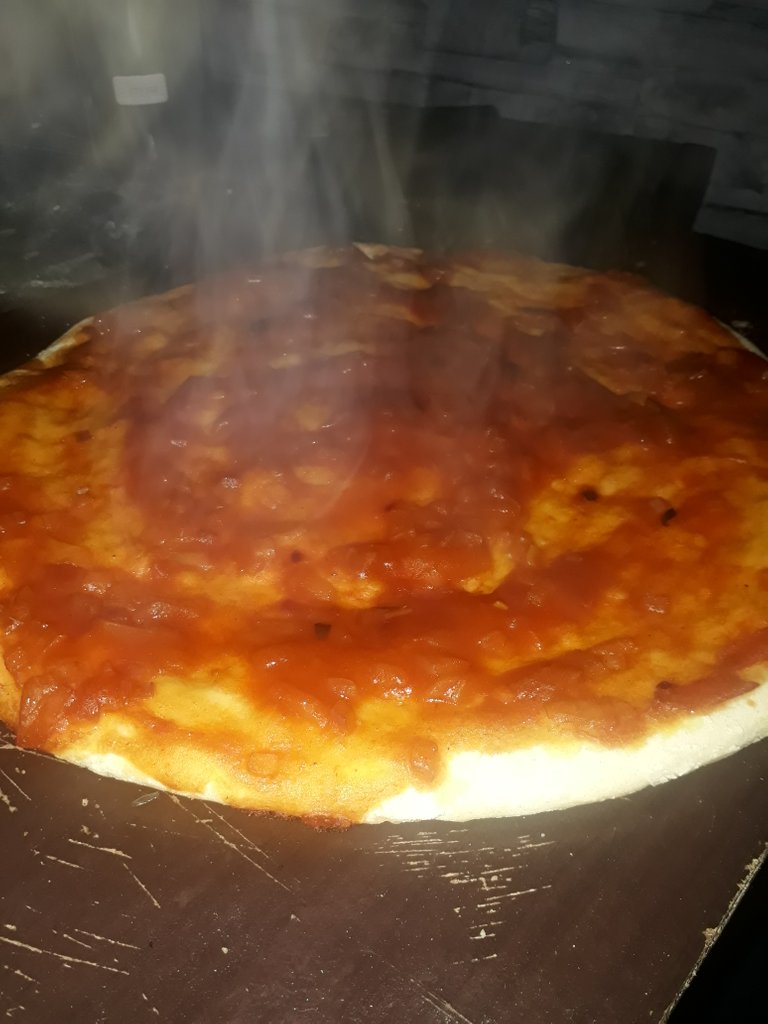 Las fotos fueron tomadas por mi
The photos were taken by me