Steem is an amazingly diverse blockchain, and once you start to hang out on naturalmedicine.io, you'll probably find yourself wanting to visit other platforms or utilise any of the numerous apps built on the blockchain to enrich your own online experience.
Here's the thing about blockchains: because privacy and online security is paramount, you need to start getting used to having PRIVATE KEYS instead of passwords. This is why when you open your account to begin with you are told in no uncertain terms to keep your keys secret, safe, and never lose them.
One of the easiest ways of getting around Steem is to install a free extension on your browser called Keychain.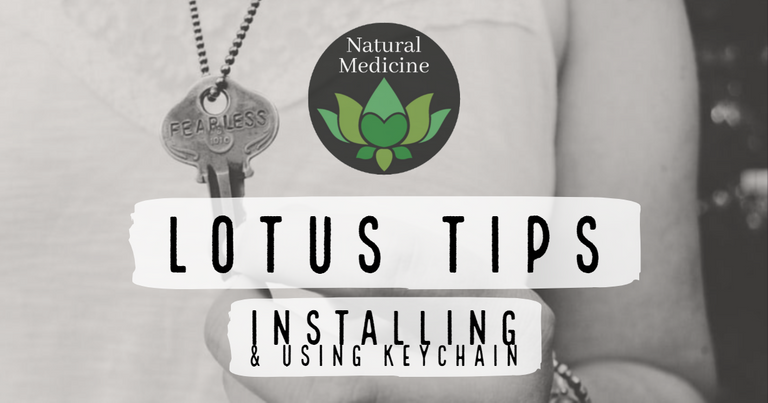 Choose your browser
So Keychain is available to install on the following browsers:
I recommend using Brave, because it is built with security, privacy, cryptocurrencies, and online creators in mind — but that's a post for another time...
Extensions
Go to your chosen browsers SETTINGS, and then select EXTENSIONS. Each browser is slightly different how they lay these settings and choices out; essentially you want to find the link to FIND or ADD NEW EXTENSION.
You'll then find yourself in a 'store' where you can browse for extensions for all sorts of purposes and functions. These add to the functionality of your browser, and can customise it to suit your own personal needs.
The easiest way from here is to SEARCH for it: simply type something like steem keychain and you should find it.

Click on it, and then download/install the extension into your browser.


Setting it up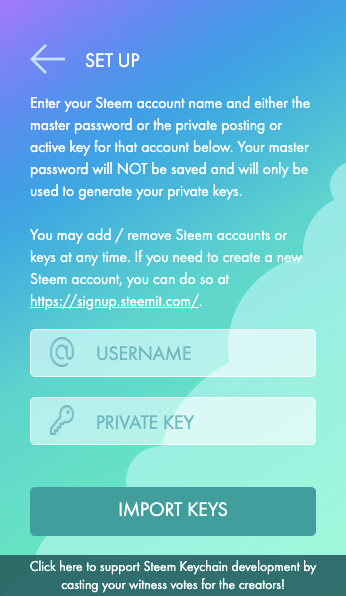 Once installed into your browser, you'll need to set it up. You'll get a window that looks something like this:
You can set it up by entering your MASTER PASSWORD (you would have got that when you set up your Steem account for the first time). This will automatically enter all your PRIVATE KEYS, and will not be saved (thus keeping it secure and private).
Or you can simply enter either your PRIVATE POSTING or PRIVATE ACTIVE key to begin with — don't worry, you can enter the other private keys later, and I recommend entering those into the extension.


PASSWORD
You'll also be initially asked to set up a PASSWORD. This is really important.
This password is ONLY for logging into the Keychain extension itself. This makes it easier to login to various apps/platforms on Steem (including naturalmedicine.io) without needing to remember your keys, or rummage around your desk drawer to find where you've written them down.
Every time you close your browser, Keychain will log you out, keeping your account safe. The next time you go to sign in to your naturalmedicine.io account (or any other Steem app), it will ask you to sign in again.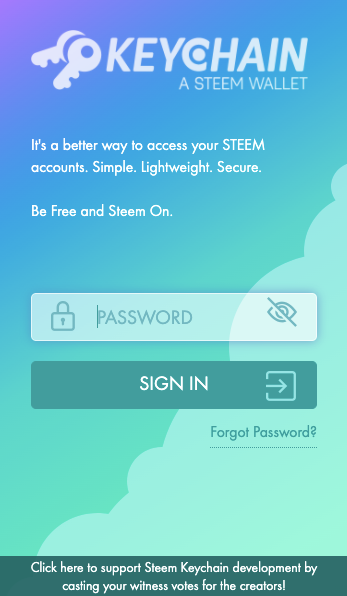 This is where you enter your PASSWORD (not your keys), and then you will sign in.
Now that Keychain is logged into, every time you go to sign in to an app, or complete a transaction — such as posting, voting, claiming rewards, etc — your Keychain extension will sign the blockchain transaction with the appropriate PRIVATE KEY automatically.
The first time you perform a particular transaction, you'll be asked to CONFIRM, and you can also tick a box to not be asked to confirm for the same transaction again (that's your choice).
Different transactions (i.e. actions on the blockchain) require different levels of security. So your POSTING KEY is sufficient to post a story/comment. Your ACTIVE KEY is for more important actions, such as sending LOTUS out of your wallet.


Other functions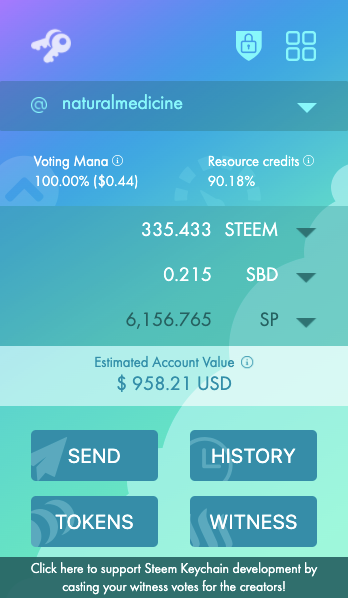 Once it's set up you can do a number of things, such as set up multiple accounts (assuming you have them), which makes it easier to juggle and switch between accounts (very useful for heavy curators). You can access the settings by clicking on the 4-square symbol in the top right-hand corner.
You'll also be able to see the details of your Steem Wallet, including your Voting Power and your Resource Credits. You can perform wallet transactions here also, such as powering up/down and sending STEEM or SBD to another account.
You can also check your HISTORY, vote for WITNESSES (very important).
Clicking on the TOKENS button will show you the tokens wallet, where you can check the balances of LOTUS and any other tokens you may own.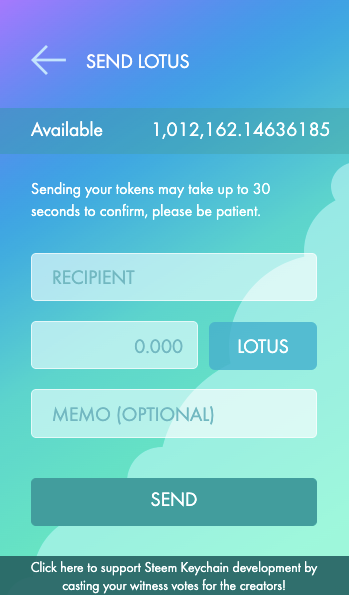 From here you can also check the history of your LOTUS wallet, as well as send LOTUS to another account.
All of this works simply because your PRIVATE KEYS are stored securely in your Keychain wallet.
And because it is an extension of your browser, you don't need to worry about signing transactions every time, because your browser is doing it automatically.
This saves us a lot of time, as well as keeping our KEYS secure and safe.
You'll find that most apps and platforms built on the Steem blockchain have integrated Keychain to make using them smooth and effortless (well, all the good ones anyway).

As always, if you have any questions or need assistance, ask anyone in the Natural Medicine Discord and someone will be around to help.
Other Lotus Tips posts:
How to Power Up or Stake
Formatting Tips
Promote Your Posts on Natural Medicine.Io
Standards for Content
Delegation

Oh, and if you're wondering what tags to curate? Our curators look at most of these tags and much more! Check out www.naturalmedicine.io for a full list of supported tags.
| naturalmedicine | health | healing | yoga |
| --- | --- | --- | --- |
| spirituality | herbalism | homesteading | innerblocks |
| vegan | meditation | wellness | cbd |
| qi gong | keto | tai chi | herbs |
Thinking about writing a #naturalmedicine post this week? We have upvotes to burn and will resteem the best of you to nearly 1,000 followers! Go you! We're also resteeming on our @uplotus account, so go give that a follow too! That's the one where you'll see the LOTUS rewards.
All the curation and author rewards in LOTUS for this post will be burnt to help the ecosystem.

We need YOU! Please consider delegating to help keep this collective going. The minimum entry for membership is 20SP (free for members under 150SP), and helps give YOU upvotes, contests, meditation sessions, an awesome discord support group, and so much more!
50SPII100SPII200II300SPII500SPII1000SP