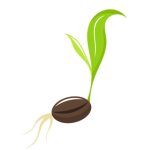 How to germinate weed seeds. There are a lot of different germination methods used worldwide. When it comes to growing cannabis everyone has their own method of growing & growing style. Finding help online can be contradicting at times as some articles will tell you to do one thing, then the next article you read will tell you the opposite. It's up to you to do the research, I recommend reading 4 to 5 articles on 1 topic & find what works for others and use that info to develop your own growing style that works for you.
Below I will list the germination method that I have personally used over the years and had great success.
Method 1 Glass Of Water + Paper Towelpaper towel germination
This is the method I use the most and the method I have had the best success with over the years.
drop your seeds into a glass or shot glass of water and place in a dark spot for 12 to 14 hours. Make sure water is warm and does not go below 22 degrees or it will slow the process. After 12 – 14 hours place seeds between moist paper towel on a plate and place another plate over the top. Depending on how old the seeds are will depend on how quick they pop. Fresh seeds can take 24 to 48 hours where older seeds can take up to 5 days and might need a little help to pop. Keep checking the paper towel every 4 hours to ensure it doesn't dry out if you're in a hot area. If you have a heating pad it will help to speed the process along.
To view other methods of germinating cannabis check out the Maritime Grown Cannabis Blog