As part of my blogging efforts, I decided quite early on that I would leave a breadcrumb trail of interesting information and wild adventures for the younger generations of my family to find, ....one day.
I envision it being like a virtual time capsule (in blog form) for them to discover.
~ Eventually, like when they're all in their forties, have been through some shit, finally figured out that most suffering is self-inflicted...and can handle it.
And if they can't handle it...(and I'm talking to a couple specifically (here) Dear Reader, so please bear with me)... it's completely ok to medicate.
(The rest of the family does and that's how they handle it. Lolz!)
Now, hopefully what I am about to explain next, will help you All to understand just where things went off the rails and how we've ended up, with the state of affairs, that is today's reality, from my vantage point.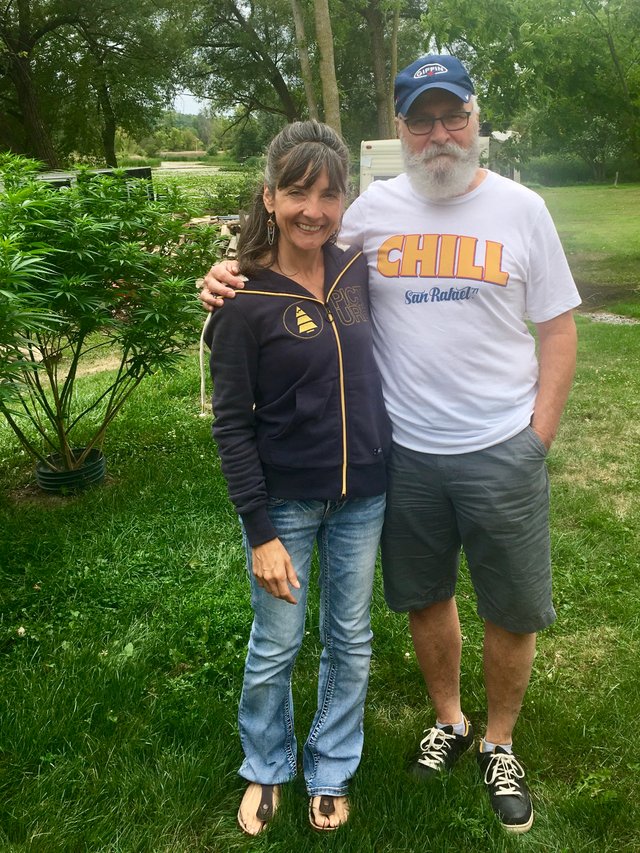 The man standing beside me in this photo is my father.
Just so everyone's comfortable, we're going to refer to him as: Grandpa Chill.
Check-out his t-shirt.
We don't get to see each other very often because of geographical distance, so to make it fun for us, Grandpa Chill decided to wear a shirt advertising what the most popular strain of cannabis was, the year I was born.
(...Because he's a cornball and he's proud.)
San Rafael '71.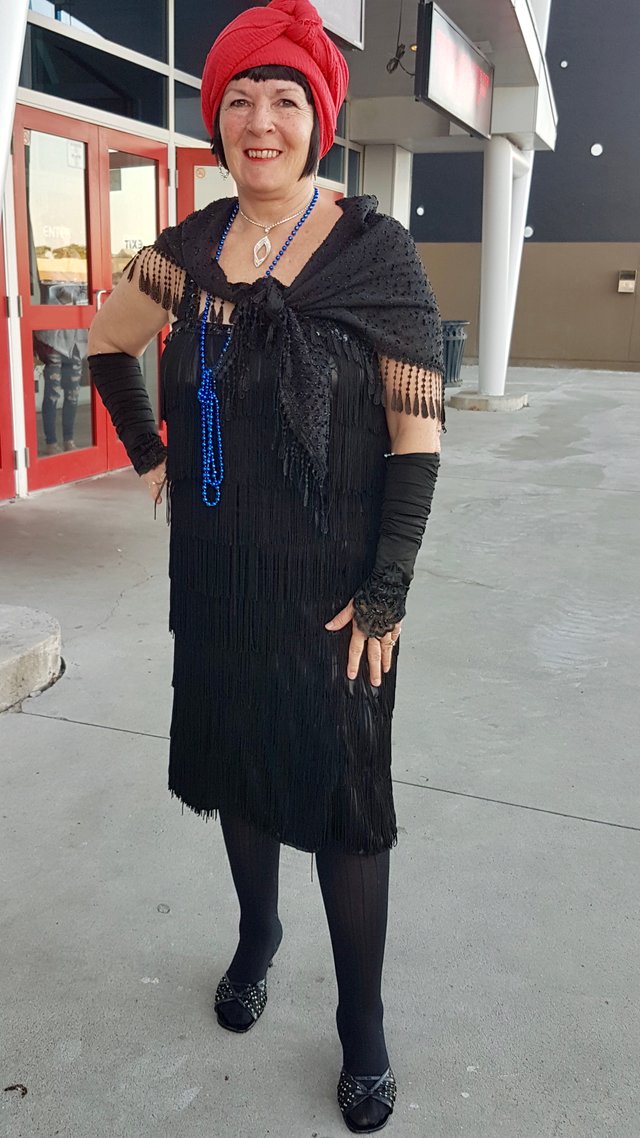 This is Grandma Chill....maybe more like Grandma No Chill-Fireball.
(She gave me permission to use this picture which is current (September 2019). She'd been to a Downton Abbey party because of the movie. See kids, no moss will ever grow on your Grand or your Great Grand (if we're that far back, by the time you read this.)
(It also came with her request to read this post entry when I was through...She likes to handle her own delicate laundry, as do I. Lol!)
She's a true Sativa.
Don't burn unnecessary daylight by wasting it or grow moss, kind of energy. Let's "get on" with whatever "on" is.
Grandpa Chill is more of a true Indica.
He really enjoys "methodical precision" and appreciates details. He likes to really take his time and relax into "understanding how things work" before he takes action, kind of energy. Let's just take our time and do "it" properly, whatever "it" is.
(And now you understand why Grandpa Chill has had another Grandma Chill in his life, for most of mine. ;D)
For the sake of this episode, we're just going to focus on Grandpa Chill.
(Maybe, I'll write a Grandma No Chill episode in the future...if I survive this one.)
Grandpa Chill:
He's 20 years older than I am.
(I have given him most of the white hair you see on his head and my two sisters 5, and 10 years younger, finished him off. (Your mother and your other Auntie, respectively.)
Now, he wears socks and sandals at the same time.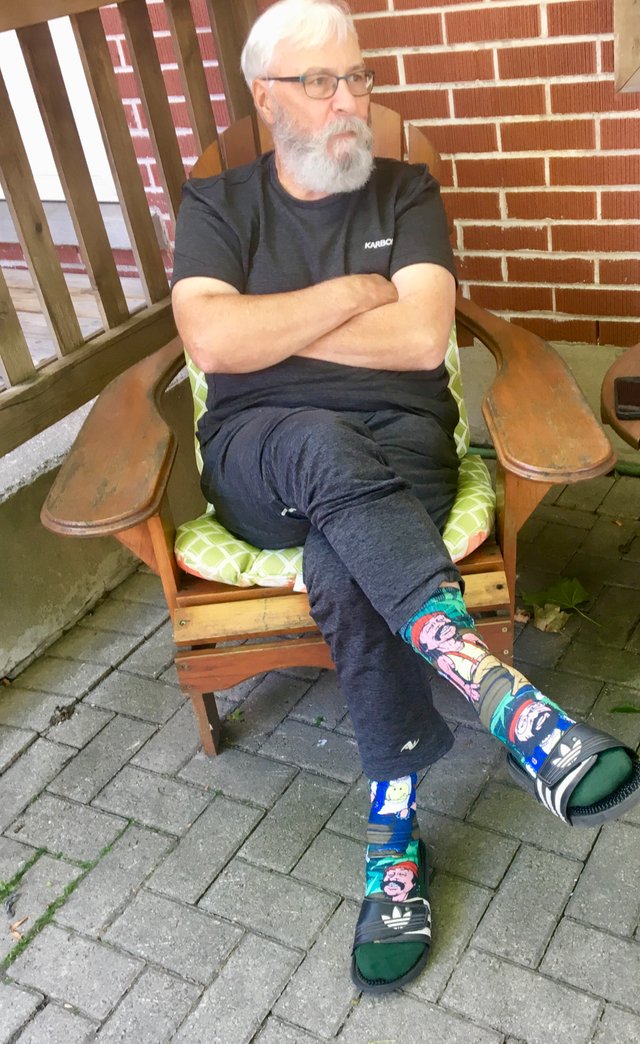 I have to take full responsibility.
Hahaha!
I gave him the socks...
On the day he came to visit.
Just like the shirt he chose, because I wanted to make it fun for us.
(...I'm a cornball too, (thanks to him) and proud of All of my parents.)
Alas, the apple never falls that far from the tree.
I'm thankful for: the sense of humour...without the full beard.
(If you could inherit this level of body hair...you'd be grateful and counting your blessings too. Fingers crossed for all of you.)
I do have to leave some room here on the beard-thing.
I mean how could I not address that almost white elephant in the room?
(Sigh) It's just a thing Grandpa Chill gets himself into every 25 years, or so.
This is is the 3rd generation of : I think I'll grow strange hair on my face.
We're into the second or third season, this time round.
Fashionable facial hair on men just keeps reoccurring like a strange smell in the air.
There's not a damn thing any of us women can do, except enjoy it or, wait it out.
The first version was in the 70's.
He looked just like Cheech Marin with the exact same moustache.
That's why I bought him the Cheech and Chong socks.
My parents are hippies and the herb was just part of their young married life.
I was about 5 when I learned what hot knives were for.
Grandma No Chill and Grandpa Chill kept finding their hot knives laying out, with obvious evidence of kid no chill repurposing, very apparent.
(Embarrassing to them, when caught by the eyes of unexpected company.)
We were vegetarians.
Many people in my parents' generation were. We ate a lot of peanut butter which they would buy through a food co-op.
It wasn't like luxuriously smooth, well blended peanut butter, sweetened with sugar.
It was like thick chunky, muddy cement...complete with 2 inches of standing peanut oil on top of it.
To blend all that in (before you could spread it on anything) meant you had to exert some physical arm strength.
At 5, that was a procedure.
I was 3 feet tall.
The jar might as well have been a 55 gallon, barrel drum, full of crude oil.
I had watched these special knives being heated on the stove top and then easily melt little brown squares that just looked like hard clumps of dirt to me.
(I was supposed to be asleep but had gotten up and wandered into the kitchen to have a drink of water.)
I wasn't allowed to even touch the stove but I was allowed to open drawers and cupboards so, on another occasion, I watched when Grandma No Chill put these interesting knives away. (Completely, unbeknownst to her.)
I had noticed that they weren't as nice as our other knives, and that they were kept really far back in the drawer.
That detail, seemed to have something to do with the fact you could get these knives hot and that was...ok.
I noted how well they could manipulate what looked like dirt to me. Manipulating my thick peanut butter was just as difficult and just as messy a job, I thought.
As a result of my observations and basic conclusions, I was making a regular habit of dragging a chair to the kitchen sink, so I could use the hot water to heat one of the special knives. Then, I was tackling the thick cement that was "our" peanut butter.
Big splotches of water, peanut butter oil smears and one blackened knife (a little on the crusty-side) obviously used and out of storage.
Evidence A: the handiwork of kid no chill.
It was way easier to manipulate the peanut butter and I can remember feeling quite accomplished.
It was the first time that I had hacked life, to make my experience better.
Then, Grandpa Chill had to tell me that I couldn't use the chill knives just yet...he told me that they were used to cut and cook a herb that only grown-ups eat and like...not kids.
You'll just have to wait until you're big and then I'll teach you more.
Grandpa Chill made sense and we never talked about it again. I respected the family knife code and we figured out another solution for manipulating the peanut butter.
That was, until the other day, when he showed up wearing the t-shirt. (It was all part of it).
It was the longest Grandpa Chill Indica chill, to date.
One that's been chilling for the last 42 years.
"Today's the day, Bec!" "I thought I better teach you how to grow the herb and how you're suppose to use those knives." "Without the peanut butter goop."
In an Instant, I was 5 years old again and he looked like Cheech. We were right back where that conversation left off.
We shared a couple of tokes.
Grandpa Chill was joking (of course).
"Oh good!" I said. "Just in time, Grandpa Chill."
(I didn't really call him Grandpa. I know better.)
If you don't learn from your experiences (the first time round) then, you might not be the sharpest tool in the shed.
"After the peanut butter, I waited for about 10 years...that's when my 50% Sativa-No Chill- factor really started to kicked in." I said. "I needed it, so I've already started to learn a thing or two."
Then, I took Grandpa Chill into the backyard.
For some serious chilling!
See. A little chunky peanut butter plus some chill time and nothing can stop you.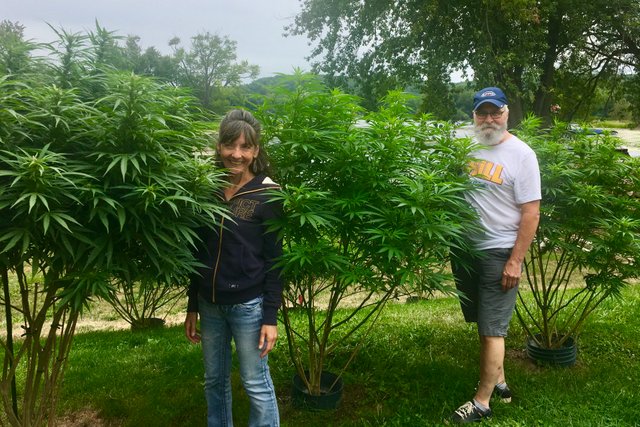 ~ Rebecca