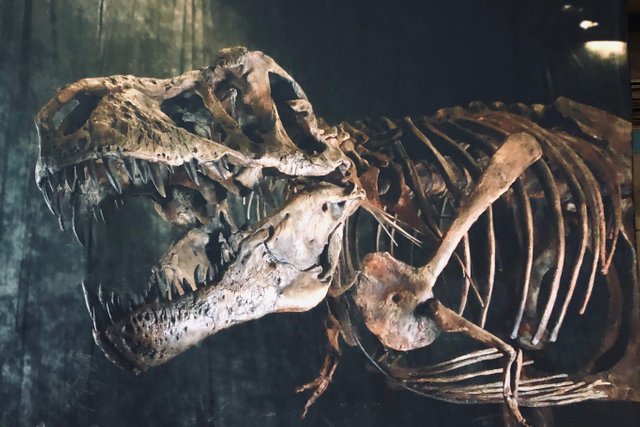 Once a year (in the area where I live) there's an Open Door Day.
During an 8 hour window of time, larger manufacturing and processing companies invite the public to visit so that they can see how things are produced.
It's a busy day because all the tours are given for free and lots of questions will be answered as throngs of people learn about what's happening in their area.
It's just a super fun learning activity for families to get out and do something, without having to spend 100s of dollars to do it, I might add.
Lots of communities (in the province of Ontario) have started to offer these educational days to showcase all the cool things that people do as a means to earn a living.
(Just check with your local Chamber of Commerce to find out if and when this type of community event is available where you live.)
In past years I have always missed this day because of some previous commitment and/or I just couldn't bring myself into that type of crowd.
Comfortably.
This year was different because we're coming up on a year of legalization of the herb in Canada.
Now, you can go out in public sporting a medicated eye without receiving as many evil eyes of disapproving judgement starring back at you.
(Note: I did qualify this with as many. It's getting easier (here) with more and more, time. There's a growing tolerance in my location because the city is also home to Canada's largest airforce base. Unfortunately, It's a regular occurrence to see a Veteran struggling in public with PTSD. Trust me on this, PTSD compounded by road rage is a different kind of fighting machin... (I mean soldier.) I think you get my point.)
Plus
There's nothing better than experiencing art and music (of any genre) completely lifted on the correct strain of cannabis (for you) that is.
I prefer it actually.
The experience is richer...it's true High Definition.
Everything is just a little sharper, crisper and vibrant.
Sounds become amplified in the same way.
If you can experience your version of the game of life this way, (completely supporting your health) why wouldn't you?
Of the 20 (odd) participating companies, the one that I was most keen to see the back of the house operations of is a company called Research Casting International.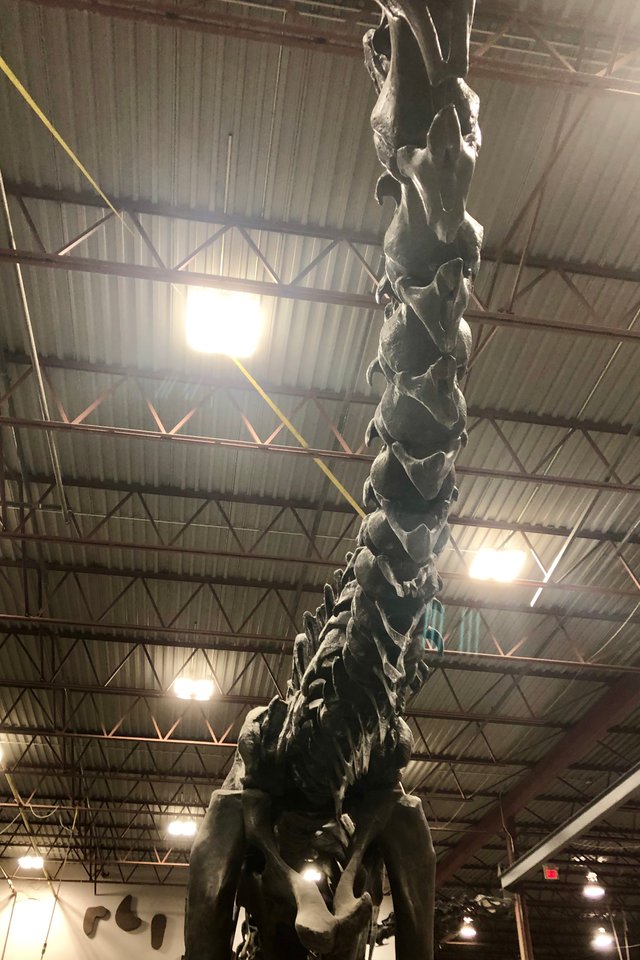 They make full size models of dinosaurs, mount and repair original dinosaur skeletons and specialize in transporting these (in some cases) priceless artifacts.
"Yeah Honey, just gonna build a life-size T-Rex today. Oh and I took meatloaf out for dinner."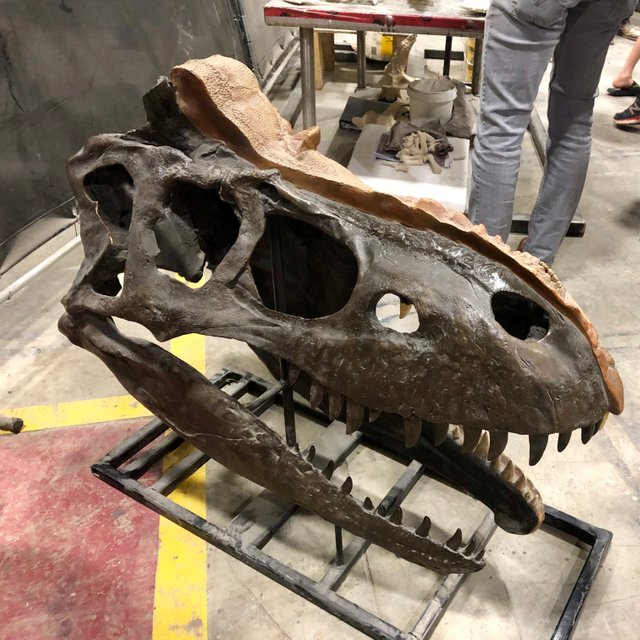 Their facility is 48,000 square feet in size. (Lace your shoes, we'll be speed walking.)
They've built over 700 skeletons and their work can be seen in every major museum around the world, including the Canadian Museum of Nature and the American Museum of Natural History.
They fabricate casts using molds and 3D scans.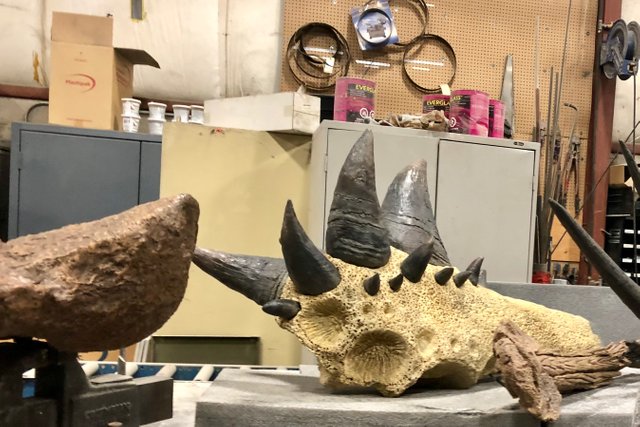 It's very cool and that's why I risked my chill and lined up with 10,000 grade school kids on a Saturday morning.
So you could See What I See: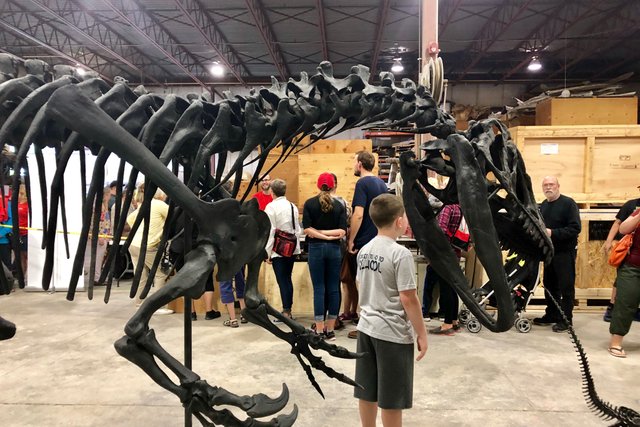 There were castings and originals side by side.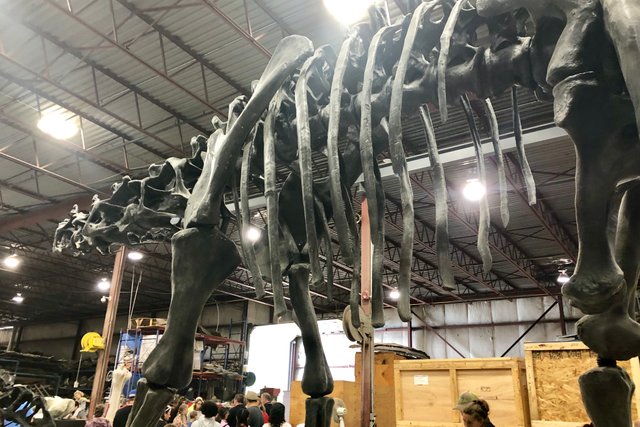 Every size.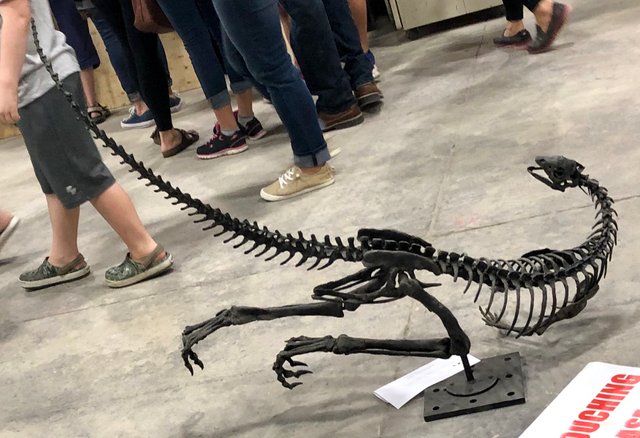 Today I Learned.
There were Whale Dinosaurs.
Allegedly, they'd breech themselves to eat other dinosaurs that mistakenly flew too close to the water's surface or stood too close to shore. This was concluded through analysis of the remnants of other fossilized tissue found wedged between the creatures' teeth.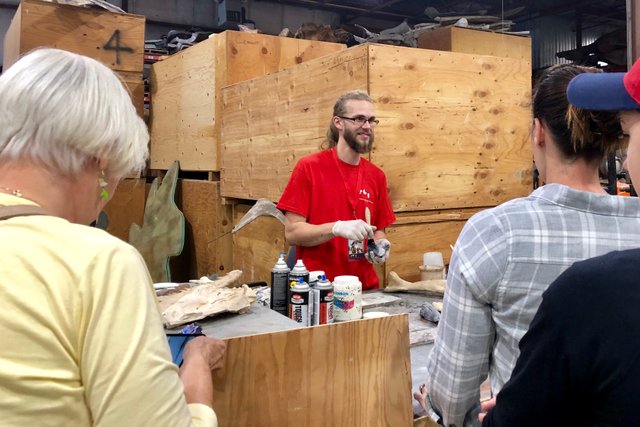 In the photo (above) you can see an interactive display. They are all manned by the employees who answer or attempt to answer questions related to their jobs and what they specifically do. Along with information about how whale dinosaurs hunted and what they ate.
(Yikes! The creep factor is high on that nugget of information.)
In the photos (below) you can see a couple of different whale dinosaur species...by skeletal frame.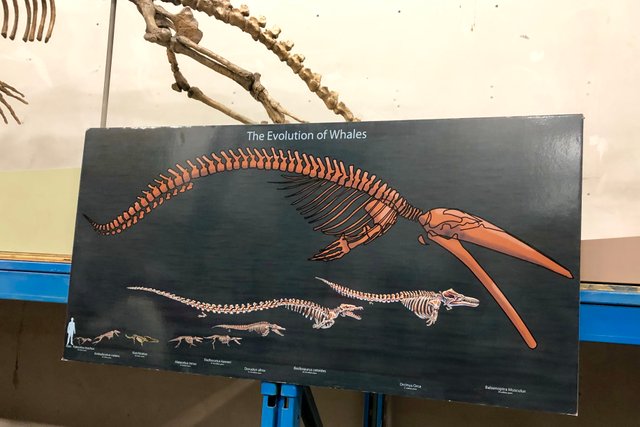 Are you freaking kidding me!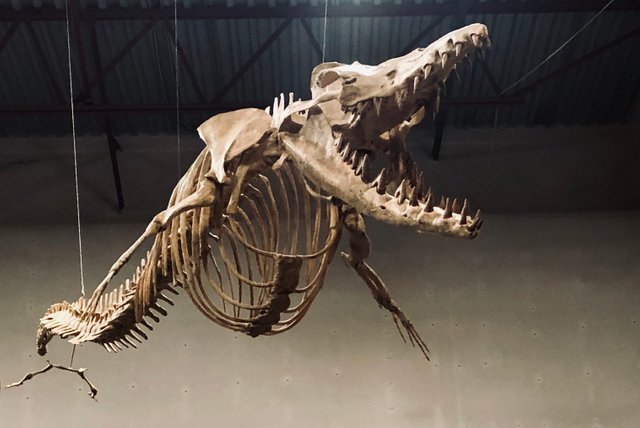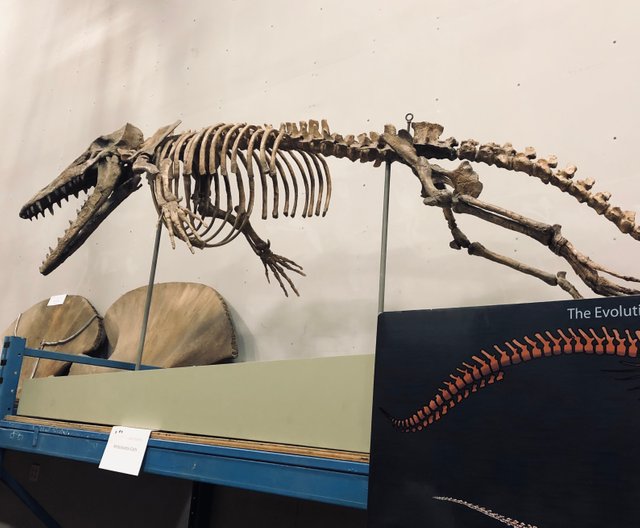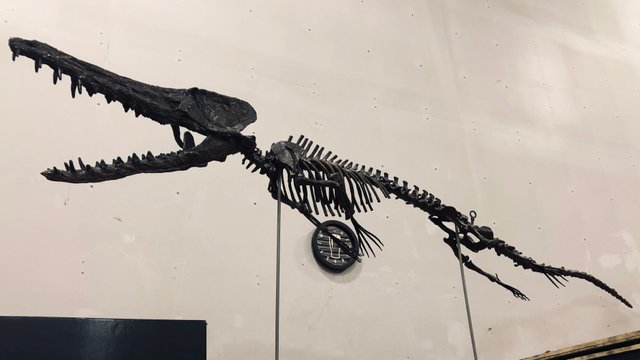 Research Casting International also restores and re-builds life size skeletal frames of whales which still exist.
Currently, they are working on a Blue Whale.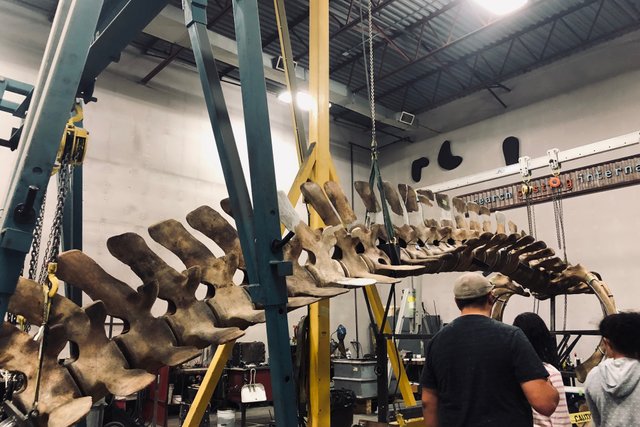 Held up with some fantastic rigging for structural support.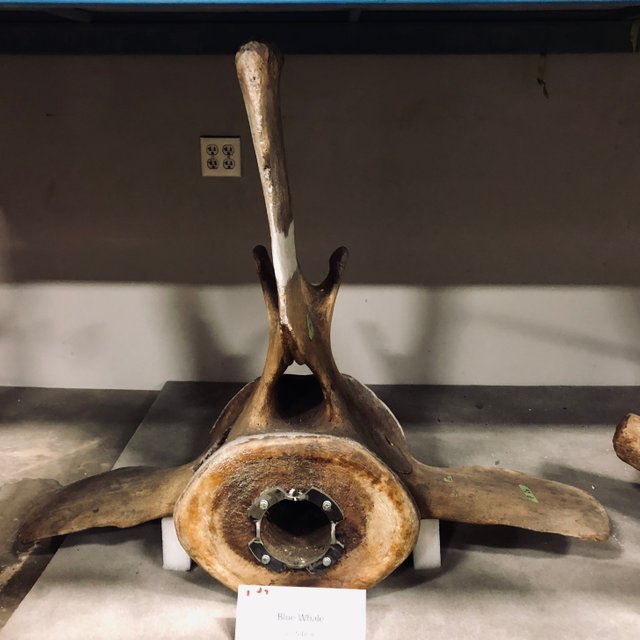 Their wiring of framework did not go unappreciated by my eye.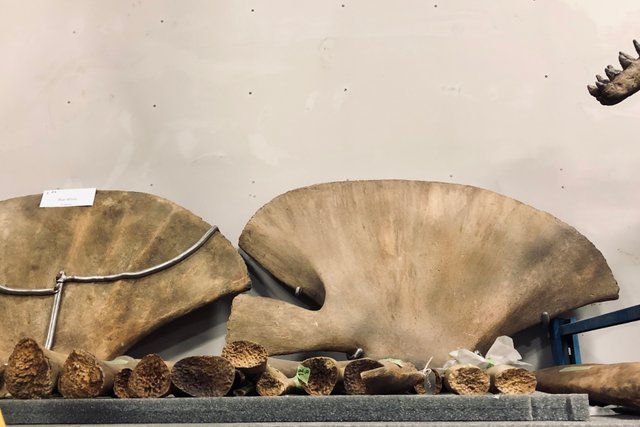 (Secretly, I wondered what kind of tape selection they have in their company inventory. I bet hockey and electrical for sure. Luckily for them, I couldn't get close enough to ask.Lol!)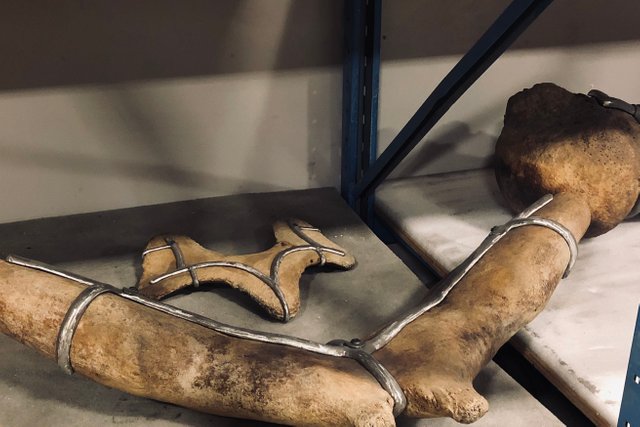 So many parts...not in their place...yeah, I can only last so long in this big box of puzzle pieces. It's an OCD train wreck... Lol!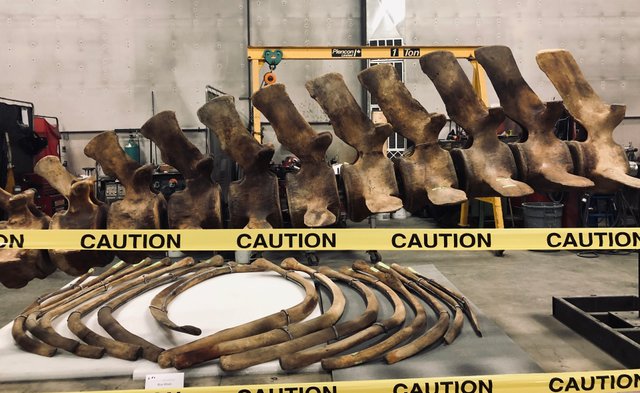 And that's when you know it's time to get the hell out of Dodge.
I hope you enjoyed this little trip to the bone yard.
~ Rebecca