Woops .... Constellation Brands (STZ) the maker of Corona Beer invested 4 Billion Dollars into Canadian Cannabis company Canopy Growth (CGC/WEED).
They were supposed to start selling their Cannabis Drinks last December. But when they tested some of the Weed drinks there was no THC in them .... What ?
Where did it all go ?
Apparently the THC molecules stick to the liners of the cans.
If this is true then why aren't they selling the ones shown here in plastic (or glass) bottles either ?
Does THC just disappear ? Like Magic ?
Source: https://ca.finance.yahoo.com/news/cans-suck-the-thc-buzz-out-of-pot-drinks-where-does-that-leave-canopy-growth-131708432.html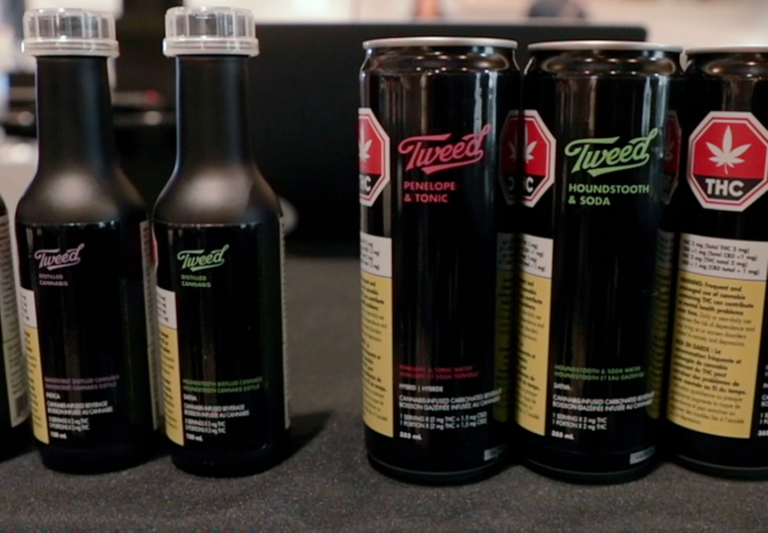 The Article says the following.....
Cannabis beverages and aluminum cans have a problematic relationship that could prove costly for licenced producers with drink production lines built for the ubiquitous metal containers. The devil is in the molecular details.
Nobody checked this ?
Scientists have determined that liners inside aluminum cans can cause cannabis drinks to lose their potency. That means by the time a pot drink is put in a can, shipped, stored in a warehouse, displayed in a store, and finally consumed, the buzz promised on the label may have diminished or disappeared.
They just learn this now ?
Can manufacturers add the liners to prevent drinks from taking on a metallic taste, to reduce corrosion of the can, and to improve shelf stability. But when pot drinks are under pressure, the liner can attract tiny emulsified droplets of active cannabis ingredients like THC.
Nobody noticed ?
"Our theory is the cannabis material, the droplets, will stick to the liner and cling on it. When you open the can to take a drink, it will lose its potency," Vertosa founder and chief science officer Harold Han told Yahoo Finance Canada in an interview.
Sheesh ....
Han holds a Ph.D in chemistry from NYU, and has authored two patents in emulsion chemistry. His California-based company works with cannabis-infused beverage makers to develop emulsion solutions to mitigate the effect of can liners leeching away cannabis compounds.
But Canopy Growth has been working on this for years now ...
Oil, cannabis or otherwise, does not mix with water. Nanoemulsion helps solve that problem by breaking down oily compounds to a microscopic level so they can be suspended in a drink.
But nobody checked this ?
Cannabis beverages that use the technology have a faster effect compared to edibles. They also have high bioavailability, meaning the body will absorb a higher amount of the THC or CBD. However, pot drinks have yet to emerge as a major category, even though they've been available in U.S. states with legal recreational cannabis sales for some time.
Yikes ....
Last year, Cowen cannabis and alcoholic beverage analyst Viven Azer told Yahoo Finance Canada the U.S. market for cannabis drinks is small, fragmented, and without a clear leader. That's the case, she said, because early products in the United States got people stoned for too long, and lacked consistent intensity, onset, and offset for the high users feel.
How long have they been at this now ?
In Canada, drinks were part of the swath of new "Cannabis 2.0" products authorized for sale last fall. So far, only a limited selection of items like infused tea bags have hit stores.
Deloitte estimates the Canadian market for cannabis-infused beverages will be worth $529 million annually, with one-in-three consumers viewing the category as an alternative to alcohol.
Oh boy .... still pumping.
Han said the problem of aluminum cans draining the potency out of pot drinks first came to his attention early last year when Lagunitas, a craft beer subsidiary of Heineken (HEIA.AS), shifted its Hi-Fi Hops cannabis drinks from cans to glass bottles.
But banks like BMO still pumping Canopy ?
"Then we thought, let's get some can liners. Let's test our emulsions. We had two at the time," he said. "The loss was horrible."
On a whim.... let's see what happens....
Vertosa has partnered with can manufactures including Ball (BLL), Ardagh Group (ARD) and Gamer Packaging to test solutions.
Han said it's difficult for the can industry to alter linings to accommodate the relatively small cannabis drinks category, and pot drink producers prefer cans over bottles due to lower costs.
"It's up to us to find the solution," he said, admitting some active ingredients will always be absorbed by aluminum cans. "You will always see some percentage of loss. But as long as you can manage this loss and let it plateau, that is the goal."
Canopy Growth (WEED.TO)(CGC) has been the most active in the drinks category among Canadian licenced producers, previewing an extensive line of THC and CBD drinks in late October, the vast majority packaged in cans.