My day job is a budtender here is some reviews on Canadian Cannabis.
BLKMKT - Wedding Crashers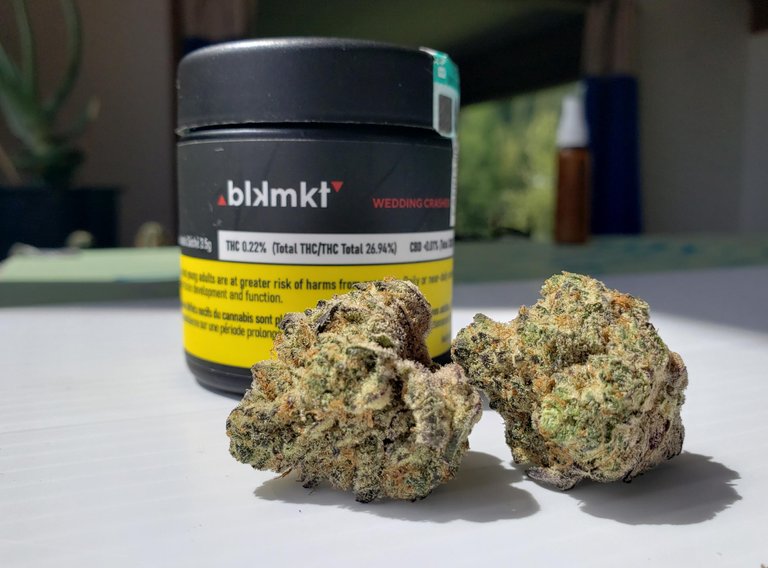 Heaven on earth, extremely pricey ($53 plus taxes) but worth every penny. THC came in just under 27% and this stuff is magical. Creamy, vanilla, cake flavour, gorgeous buds the type you feel bad smoking (nicest legal buds I've seen yet), the smell is intoxicating as you peel back the layers of this out of worldly aroma of freshness and sheer dankness. The high is just right, long-lasting, mellow, social and can be intense if you hit too much. First time trying this LP and I look forward to trying more of their strains. The perfect trim job of the vibrant frosted nugs, great moisture, yerns for stellar smooth smoke and all sorts of energy for activities. Super exciting stuff, treat yourself and try this amazing flower out!
Citizen Stash - Mimoza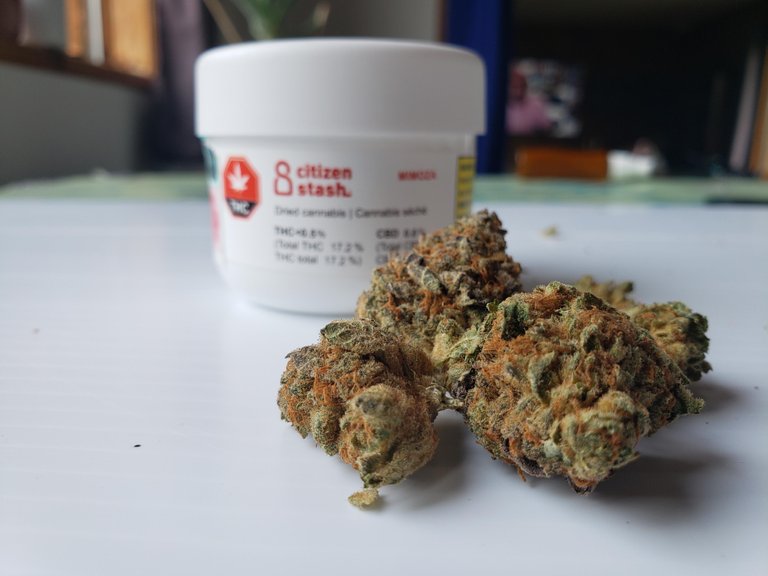 Wow! The smell, look and taste of this bud alone make it a 10/10. I am a big fan of Citizen Stash having had many good experiences with Lemon Zkittle and Mac-1 however this Mimoza is a must-try for any flower diva out there. Extremely citrusy, minty, sweet, sparkly smell that awakes your senses to another level. The taste is unreal super refreshing just like a friggin mimosa on a hot day even has this insane after taste that lingers for a good bit of time after a nice jay. The high wasn't super crazy but I have a high tolerance still found it very relaxing good smoke for low tolerances users and a must-have to wow your company when they come over to your next dinner party. Unreal that cannabis can taste and smell like this, a real must-see in person and great price point for this quad plus strain guaranteed to make you smile.
Royal High - 8 Ball Kush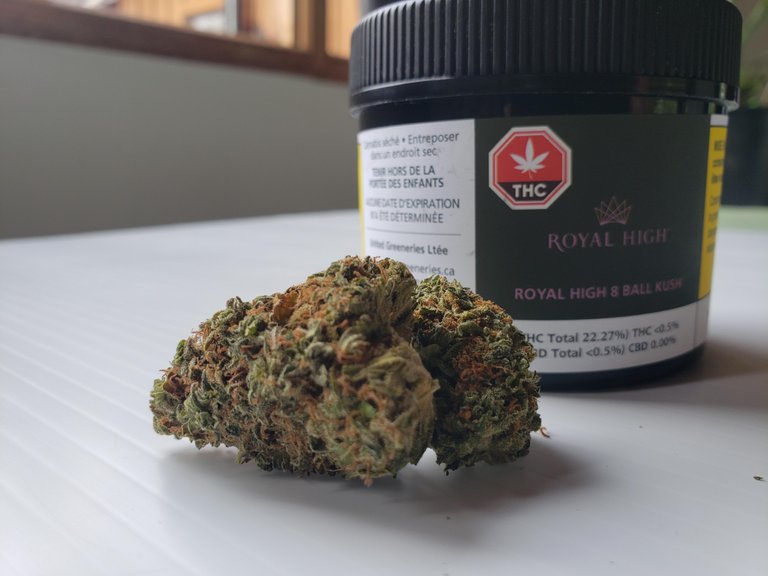 Freshly packaged last month, THC came in around 22%, 3 nugs made up the eight, this my twelfth time getting this strain and I absolutely love it. No real crazy taste or flavour if anything has hay, grass clippings smell and a slight kush smell but nothing to write home about. The thing that makes this strain so delightful is the uplifting nature of its the ability to pump me up, help me focus and give me some much-needed energy. Big fan of Royal High and 8-Ball Kush has always been some of the best cannabis out there, expensive but worth every penny especially if you need that motivational push to start getting stuff done!
Grail - Headband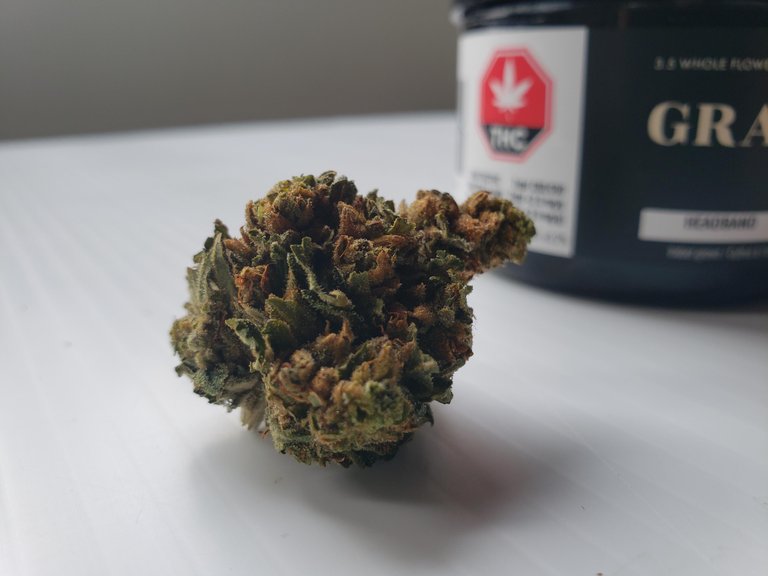 My first experience with Headband was with Grail and now having tried other LP's version of headband nothing even comes close to Grail's rendition of it. A touch on the expensive side but always worth the treat. Deep hearty gas taste that even makes my noise tingle after a hit, deep forest hearty like flavour reminiscent of the old school OG Kush. Very heavy-hitting left me super social even though I was on my own, giddy, laughing out loud and feeling like a kid again. The nugs are knobbing but frosty with dark hues of evergreen divinity with petrol fuel smell that you know is going get you riggity'wrecked.. legally. Every purchase from Grail has been a winner from Purps, Master Kush to Headband all big favourites of mine and typical go to's. Great stuff and absolutely must try!
Good Supply - Jean Guy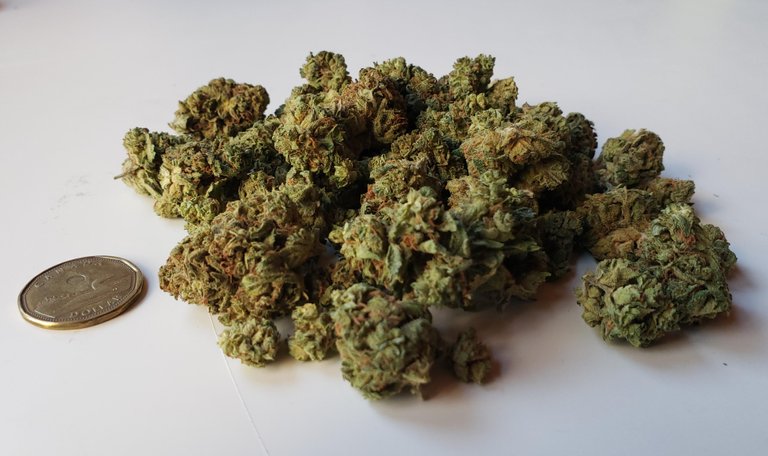 Scraggly, small to smallish buds, the biggest one in the ounce was 1.5 grams, moderate amount of steems, but buds are vibrant green with lots of nice little orange hairs and vibrancy. After a night in the jar with the boveda a little bit sticky the next day. Recent packaging date the nugs look fresh and healthy but are very dry to touch. Dirt, grass and hay very muted all and all. Herbal and hay are what I get after a joint very smooth smoke, however. Despite everything mentioned above, this will definitely be a staple in my pantry. The high is uplifting and energizing perfect for the daytime. It allowed for additional focus and that extra ability to stay concentrated on one task at a time. My favourite part is the cleanness of the high and overall length. Really happy with this purchase always fun to get a whole ounce especially when it's this good!
Re-Up - Sativa (Citrique)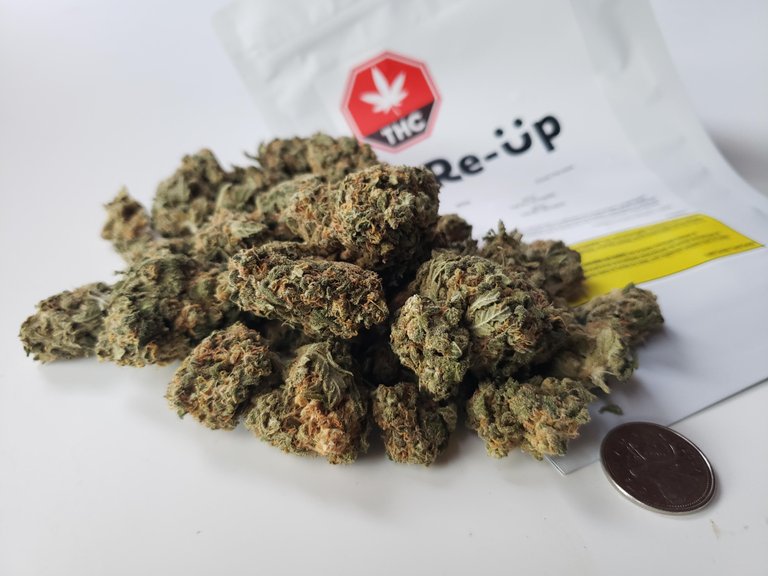 No stems, big fresh moist buds, a couple had a little light burn but nothing major, phatest nug was 3 grams. Nugs have nice tight bud structure with orange pistols everywhere and sticky to the touch super impressed I love Citrique which I am 100% certain this is. Recent packaging date moisture content is spot on. The lime skunk tangy smell is erotic while the OG Valley creaminess soothes the aroma God, I love my citrus strains. The plastic bag took a little bit away from the smell for sure but I can see it coming back real soon. Just what you expect with a Citrique cultivar super pleasant the smoke incredible smooth taste reminds me of a pleasant Magritte painting with a little tonic, this strain is refreshing and really quenches the thirst of any cannabis enthusiast. Even the after taste reminds me of Mexico for some reason, it lingers with fresh citrus fruit goodness. I indulge usually with a nice fat joint or half a blunt and this Sativa rocks, session complete and Boom! Off to the races staying productive, doing things, having fun with activities. My partner in crime has a low tolerance yet she gets the same effects and loves the taste as much as I. 16% is not mind-blowing but for the daytime, I don't need my mind blown and I don't need to be as speedy as an Ultra Sour hence why I love Citrique I find it to be the perfect daily driver that will get you right down the fairway maybe not on the green right away but still headed in the right direction for a good putt. I have always been a big fan of Re-Up some of the best value for your money when it comes to B.C's market place (from what I've seen). Happy tokes and as you can see very happy with this purchase!
And my favourite review of all time on Death Bubba.