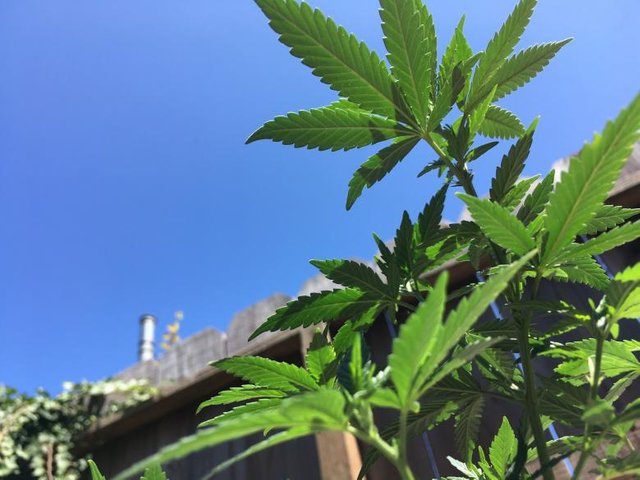 Blueberry Muffin reaching for the sky
What's up my fellow block chain socialites! Bringing another Junk Yard grow update to you all. Haven't really been in the mood to post lately, so I have just been behind the scenes curating, and keeping the dream alive. Glad to be working on another project under the @canna-curate umbrella. @canna-collective is a new layer on top of the Canna family, and we hope to make our cannabis community even stronger then what it is. But besides that, life has been going. I really have nothing to complain about, I am blessed. Sure it's not perfect, and it's a struggle, but I always stay up. One thing that helps me stay this way, besides my 2 boys and wife, is cannabis. Now I know some may think, "what a druggie loser!". That is far from the case, and if you think that way, please go check the calendar, it is 2019. But it's not only smoking, or edibles that keep me up the most, it is growing. Growing cannabis has become a big part of my life, and I find it as therapeutic to grow, then to get high.
A brief history of the "Junk Yard" grow. Check out this post here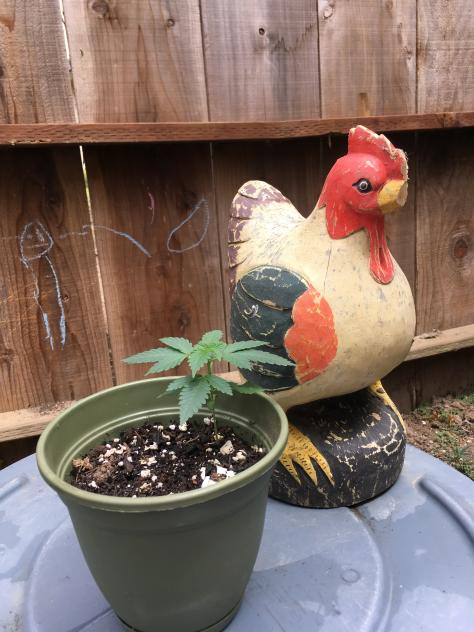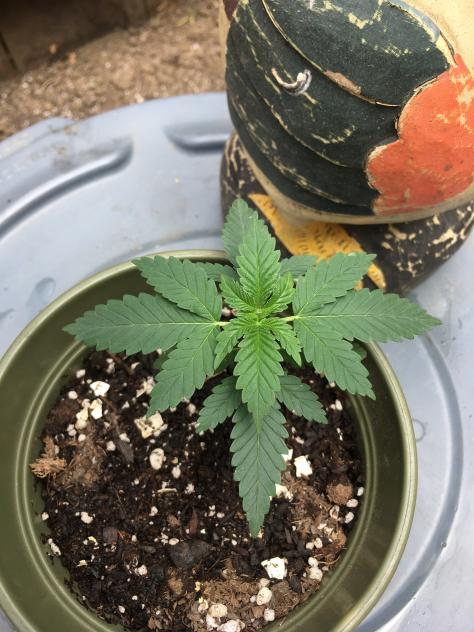 ---
Astro Beaver x Dj Short Blueberry

A new addition to the Junk Yard
A cross I did awhile back in this post here, Astro Beaver x Dj Shortblueberry. I am unsure of what I will call this cross. I actually was really unsure if the pollination worked. But low and behold, one branch was successfully pollinated. I cracked a few seeds, and all of them actually popped, but due to crazy kids, two got pulled. This is the only one that made it. I think I will just wait and see what it bears to get inspiration on a name. This seedling is receiving a 20/4 light schedule, (20 hours of light on, 4 hours off), with a mix of artificial light and sun.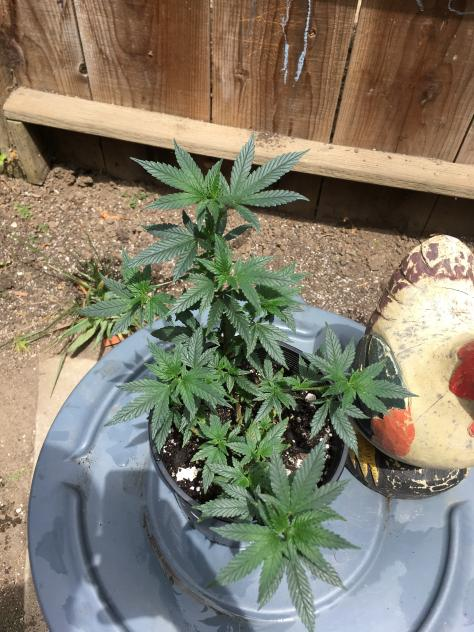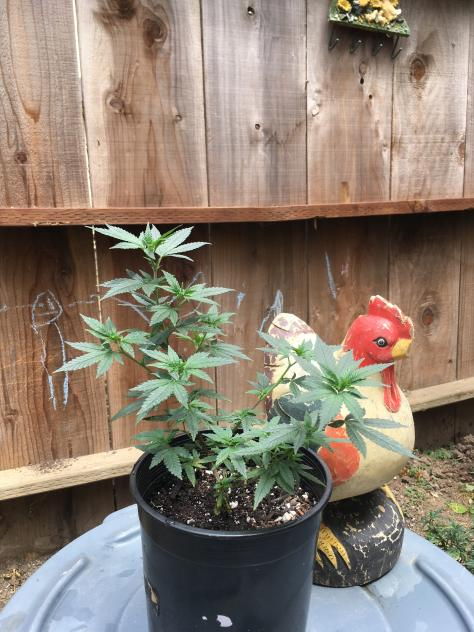 ---
Blueberry Muffin

Prepping the dough for Blueberry Muffins
Here is a plant I am very pleased with, a young Blueberry Muffin cutting that I took a couple months back. She is healthy as can be, and soon will be transplanted. I am giving her a 20/4 light schedule, (20 hours of light, 4 hours of dark) with a mix of artificial light and sun, the same as the seedling. This one, along with the seedling will possible be flowered indoors, all depending on what the sunlight hitting my back yard is like. For those that are just tuning in, my backyard is not an ideal place to grow cannabis, which is why I have to give it mixed light to keep in veg.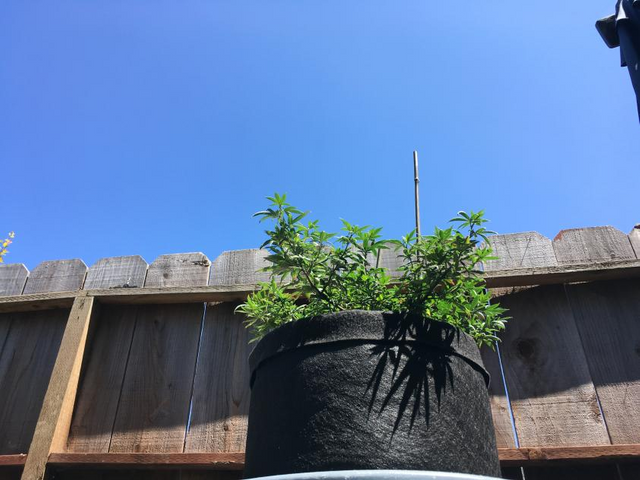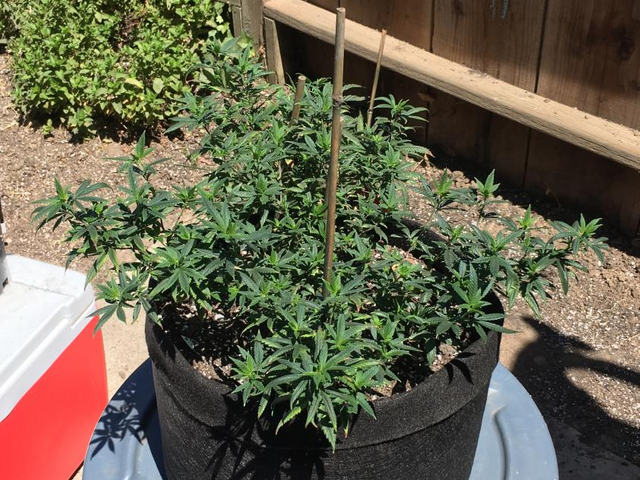 ---
Blueberry Muffin

Preheating the oven
Now here is a plant that I am very excited for! This is another Blueberry Muffin clone that I have been training to be more like a shrub. I am now going to keep in my back yard, and just let nature do it's thing. It should start to flower, since Dark Heart says to expect harvest Sept 15-Oct. 15. Up until a few days ago, I was giving it the same light as the previous two plants in this post. I grew this strain indoors once, and even though I did not do a great job, the smell of Blueberry Muffin was very unreal. The outdoor version should be even more terpy, and do better under the sun, vs my cheap China mad LED.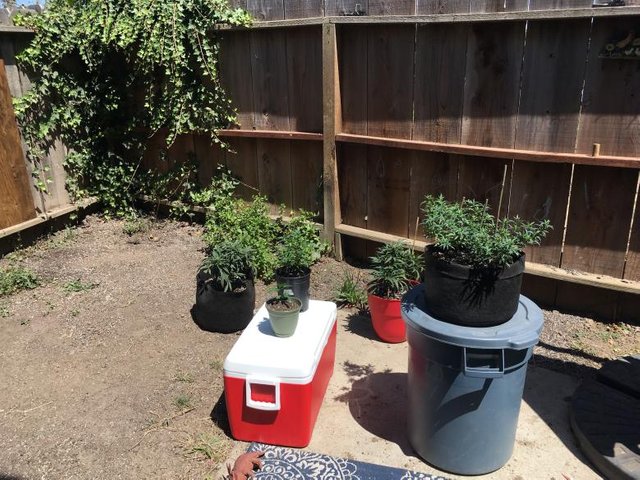 Working with what I got
Well that's it for this update. Nothing big, but I am happy. I am really starting to learn my back yard a lot after this year of growing. I know now, that I must keep plants under artificial lighting up until the mid part of July to keep my plants in vegetative stage. If I throw them out before they will start to flower, then start to veg out again. Also if I have a flowering plant out, and I want to keep it in flower, it is important I bring in at night, and set outside around 10am. If I am living here next year, I now know what to do in order to grow a big plant. Now not to big, because I don't want to attract unwanted attention, from houses across the way. I just really think I can no longer call my backyard grow a "Junk Yard", and might just have to consider growing this way, until I can afford a proper indoor setup.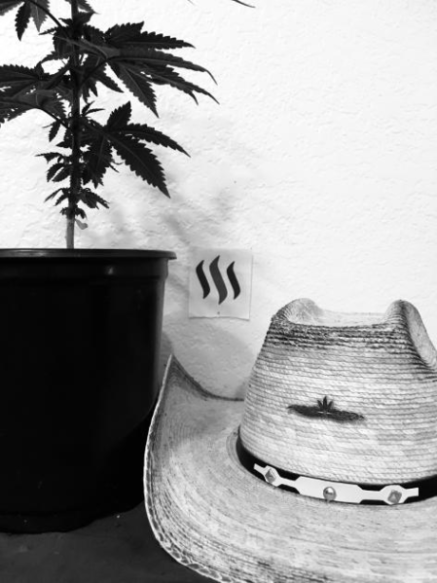 Forever flowering, and Steeming ;)