36 have died and hundreds have lung damage from vape pens and/or e-cigs. The culprit: Myclobutanil, a widely-used agricultural fungicide. It's safe on produce for eating raw, but when heated, forms Hydrogen Cyanide and dissolves lung tissue. For that reason, it can never be used on tobacco or cannabis, but unfortunately (mainly due to lack of education on this topic) many growers are still doing so, and people are dying.
A month ago, the media announced the common denominator had been found: Myclobutanil. This means the illness has NOTHING to do with:
legality/illegality
vaping/smoking
cannabis/marijuana/THC
tobacco/nicotine
The ONLY danger that has been identified is Myclobutanil, a banned fungicide that should never be used on plants for smoking or vaporizing. My full report on that is here, but it appears the public (and the media) have already forgotten that the mystery was solved!
Today on CNN: "Deaths linked to vaping often involved THC products, not nicotine"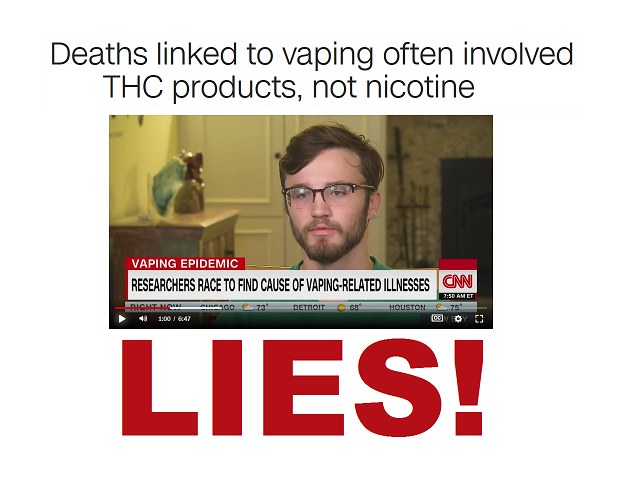 Many people skim news headlines. Anyone seeing that may assume cannabis is the culprit. They may go on vaping e-cigs because, hey, it's not cannabis! And they may inhale Myclobutanil, and they may add to the death-toll of 36.
Within the article, they reveal that among the deaths, 37% reported vaping only nicotine and 63% reported vaping only cannabis. That makes the headline ("not nicotine") incredibly misleading, perhaps even an outright lie. Barely more than half the deaths were from something in the cannabis vapes! Almost half the deaths were from something in the tobacco vapes!
"The data continue to point towards THC-containing products," said Dr. Anne Schuchat of the CDC today. "I'd like to stress that we don't know what the risky material or substance is."
That's false, since the analysis initiated by NBCNews a month ago showed without a doubt that Myclobutanil was the only substance found in all the samples. And Myclobutanil's effects are known to be EXACTLY what we're seeing in this "mystery vaping illness". Is Dr. Schuchat lying, or is she exceedingly ignorant of reality?
She then finishes off with an extremely nonsensical statement: "THC may be a marker for a way that cartridges were prepared or way that the devices are producing harm."
It's Myclobutanil, stupid!
Please make sure you pass this information on. You could help stop the death toll from Myclobutanil by spreading awareness of the facts. The media, deep state, big tobacco, big pharma, etc will continue to lie to us, to keep this narrative going for their own benefit, even though the mystery was solved a month ago!
DRutter